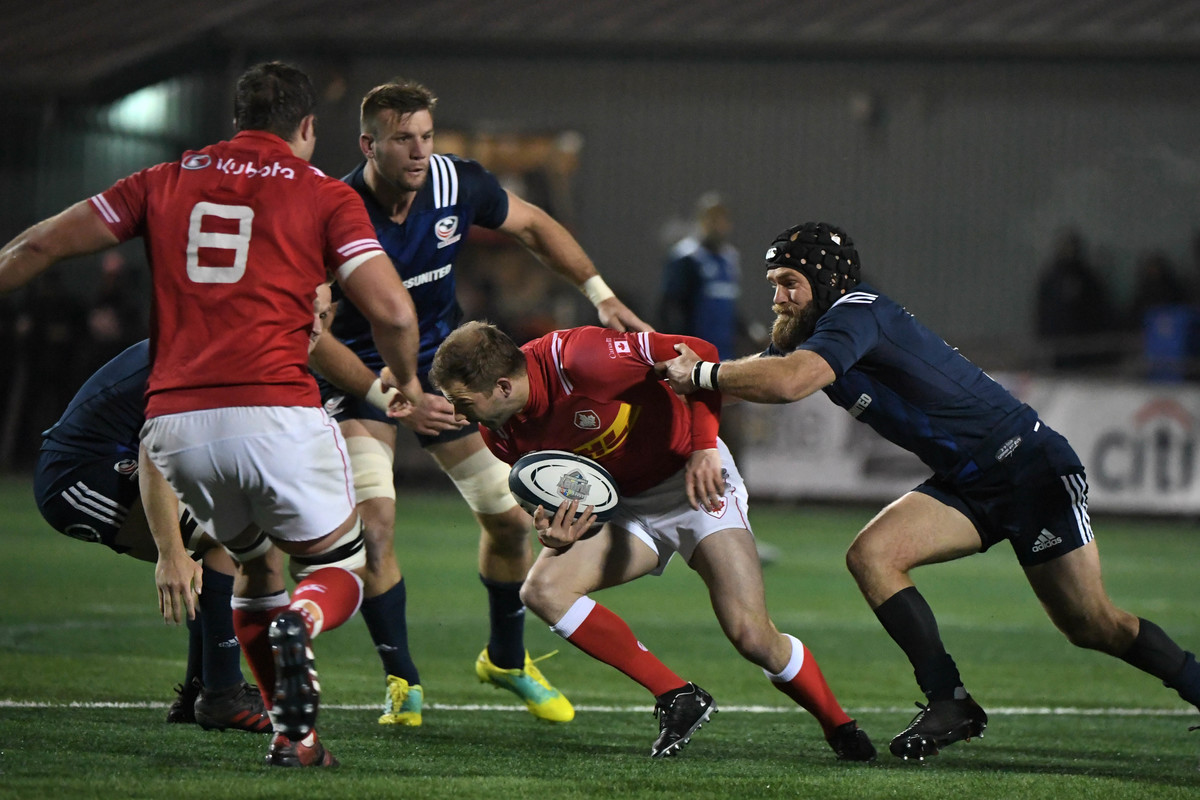 Canada lose to USA in the final game of the ARC
Bernadette Larose
Rugby 15s Senior Men
Canada fell to rivals USA on the final play of the match, losing 30-25 on Friday, March 8, 2019 in Seattle to close 2019 Americas Rugby Championship (ARC). 
With USA already on the board with a penalty kick, it was Nick Blevins who scored the first try of the game off a skip pass. After that a heavy pushing Canadian maul brought Luke Campbell over the line. A TMO decision ruled that Campbell touched it down and put Canada up 12-8. 
USA grinded out a second try just before the break and went into the second half leading 15-12. Gordon McRorie had a penalty kick and conversion in the first. 
Heavy forward play by the U.S. got them a try early in the second half. Answering for Canada was Campbell with his second of the match after a lengthy drive forward inside USA's 22 metre. Canada fended off steady pressure from the USA with McRorie making two penalties late in the match to put Canada up 25-23. 
Devastation came for Canada as they were playing a man down off a yellow card for a high tackle in the final minutes of play. USA's scrum half scored the final try of the match off a pick and go on the short side of the scrum in the final play of the match. USA came out victorious 30-25 to close out the final match of the ARC. 
Canada went 1-5 in ARC in competition, with their lone win against Chile at home in Langford. Several members of the squad will now return to their Major League Rugby and international duties with a break from national team play. 
Canada's Roster to face USA
1. Hubert Buydens – (NOLA Gold) Saskatoon, SK
2. Benoit Piffero – (Blagnac Sporting Club) Montreal, QC
3. Cole Keith – (Toronto Arrows) Sussex, NB
4. Conor Keys – (Rotherham Titans) Stittsville, ON
5. Kyle Baillie – (NOLA Gold) Summerside, PEI
6. Justin Blanchet – (Bedford Blues) Montreal, QC
7. Lucas Rumball – Captain (Toronto Arrows) Scarborough, ON
8. Luke Campbell – (James Bay AA) Victoria, BC
9. Phil Mack – (Seattle Seawolves) Victoria, BC
10. Gordon McRorie – (Calgary Hornets) Calgary, AB
11. Kainoa Lloyd – (Toronto Arrows) Mississauga, ON
12. Ben LeSage – (UBC Thunderbirds) Vancouver, BC
13. Nick Blevins – (Calgary Hornets) Calgary, AB
14. Andrew Coe – (Markham Irish) Toronto, ON
15. Theo Sauder – (Toronto Arrows) Vancouver, BC
16. Jordan Olsen – (Northland) Whangarei, NZ
17. Noah Barker – (Glendale Raptors) Courtenay, BC
18. Ryan Kotlewski – (Westshore RFC) Calgary, AB
19. Josh Larsen – (Austin Elite) Parksville, BC
20. Dustin Dobravsky – (Castaway Wanderers) Hanover, Germany
21. Jamie Mackenzie – (Toronto Arrows) Oakville, ON
22. Pat Parfrey – (Unattached) St. John's, NL
23. Doug Fraser – (Austin Elite) Ladysmith, BC
2019 ARC Schedule:
 
February 2
Canada 17 - 20 Uruguay
 
February 9
Canada 10 - 18 Brazil
 
February 22
Canada 56 – 0 Chile
March1
Canada 23-39 Argentina XV
March 8
Canada 25-30 USA