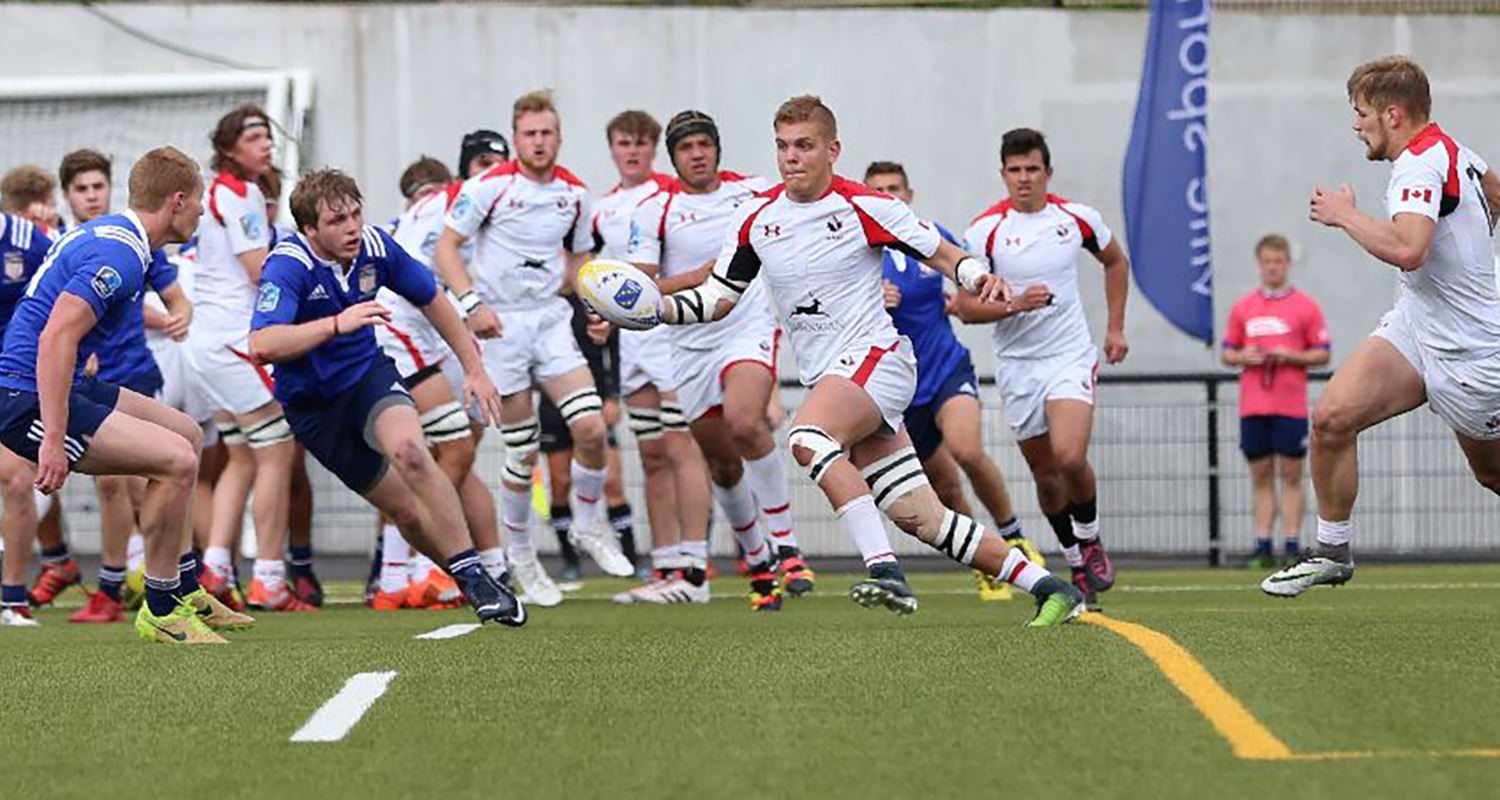 Canada concludes U18 tour with win over USA
Canada's men's U18 team concluded its Rugby Europe Open Championships with a 13-12 win over the USA.
William McDougall-Percillier scored Canada's lone try on a wonderful solo effort in the second half while he also kicked two penalties. Jack Scher converted the try.
Canada had gone into half time trailing 5-3 and were reduced to 14 men just before the break as Reid Davis was sin binned.
Earlier in the tournament, Canada had lost 43-3 to Georgia and 18-0 to Belgium.
Canada's Men's U18 Roster vs. USA:
1. Dean Mason (Regina Highlanders RFC) Regina, SK
2. David Stoltz (Ottawa Indians) Stittsville, ON
3. Tyler Rowland, captain (Toronto Nomads) Mississauga, ON
4. Lodrik Parlavecchio (Abénakis Sherbrooke) Estrie, QC
5. Hunter Grant (Westshore Valhallians/ Esquimalt Ravens) Victoria, BC
6. Quentin James (Unattached) North Vancouver, BC
7. Piers von Dadelszen (Old Caterhamians RFC) London, NL
8. Reid Davis (Bayside RFC) Surrey, BC
9. Joshua Engelbrecht (Oakville Crusaders) Oakville, ON
10. Nathan Jutronich (Oakville Crusaders) Mississauga, ON
11. William McDougall-Percillier (Cowichan Piggies) Mill Bay, Victoria
12. James Newman (Castaway Wanderers) Victoria, BC
13. Kevin Vertkas (Toronto Nomads) Mississauga, ON
14. Julian Foggitt (Westshore/Velox) Victoria, BC
15. Gabriel Casey (Bytown Blues) Ottawa, ON
16. Kristjan Uschold (U of M Wombats) Winnipeg, MB
17. Callum Tam (Oakville Crusaders) Oakville, ON
18. Nathan Lake  (Windsor Macine) Windsor, NS
19. Noah King (UBCOB Ravens) Vancouver, BC
20. Seifeldin Sanad (Halifax Tars) Bedford, NS
21. Zachary Folan (Canucks) Calgary, AB
22. Jack Scher (Vancouver Rowing Club) Vancouver, BC
23. Corben Bowen (Abbotsford Rugby Club) Fraser Valley, BC
24. Isaac Gonevou (Calgary Hornets) Calgary, AB
25. Samuel Sirlin (Vancouver Rowing Club) Vancouver, BC
26. Jackson Scott (Norfolk Harvesters) Waterford, ON
Coaching Staff:
Mike Curran — Head coach
Jack Hanratty — Assistant coach
Dan Meikle — Assistant coach
Jessica Salt — Therapist
Shane Muldrew — Manager
Rugby Europe U18 Open Championships 2017:
Canada 3-43 Georgia — April 7, 2017
Canada 0-18 Belgium — April 11, 2017
Canada 13-12 USA — April 15, 2017