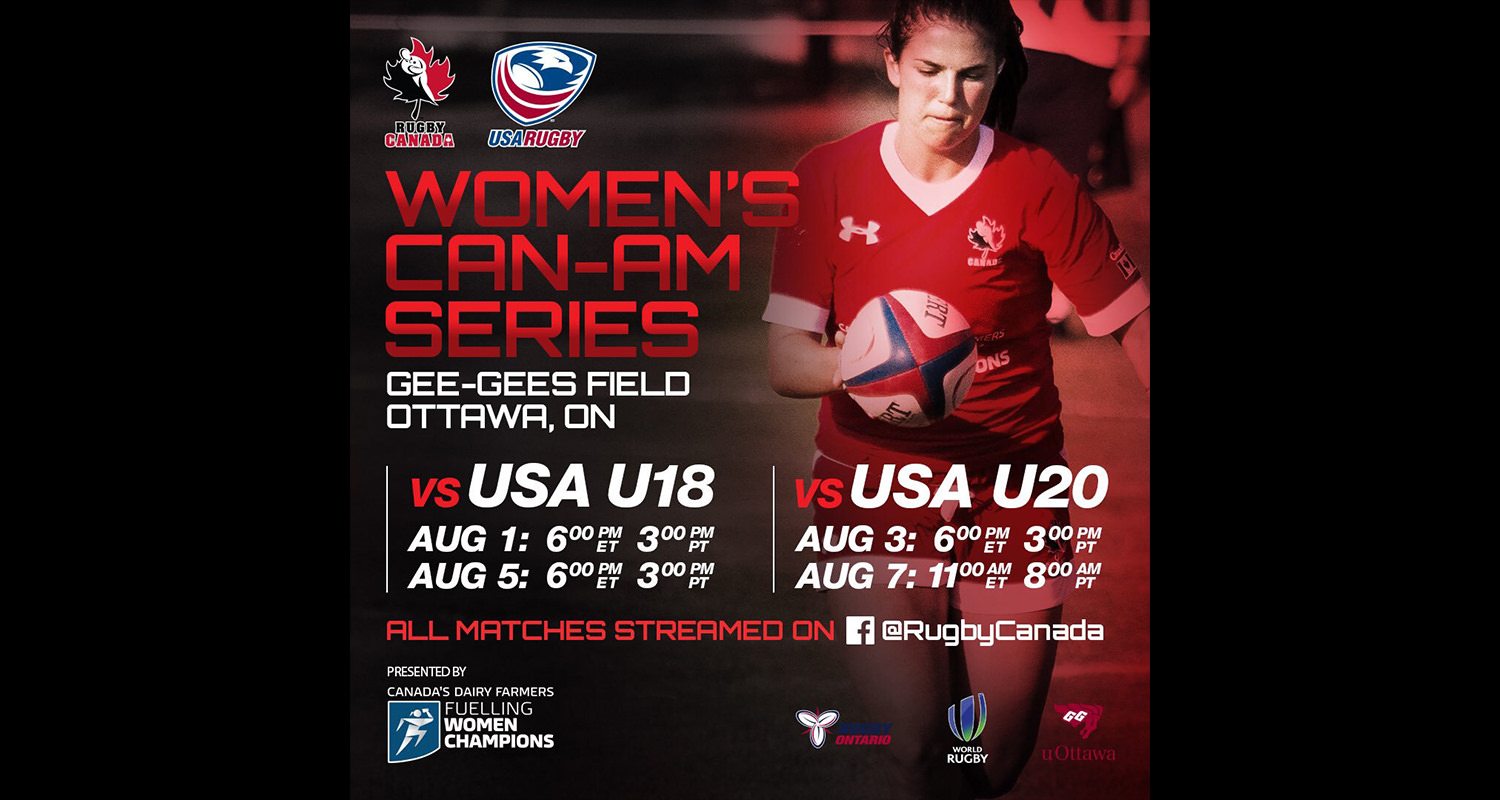 VALLEY NAMES U18 ROSTER TO FACE USA IN OTTAWA
Canada's women's U18 head coach Dan Valley has named a starting roster for tomorrow's CAN-AM Series opener against USA in Ottawa.
"We've had a really great start to our campaign - our first 72 hours focused on establishing our connection and culture, and picking up where we left off from our Top-40 camp in March.  
"We've set the expectation around the point of contact and have been able to build out from that platform.  We have 3 sessions to go before we compete, and the athletes are feeling confident about where we're at to this point.  
"The side we've selected will allow us to maintain a level of physicality, skill, and pace for the duration of the match."
Kick off is 6pm ET/3pm PT and will be streamed live on Rugby Canada's Facebook page> www.facebook.com/RugbyCanada
Canada's Women's U18 Roster to face USA U18:
1) Holly Phillips, Alberta (Calgary Irish) 
2) Erika Barton, Ontario (Kingston Panthers)
3) Valerie Wideski, British Columbia (Bayside) 
4) Alyson Macdougall, Alberta (Calgary Irish) 
5) Rori Wood, British Columbia (Westshore RFC) 
6) Courtney Holtkamp, Alberta (Red Deer Titans) 
7) Shaye Tudor, Captain, British Columbia (Castaway Wanderers) 
8) Celia Martensson, Ontario (Aurora Barbarians) 
9) Berlyn Seselja, British Columbia (Bayside) 
10) Taylor Black, Ontario (Oakville Crusaders) 
11) Bridget Peros, Ontario (Oakville Crusaders) 
12) Lily Stewart, Ontario (Peterborough Pagans) 
13) Emma Frey, Ontario (Oshawa Viking) 
14) Kyra Maybee, Ontario (Peterborough Pagans) 
15) Hunter Czeppel, British Columbia (Abbotsford) 
16) Lauren Melanson, Nova Scotia (Halifax) 
17) Tanika Bonneville, British Columbia (Bayside) 
18) Idia Ihensekhien, Ontario (Crusaders) 
19) Vyktoria Brochu, Alberta (Aurora Barbarians) 
20) Alayna Scramstad, Saskatchewan (Lashburn Lucky) 
21) Brogan Mior, Alberta (Foothills Lions) 
22) Sarah Hoerig, Ontario (Oshawa Vikings) 
Not Available due to injury:
Brianna Martey
Emma Feldinger