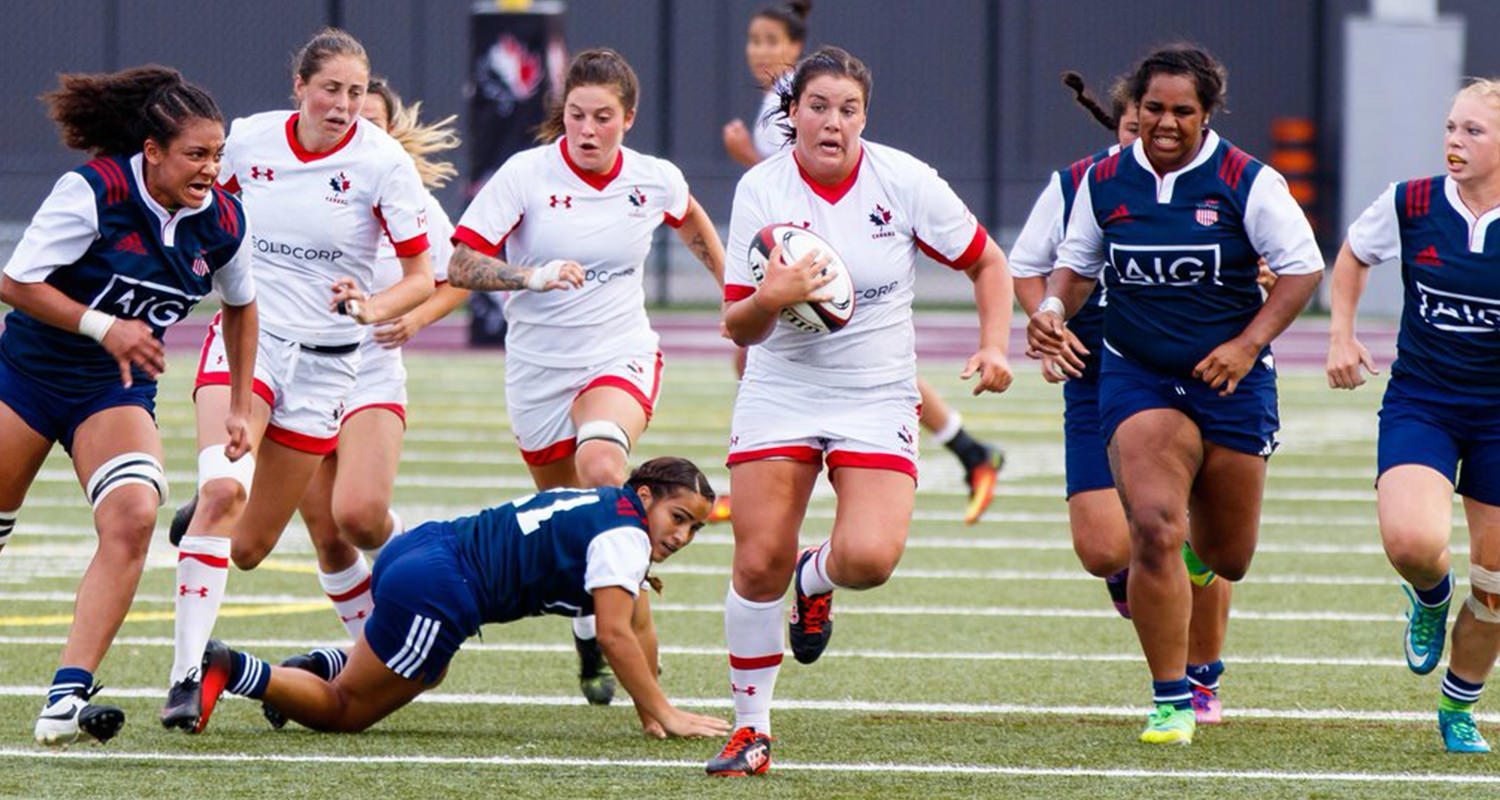 EIGHT TRY VICTORY FOR CANADA U20 IN OTTAWA
OTTAWA, O.N. - Canada's Women's Under-20 Team closed out their CAN-AM Series with an emphatic 50-12 win over USA Under-20 on Monday morning at the University of Ottawa. 
Head Coach Jen Boyd's side ran in eight tries en route to victory, while only allowing two scores from the visiting Americans. With the win, Canada secured the series with an aggregate two-game score of 95-36. 
To watch a replay of the game, and to view a full photo album from the series, please visit www.facebook.com/RugbyCanada
Canada's U20 Women Game 2 Roster vs. USA
1. Veronica Harrigan – (London St. George's) Lucan, ON
2. Jennifer Appleby – (Castaway Wanderers) Regina, SK
3. Kasselle Menin – (Calgary Hornets) Vulcan, AB
4. McKinley Hunt – (Aurora Barbarians) King City, ON
5. Abigail Duguid – (Edmonton Pirates) Edmonton, AB
6. Emilie Nicholl – (Guelph Redcoats) Toronto, ON
7. Tobi Owotomo - (Toronto Saracens Rugby Club)
8. Gabrielle Senft, Captain – (Castaway Wanderers) Regina, SK
9. Sasha Guedes – (Beaconsfield RFC) Gatineau, QC
10. Julia Schell – (Guelph Redcoats) Guelph, ON
11. Taejah Thompson – (CCIAC) Fruitvale, BC
12. Mckenzie Pusch – (St. Albert RC) St. Albert, AB
13. Jordyn Orlando – (Toronto Scottish) Burlington, ON
14. Christina Branch – (Markham Irish) Oshawa, ON
15. Alexandra Ondo – (NS Keltics/Ottawa Irish) Gatineau, QC
16. Sarah Cline – (Edmonton Pirates) Edmonton, AB
17. MP Fauteux – (Abenakis de Sherbrooke) Sherbrooke, QC
18. Sydney de la Mare – (St. Albert RC) St. Albert, AB
19. Harley Tucker – (Hornets) Black Diamond, AB
20. Genevieve Kasa-Vubu – (Guelph Redcoast) Guelph, ON
21. Taylor Donato – (Ottawa Irish) Ottawa, ON
22. Niamh Haughey – (Saracens) Scarborough, ON
23. Ellen Spannagel
Canada's U18 Women's Schedule:
Canada 58-12 USA — August 1
Canada vs. USA — August 5
Canada's U20 Women's Schedule:
Canada 45-24 USA — August 3
Canada 50-12 USA — August 7