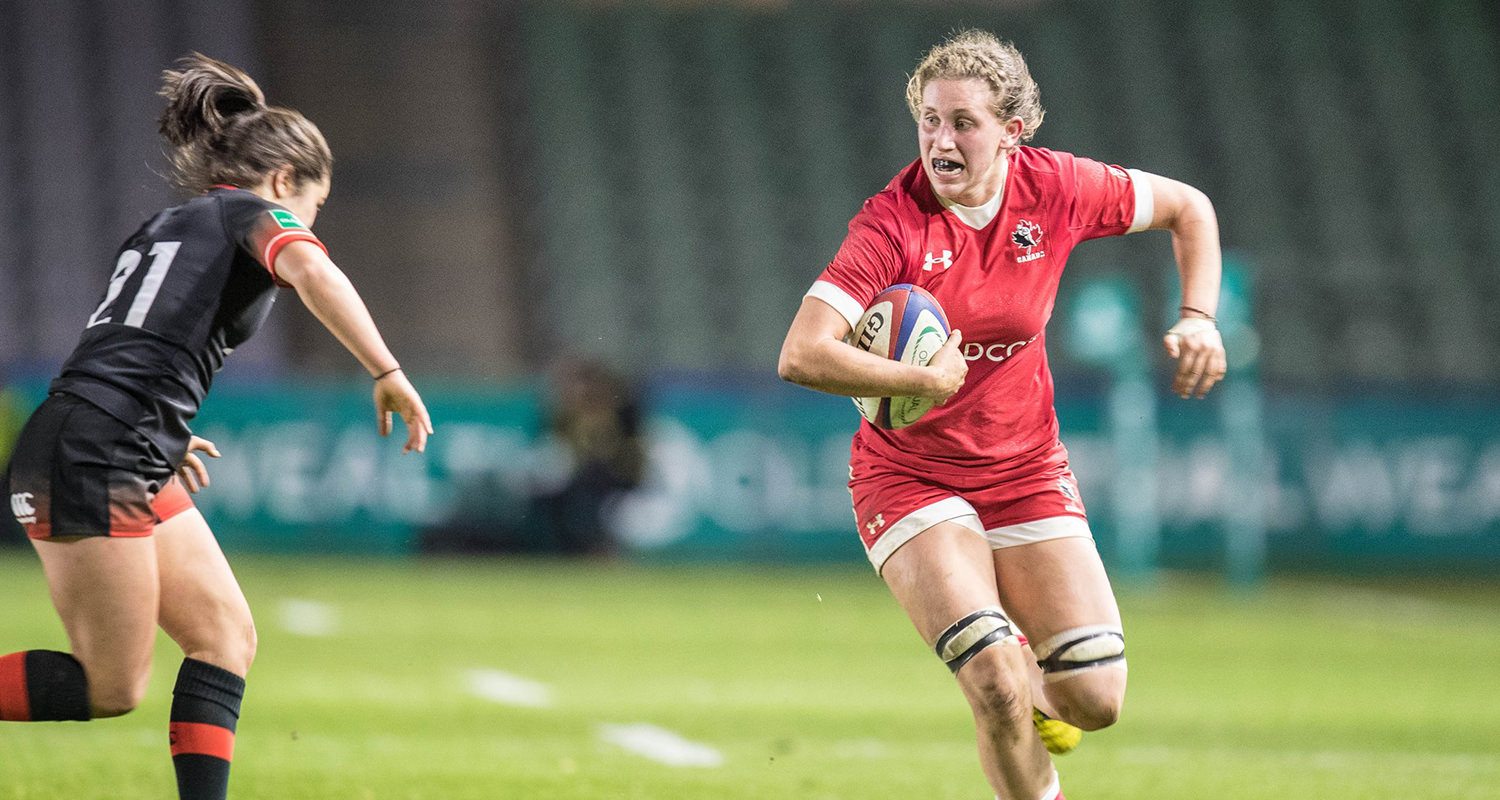 CANADA DROP THEIR FINAL TEST MATCH OF 2017 TO ENGLAND AT TWICKENHAM
LONDON, ENGLAND - Canada's Women's Rugby Team dropped their final test match of 2017 to England on Saturday 69-19 at Twickenham.
CAN
19
v
ENG
69
Full report to follow...
Canada's Women's Team to face England:
Brittany Kassil, Guelph Redcoats (Guelph, ON)
Emily Tuttosi, Calgary Hornets (Souris, MB)
Olivia DeMerchant, Woodstock Wildmen (Mapledale, NB)?
Tyson Beukeboom, Aurora Barbarians / Cowichan RFC (Uxbridge, ON)
Laura Russell, Captain, Toronto Nomads / Cowichan RFC (Bolton, ON)
Janna Slevinsky, Calgary Saracens (St. Albert, AB)
Sara Svoboda, Toronto Saracens (Belleville, ON)
Pamphinette Buisa, Ottawa Irish (Gatineau, QC)
Justine Pelletier, Club de Rugby de Quebec (Quebec City, QC)
Anais Holly, TMRRFC (Montreal, QC)
Emmanuela Jada, Guelph Redcoats (Guelph, ON)
Emily Belchos, Westshore RFC (Innisfil, ON)
Dria Bennett, Ottawa Irish (Ottawa, ON)
Paige Farries, Westshore RFC (Red Deer, AB)
Brianna Miller, Sainte-Anne-de-Bellevue RFC (Pointe-Claire, QC)
Emily Barber, Aurora Barbarians (Toronto, ON)
Alexandria Ellis, Barrhaven Scottish (Ottawa, ON)
Veronica Harrigan, London St Georges (Lucan, ON)
McKinley Hunt, Aurora Barbarians (King City, ON)
Emilie Nicholl, Guelph Redcoats (Toronto, ON)
Courtney Holtkamp, Red Deer Titans (Rimbey, AB)
Jess Neilson, Castaway Wanderers (Victoria, BC)
Sam Alli, Barrhaven Scottish (Caledon, ON) 
Canada Staff: 
Sandro Fiorino – Interim Head Coach
Jen Boyd – Interim Assistant Coach
Duncan McNaughton – Interim Forwards Coach
Debs McGrath – Manager 
Shannon Houston – Team Doctor
Nicole Ainsworth – Athletic Therapist
Dave Gardner – Tour Analyst 
England
15. Danielle Waterman (Wasps FC Ladies, 76 caps), 14. Abigail Dow (Wasps FC Ladies, 1 cap), 13. Lagi Tuima (Bristol Ladies, 1 cap), 12. Rachel Burford (Harlequins Ladies, 74 caps), 11. Jess Breach (Harlequins Ladies, 1 cap), 10. Katy Daley-Maclean (Darlington Mowden Park Sharks, 93 caps), 9. Leanne Riley (Harlequins Ladies, caps); 1. Vickii Cornborough (Harlequins Ladies, 33 caps), 2. Amy Cokayne (Wasps FC Ladies, 35 caps), 3. Heather Kerr (Darlington Mowden Park Sharks, 12 caps), 4. Abbie Scott (Harlequins Ladies, 23 caps), 5. Poppy Cleall (Saracens Women, 16 caps), 6. Rowena Burnfield (Richmond FC, 41 caps), 7. Marlie Packer (Saracens Women, 53 caps), 8. Sarah Hunter (C) (Loughborough Lightning, 100 caps)
Replacements: 16. Lark Davis (Worcester Valkyries, 5 caps). 17. Rochelle Clark (Wasps FC Ladies, 131 caps), 18. Justine Lucas (Wasps FC Ladies, 27 caps), 19. Catherine O'Donnell (Loughborough Lightning, 1 cap), 20. Izzy Noel-Smith (Bristol Ladies, 37 caps), 21. Caity Mattinson (Bristol Ladies, 2 caps), 22. Zoe Harrison (Saracens Women, 2 caps), 23. Ellie Kildunne (Gloucester-Hartpury Women's RFC, 2 caps).
Old Mutual Wealth Series 2017
Friday 17 November - England Women 79-5 Canada @ Allianz Park 
Tuesday 21 November - England Women 49 – 12 Canada 
Saturday 25 November - England Women v Canada @ Twickenham Stadium (KO 5:40pm local time (12:40pm ET/9:40am PT) Broadcast LIVE on TSN "GO"