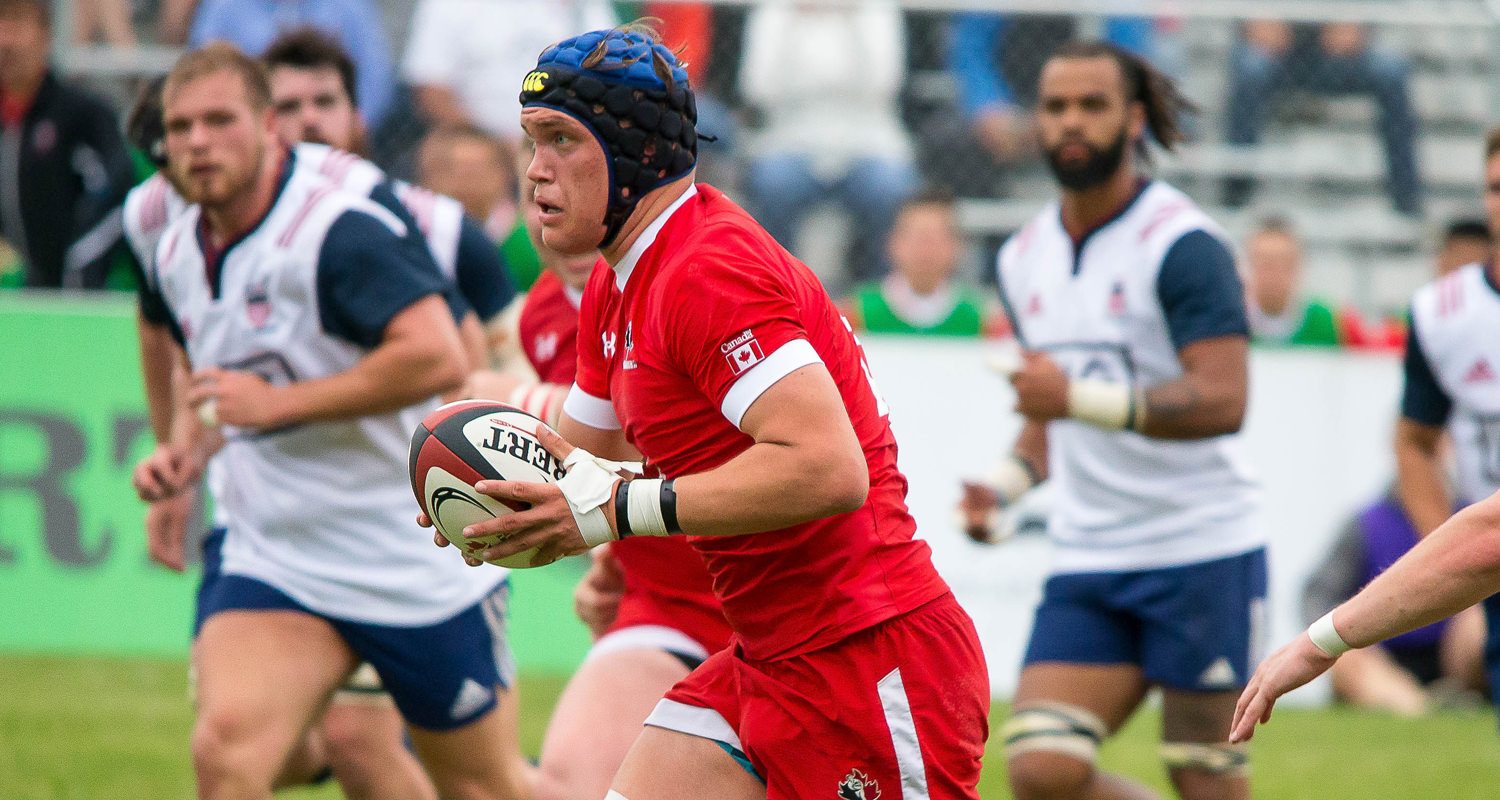 THIEL TO FOLLOW IN FAMILY'S FOOTSTEPS
Wilhelm Horn
Rugby 7s Senior Men, Rugby 15s U20 Men
Langford, B.C. - Abbotsford, B.C.'s under-20 star Jake Thiel is set to earn his first appearance for Canada's Men's Sevens Team when he makes his debut at the HSBC World Rugby Sevens Series in Sydney, Australia on Friday.
His call-up comes as no surprise to those who have been following the youngsters path into senior rugby. The 20-year-old, who only recently switched to the shorter format of the game from fifteens, has impressed with his powerful running and sharp handling over the last two weeks in South America as part of the Maple Leafs development team.
Jake never really had a choice, rugby was always going to be first option in the Thiel household. Dad, John Thiel earned 44 caps for Canada's national side between 1998 and 2008, which included three Rugby World Cups. While Mom, Jen Ross also represented the national team in two Women's Rugby World Cups.
Along with his twin brother, Josh, the pair have enjoyed a lot of junior success together, including both running out for Canada's under-20 team in 2017. The Thiel family is very much a rugby family and it is no wonder the brothers from Abbotsford are tearing it up with the genes they received.
The hard-running 8th man will be looking to do the family name proud when he enters the sevens circuit next weekend. 
"I'm super excited to get the call-up. There's a little bit of pressure with the Thiel name on the back but hopefully I can make everyone proud. It's a massive honour to wear this jersey," said Thiel.
Thiel who had been playing fifteens rugby until September last year knows the sevens game presents a different test but says he is up for the challenge.
"In sevens there's never any time to catch your breath. There's less head-to-head collision I guess but I know from running into the guys in practices it's not softer," said Thiel.
Having been in outstanding form for the Maple Leafs, Thiel believes he is ready to make the step up and is looking forward to competing down under.
"It's exciting to be part of this group and to face hosts Australia in front of their home crowd is going to be huge a thrill," he said.
"I'm excited for the challenge. It's a strong pool, Scotland and USA are both good teams, but it's just about staying relaxed and playing our game. The boys are looking strong," Thiel added. 
With an intense season ahead, Jake Thiel will be looking to follow in his parents footsteps and add yet another Thiel name to the Canadian rugby history books in the years to come. 
The Sydney Sevens will be streamed LIVE on CBC Sports at www.cbcsports.ca or on their mobile app "CBC Sports" on iOs and Android
Tickets for HSBC Canada Sevens can be purchased here
Canada's men's roster for Sydney & Hamilton:
Phil Berna – UBC Thunderbirds (Vancouver, BC)
Jared Douglas – Abbotsford RFC (Abbotsford, BC)
Justin Douglas – Abbotsford RFC (Abbotsford, BC)
Mike Fuailefau – Castaway Wanderers (Victoria, BC)
Lucas Hammond – Toronto Nomads (Toronto, ON)
Nathan Hirayama – Unattached (Richmond, BC)
Harry Jones – Captain, Capilano RFC (North Vancouver, BC)
Isaac Kaay – UVIC Vikes (Kamloops, BC)
Pat Kay – Castaway Wanderers (Duncan, BC)
Luke McCloskey – Castaway Wanderers (Victoria, BC)
John Moonlight – James Bay AA (Pickering, ON)
Matt Mullins – Queen's University (Belleville, ON)
Jake Thiel – Abbotsford RFC (Abbotsford, BC)
Unavailable for selection due to injury:
Liam Underwood – Balmy Beach RFC (Toronto, ON) 
Day 1:
Canada vs Scotland 8:34PM local time (4:34AM ET/1:34AM PT on Friday)
Day 2:
Canada vs Australia 5:15PM local time (1:15AM ET on Saturday/10:15PM PT on Friday)
Canada vs USA 8:26PM local time (4:26AM ET/1:26AM PT on Saturday) 
Day 3:
TBD
-30-