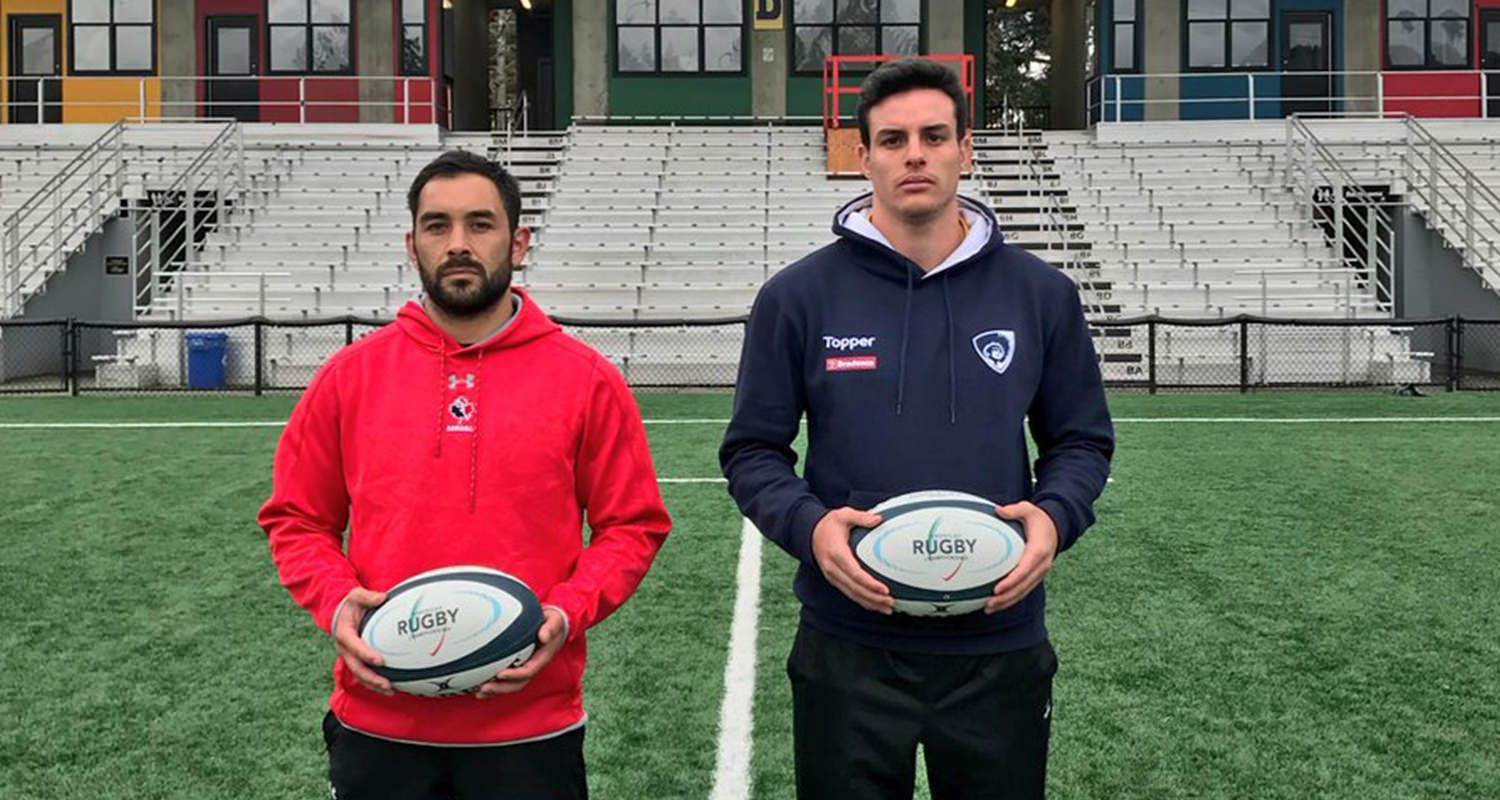 CANADA SET TO FACE BRAZIL IN ARC ROUND THREE
Wilhelm Horn
Rugby 15s Senior Men
Langford, BC - Canada Head Coach Kingsley Jones has named his starting 23-man roster for Saturday's Americas Rugby Championship (ARC) third round test match against Brazil at Westhills Stadium in Langford, BC.
This will only be the third encounter between the two sides, who played each other for the first time in 2016 when Canada won 52-25 at Westhills Stadium before Brazil exacted revenge a year later with a nail-biting 24-23 victory in Pacaembu.
Canada will be looking to claim their first victory of the 2018 ARC this weekend after tough losses to Uruguay in Vancouver and USA in California last weekend. Brazil come into the game having beaten Chile in round one before losing a close encounter to Uruguay in the second round.
Canada are currently ranked 21st on the World Rugby rankings and know a win against the 25th ranked team will be vital to boost the team's confidence ahead of their trip south for the final two rounds of the competition against Argentina XV and Chile.
Coach Kingsley Jones has handed Doug Fraser his first cap and start at outside centre, meaning it is the third midfield shake-up in as many weeks for Canada. Nick Blevins keeps his place at inside centre with Guiseppe du Toit dropping to the bench. Dustin Dobravsky and Cole Davis will be raring to go as they earn their first starting positions on the national team roster.
Another fresh player looking to make a big impact will be Cameron Polson who could make his debut should he get on the field on Saturday.
After DTH van der Merwe reached the 50-cap milestone last weekend against the USA, two more players will be nearing their half-century of international test matches this weekend. 37-year-old hooker, Ray Barkwill will earn his 49th cap while Alberta native, Nick Blevins is set to earn his 48th.
Head coach Kingsley Jones had the following to say before this weekend's clash:
"It's a difficult challenge. We've got to respect Brazil but we're the favourites playing at home and we've got to respond well to that. There's been improvement in the last two test matches but we weren't good enough to beat USA. We've got to stay in the moment, make less unforced errors and work hard on improving every day."
Kick-off on Saturday is 6:30pm local time (9:30pm ET). You can watch the game LIVE on TSN, or online through TSN "GO" in Canada or www.worldrugby.org outside of the Americas.
Tickets can be purchased by clicking here
Canada's roster to face Brazil on Saturday:
1. Djustice Sears-Duru – (Ealing Trailfinders/Ontario Blues) Oakville, ON
2. Ray Barkwill – (Seattle Seawolves/Ontario Blues) Niagara Falls, ON
3. Jake Ilnicki – (Newcastle Falcons/BC Bears) Williams Lake, BC
4. Josh Larsen – (Northland) Parksville, BC
5. Kyle Baillie – (London Scottish/Atlantic Rock) Summerside, PEI 
6. Dustin Dobravsky - (Castaway Wanderers/BC Bears) Hanover, Germany 
7. Lucas Rumball – (Balmy Beach RFC/Ontario Blues) Mississauga, ON
8. Luke Campbell – (James Bay AA/BC Bears) Victoria, BC
9. Phil Mack – Captain (James Bay AA/BC Bears) Victoria, BC
10. Shane O'Leary - (Ealing Trailfinders) Cork, Ireland
11. DTH van der Merwe – (Newcastle Falcons) Victoria, BC
12. Nick Blevins – (Calgary Hornets/Prairie Wolf Pack) Calgary, AB
13. Doug Fraser – (Castaway Wanderers/BC Bears) Ladysmith, BC
14. Cole Davis - (Calgary Saints/Prairie Wolf Pack) Calgary, AB 
15. Patrick Parfrey – (Swilers RFC/Atlantic Rock) St. John's, NL
16. Martial Lagain - Sherbrooke Abenakis/Atlantic Rock) Saint-Jean-de-Marsacq, France
17. Anthony Luca - (Burnaby Lake RFC/BC Bears) Pitt Meadows, BC
18. Ryan Kotlewski – (Westshore RFC/Prairie Wolf Pack) Calgary, AB
19. Conor Keys - (UVIC Vikes/Atlantic Rock) Stittsville, ON
20. Cameron Polson – (Castaway Wanderers/BC Bears) Victoria, BC
21. Andrew Ferguson – (Oakville Crusaders/Ontario Blues) Mississauga, ON
22. Guiseppe du Toit – (UVIC Vikes/BC Bears) Maple Ridge, BC
23. Brock Staller – (Meralomas RFC/BC Bears) Surrey, BC 
Canada's 2018 Americas Rugby Championship & RWC Qualifier schedule:
Canada vs. Uruguay
Full Time Result: Canada 29 – 38 Uruguay
*Rugby World Cup Qualifier round 1 and ARC round 1*
Canada vs. Uruguay
Full Time Result: Canada 31 – 32 Uruguay
*Rugby World Cup Qualifier round 2, not an ARC match*
Canada vs. USA
Full Time Result: Canada 10 – 29 USA
ARC round 2 
Canada vs. Brazil
February 17th at 6:30pm local time
Westhills Stadium, Langford, BC 
Canada vs. Argentina XV
February 24th at 8pm local time
Jujuy, Argentina
Canada vs. Chile
March 3rd at 1pm local time
La Pintana, Santiago, Chile
-30-