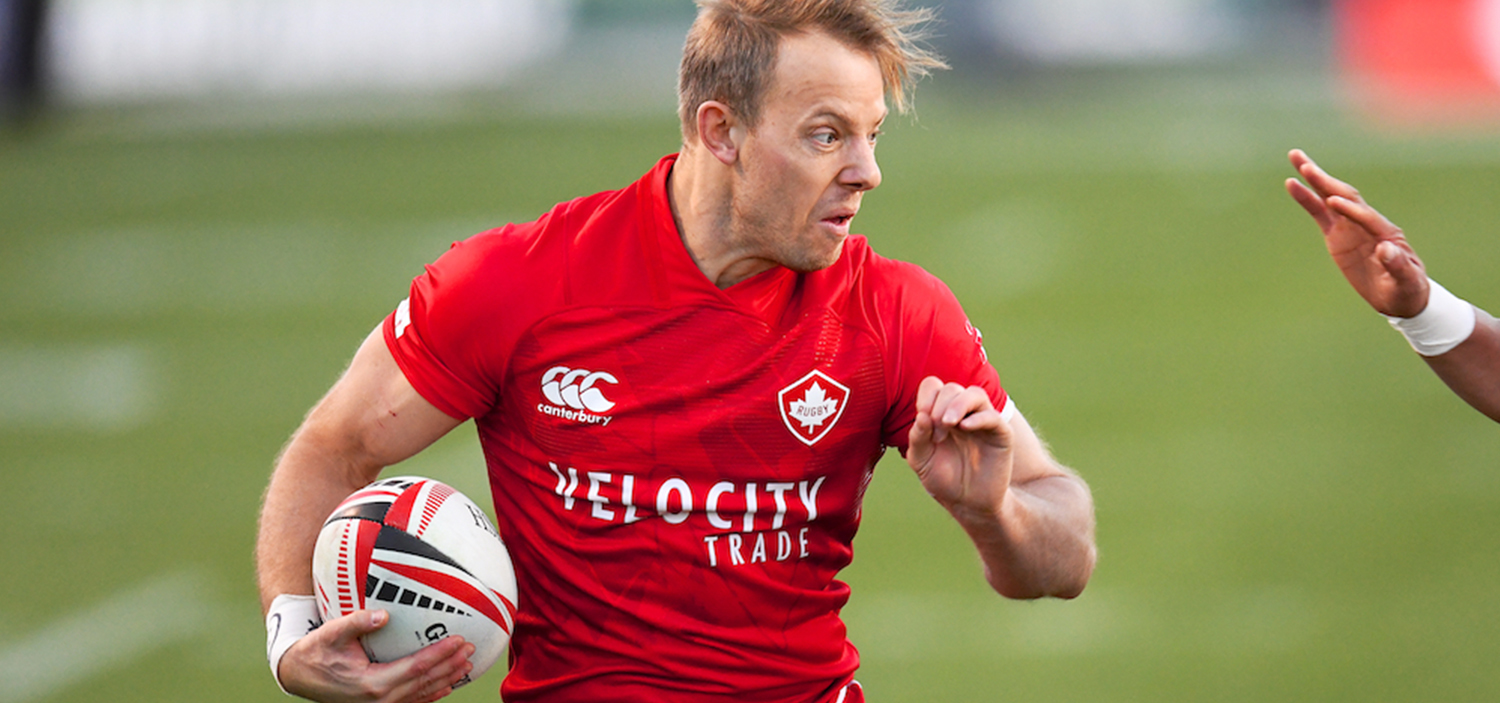 Men's Las Vegas Sevens updates
Bryan Kelly
Rugby 7s Senior Men
England defeat Canada 40-12 to open the Las Vegas Sevens
Rugby 7s — Senior Men
HSBC World Rugby Sevens Series
CAN
12
v
ENG
40
Rugby 7s — Senior Men
HSBC World Rugby Sevens Series
CAN
12
v
ZAF
19
Rugby 7s — Senior Men
HSBC World Rugby Sevens Series
CAN
21
v
WLS
19
Rugby 7s — Senior Men
HSBC World Rugby Sevens Series
CAN
21
v
ESP
14
Rugby 7s — Senior Men
HSBC World Rugby Sevens Series
CAN
15
v
SCT
12
Rugby 7s — Senior Men
HSBC World Rugby Sevens Series
CAN
19
v
FRA
26
The entire USA Sevens will be shown LIVE online at www.cbcsports.ca! 
Canada vs. England:
Canada's Men's Sevens Team dropped their opening game of the 2018 USA Sevens in Las Vegas 40-12 to England. Nathan Hirayama and Harry Jones touched down for Canada's tries, while England were good for six scores, and Andrew Coe made his debut in the loss. 
Canada vs. South Africa
Canada has dropped their second pool game of the USA Sevens in Las Vegas, Nevada after being defeated 19-12 by South Africa.
Tries from Tevaughn Campbell late in the first half and John Moonlight early in the second gave Canada hope of a comeback but it wasn't to be as the game finished 19-12 in favour of South Africa.
Canada vs. Wales
Canada's Men's Sevens Team has defeated Wales 21-19 in one of the games of the day at the HSBC World Series Sevens in Las Vegas Nevada.
After two early tries from Connor Braid and Nate Hirayama, Wales fought back with two tries of their own. A magnificent individual effort from Justin Douglas settled the game as Canada claimed a hard-fought 21-19 victory.
Canada vs. Spain
Canada are into the Challenge Trophy Semi Finals in Las Vegas after a 21-14 victory against Spain.
 
Nate Hirayama was the star of the show for Canada as he scored two beautiful tries while also adding three conversions.
 
Canada next face Scotland at 12:06pm PT/3:06pm ET for a place in the Challenge Trophy final.
Canada vs. Scotland
Canada's Men's Sevens Team has progressed to the Challenge Trophy Finals in Las Vegas, Nevada after a dramatic last-second drop goal from Nate Hirayama.
Justin Douglas scored both Canada's tries against Scotland to tie scores at 12-12. With the last play of the game, Nate Hirayama decided to have a shot at goal from 30 metres out, which managed to just creep over and clinch the game for Canada.
Canada next face France in the Challenge Trophy Finals at 3:10pm PT/6:10pm ET.
Canada vs. France
Canada's Men's Sevens Team finished the Las Vegas leg of the HSBC World Series as runners up of the Challenge Trophy after a last gasp defeat to France.
Canada fought back from a twelve-point deficit to level the scores at 19-a-piece in the second half before a late intercept from France broke Canadian hearts. The score at full time: Canada 19-26 France.
The HSBC World Series heads to Vancouver, BC next weekend for the biggest event on the Canadian rugby calendar! Get your tickets here à http://www.canadasevens.com/tickets/
Canada's Men's Sevens Squad:
Harry Jones (C)
John Moonlight
Mike Fuailefau
Nathan Hirayama
Patrick Kay
Connor Braid
Justin Douglas
Admir Cejvanovic
Isaac Kaay
Andrew Coe
Luke McCloskey
Tevaughn Campbell
Luke Bradley
Injured:
Phil Berna
Matt Mullins
Lucas Hammond
Liam Underwood
Standby:
Jake Thiel
Josiah Morra
Jared Douglas
Schedule:
Day 1 (2 March):
Canada 12 - 40 England 
Canada 12 - 19 South Africa 
Day 2 (3 March):
Canada 21 - 19 Wales 
Canada 21 - 14 Spain 
Day 3 (4 March)
Canada 15 - 12 Scotland 
Canada 19 - 26 France