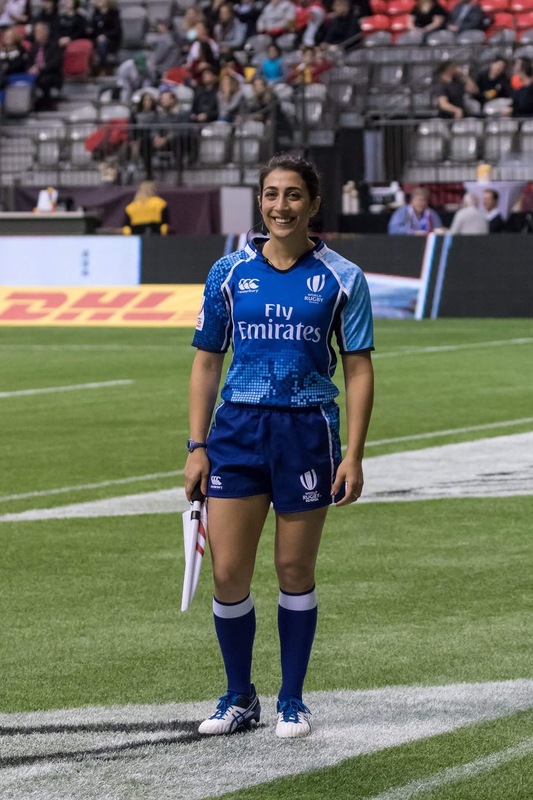 Canada's Rose LaBrèche to take a break from refereeing
Rose LaBrèche, one of Canada's finest refereeing products, has called time on the whistle, for now.
The Markham, Ontario native has been directing play on the international stage for the past four years and has been a frequent figure on the Women's Sevens World Series.
Since her first international appointment at the Canada Women's Sevens in 2015, LaBrèche has notched-up a number of impressive accomplishments, which includes blowing the whistle at the Rio Olympics, Commonwealth Games, Pan Am Games, Women's Rugby World Cup and three Women's Six Nations tournaments, to name a few.
The 29 year-old has decided to take a break from travelling the world as a referee in order to focus on her professional career.

"I'd like to get more involved in municipal politics, as well as pursue other endeavours that I've long put on hold. Refereeing has taught me many things about life outside of sport including self-reflection, how to better react to external situations to achieve a more desirable outcome, and management skills. I will definitely be putting all of the skills I've refined over the years to use in my personal and professional life," said LaBrèche.

Andrew McMaster, Rugby Canada's High Performance Match Official Manager, also had high praise for one of Canada's most accomplished officials:

"Rose has been an invaluable asset to the entire rugby community, let alone the refereeing community, since well before her appointment to the National Panel in 2012. Ever since she started refereeing, Rose's attitude and dedication to her craft has allowed her to become one of the leading rugby officials globally. Furthermore, she has been a phenomenal advocate for women in sports and is actively involved in much of that work off the field as much as she is on it. There was no doubt that Rose would be looking to get involved in other social causes and we fully support her in her upcoming initiatives. We also look forward to the next time we will see Rose on the field and having her involved wherever possible."

As the summer approaches and the rugby seasons begin in much of the country, LaBrèche still plans on being involved. "I'm really looking forward to the next chapter but will still be involved with rugby locally, regionally, and nationally where and when I can," added LaBrèche.
Rose is sure to be missed by World Rugby and the Canadian rugby community. We wish her good luck in her future endeavours and look forward to seeing her back on the pitch sooner rather than later.