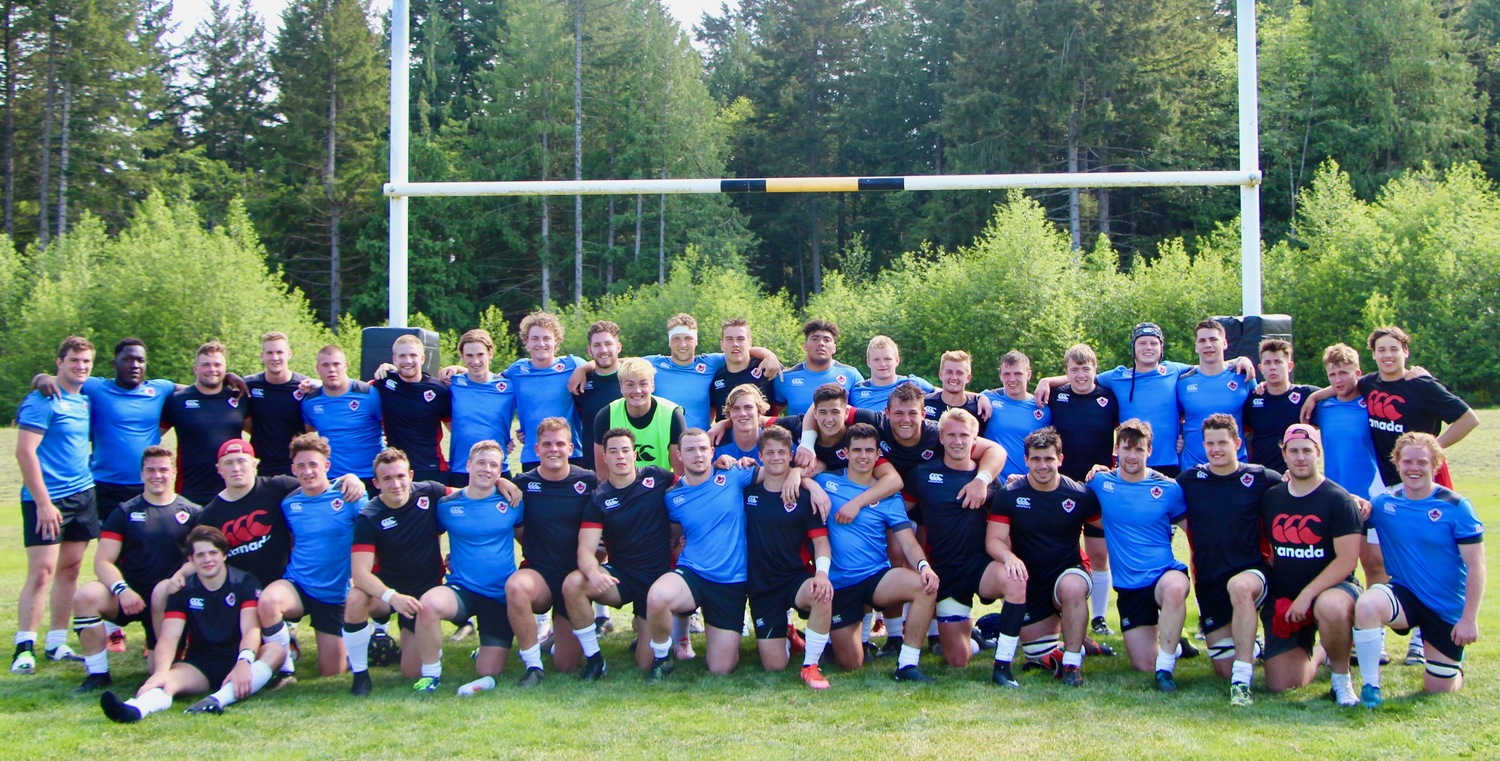 Canada's U20 Men prepare for World Trophy Qualification
This year's crop of young Canadian rugby players vying for a place on the National Under-20 squad trying to get to the World Trophy in Romania kicked-off a selection training camp at Shawnigan Lake School in British Columbia on Wednesday.
With Hong Kong (Asia), Fiji (Oceania) and Namibia (Africa) already confirmed as participants for 2018 along with Samoa, who were relegated from last year's World Rugby U-20 Championship, and the host nation, Romania, there is only the North American qualification spot left to fill.

The 44-man long list selected by head coach Jeff Williams will take part in a number of trial matches over the course of the next few weeks as they prepare to face USA in a two-game World Rugby Trophy qualifying series in June.
"We have had a fantastic start to the camp. Immediately the focus has been clear – we are here to qualify vs. USA. The professional atmosphere and mindset of the staff and players is to do the job and take our game in this country to the next level," said Williams.
"The group has a blend of inexperienced players but also players playing at a premier or university level and wanting to prove themselves," said the head coach. "And of course age grade players or returning players that will need to be on top of their game to make the squad," he added.  
The two-match qualifying series, which is decided based on aggregate points, will be held in USA on June 12th and 16th.
The selection camp will include a "Probables vs. Possibles" trial match on May 19th, following which a 26-man roster, along with four non-travelling reserves for the two-match qualifying series against USA will be selected to remain in camp at Shawnigan Lake School until June 7th. The 26-man squad will play games against Fraser Valley U-23 at Westhills Stadium on May 26th and BC U-23 in Abbotsford on June 1st.
"The weather on Vancouver Island has been tremendous which has helped greatly with the boys getting extra recovery time in the lake. USA are tough, athletic and well coached. It is a great battle and it is going to be a difficult task," said Willliams.
If Canada qualifies for the World Rugby Trophy it will be played in Bucharest, Romania August 24 to Sept 10 and will be preceded by a camp in Shawnigan Lake School Aug 15-23.
The World Rugby Under-20 Trophy is an international rugby union competition contested by 8 second-tier men's junior national teams with an under-20 age requirement. The 2017 World Rugby U-20 Trophy was the tenth annual edition of the competition and was won by Japan. Canada finished in 7th place.
This extensive preparation period has been facilitated by the Canada Under-20 Support Group comprised of:
Karl Fix (Chair)
David Robertson
Andrew Purdey
Bill Webb
Mike Holmes
Pat Parfrey

The objective of this group is to ensure optimal selection and preparation for the Under-20 team, so that ultimately it can challenge for the World Rugby Trophy. The intent is to raise enough capital as to ensure that players do not have to pay to play for their country.
"A very special thank you to our supporters Karl Fix, Bill Webb, Andrew Purdy, Mike Holmes, David Robertson and Pat Parfrey. This process has been greatly augmented by their contributions," added Jeff Williams.
Schedule:
Saturday, May 26
Canada U-20 vs. Fraser Valley U-23
Westhills Stadium, Langford, BC
(kick off TBD)
Friday, June 1st
Canada U-20 vs. BC U-23
Abbotsford, BC
(kick off TBD)
Tuesday, June 12th
Canada U-20 vs USA U-20
USA (location TBA)
(kick off TBD)
Tuesday, June 16th
Canada U-20 vs USA U-20
USA (location TBA)
(kick off TBD)
Canada's Under-20 Men's Team long list:
Damon Adams – Castaway Wanderers (Victoria, BC)
Hammad Babatunde – Assassins RFC (Winnipeg, MB)
Stanislaus Blazkowski – Racing Club Narbonne (Montreal, QC)
Steven Commerford – Brock University (Toronto, ON)
Spencer Cooper – UVIC Vikes (Vancouver, BC)
Reid Davis – Bayside RFC (Surrey, BC)
Peyton Eager – Nanaimo Hornets (Nanaimo, BC)
Joshua Engelbrecht – Queen's University (Toronto, ON)
Elias Ergas – UBC Thunderbirds (Vancouver, BC)
Mostyn Findley – UVIC Vikes (Regina, SK)
Aidan Foley – Western University (Toronto, ON)
Brock Gallagher – James Bay AA (Edmonton, AB)
Ethan Hager – UVIC Vikes (ON)
James Hammond – Toronto Nomads (Toronto, ON)
Peter Ingoldsby – Exmouth RFC (England)
Quentin James – Perpignan (Vancouver, BC)
John Jubenvil – UBC Thunderbirds (Vancouver, BC)
Gavin Kratz – UVIC Vikes (Victoria, BC)
John Lan – UBC Thunderbirds (Vancouver, BC)
Stephen Mallard – Swiler's RFC (St. John's, NL)
Jackson Marquardt – Concordia University (Montreal, QC)
Logan Martin-Feek – UVIC Vikes (Victoria, BC)
Jackson Matthews – UVIC Vikes (Montreal, QC)
Jack McCarthy – Vandals RFC (St, John's, NL)
Jack McRogers – McMaster University (Toronto, ON)
Jordon Montgomery – Castaway Wanderers (Charlottetown, PEI)
Ben Newhook – Vandals RFC (St, John's, NL)
Evan Norris – UBC Thunderbirds (Victoria, BC)
James O'Neill – UVIC Vikes (Cochrane, AB)
Will Percillier – UBC Thunderbirds (Victoria, BC)
Alex Pipchuk – Queen's University (Toronto, ON)
Emerson Prior – Trent University (Toronto, ON)
Brennig Prevost – UVIC Vikes (Victoria, BC)
Seth Purdey – UCal at Berkeley (Shawnigan Lake, BC)
Tyler Rowland – UBC Thunderbirds (Toronto, ON)
Owain Ruttan – UBC Thunderbirds (Toronto, ON)
Brandon Schellenberg – Castaway Wanderers (Victoria, BC)
Harrison Smith – UBC Thunderbirds (Vancouver, BC)
Michael Smith – UBC Thunderbirds (Vancouver, BC)
Henry Stevenson – Toronto Nomads (Toronto, ON)
David Stoltz – Barrhaven Scottish (Ottawa, ON)
Sam Turner -  UBC Thunderbirds (Vancouver, BC)
Kevin Vertkas – UBC Thunderbirds (Toronto, ON)
Tyler Wong – UVIC Vikes (Vancouver, BC)
Canada's Under-20 Men's Team Staff:
Jeff Williams – Head Coach
Adam Roberts – Assistant Coach
Adam Kleeberger – Strength and Conditioning Coach
Pat Parfrey – Manager
Mike Flynn – Co-Manager
Derrick Pue – Video analyst
Kiyomi Thompson – Physiotherapist