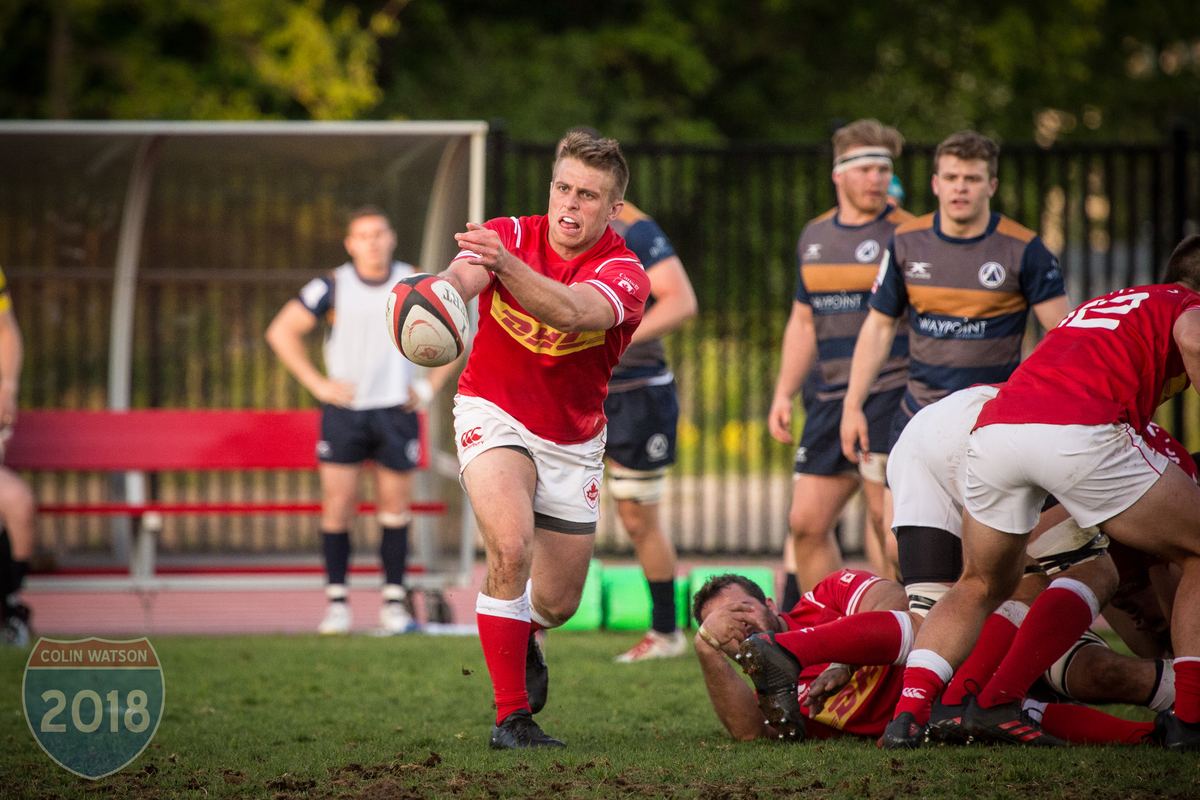 Canada Selects set to face Ontario Arrows in Langford
Wilhelm Horn
Rugby 15s Senior Men
LANGFORD, BC (May 25, 2018) – Canada head coach Kingsley Jones has named his starting Canada Selects squad for the second development fixture against the Ontario Arrows at Westhills Stadium on Saturday evening
The two-game series against the Arrows serves as preparation for the centralized group of players to acquire game-time against quality opposition and a chance to put their hand up for selection ahead of the June International Series, which kicks off on June 9 against Scotland in Edmonton.
It also provides an opportunity to continue growing the depth of rugby players in Canada and allow both coaches to experiment with different options in a trial-style atmosphere.
Coach Kingsley Jones has made six changes to the starting line-up that secured a hard-fought 19-0 victory over the Ontario Arrows at York Lions Stadium in the first of the two-game series last weekend. Steven Ng and Ryan Kotlewski come into the front-row, while Matt Heaton replaces Dustin Dobravsky on the blindside.                    
The backline sees a brand-new midfield combination with the experienced Nick Blevins joined by UBC's Ben LeSage, in what will be the first time the pair have played together since the World Cup qualifying series versus Uruguay. Gordon McRorie starts at flyhalf after coming off the bench in Toronto last weekend.
Kingsley Jones:
"This week the changes have been made to give everybody a fair opportunity. The boys have worked really hard in the last eight weeks and it's an opportunity for them to put their hand up at a reasonable level. Up until last weekend our priority was to get the fitness and strength levels of the players up, this week we've spent a little bit more time on our set pieces and team structures.
The most pleasing thing about last week's fixture I thought was our scrum. The Arrows are known for their strong front-row and I thought our young pack stood up to the test and we were dominant in that area. I think a lot of that may be down to technical detail and the time we've spent building up our strength over the past eight weeks.
It was a great occasion last week, but we know we've got a wider track this week and we'll be tested in terms of how much we run and the fitness and conditioning of the players will definitely be challenged on that surface." 
The match will be streamed LIVE on the Rugby Canada Facebook page at 8pm ET/5pm PT>
https://www.facebook.com/RugbyCanada
Canada Selects roster to face Ontario Arrows:
1.     Noah Barker – James Bay AA/BC Bears (Courtenay, BC)
2.     Steven Ng – James Bay AA (Ottawa, ON)
3.     Ryan Kotlewski – Westshore RFC/Prairie Wolf Pack (Calgary, AB)
4.     Paul Ciulini – Aurora Barbarians/Ontario Blues (Vaughan, ON)
5.     Conor Keys – UVIC Vikes/Atlantic Rock (Stittsville, ON)
6.     Matt Heaton – (Darlington Mowden Park/Atlantic Rock) Godmanchester, QC
7.     Lucas Rumball – Captain, Balmy Beach RFC/Ontario Blues (Mississauga, ON)
8.     Luke Campbell – James Bay AA/BC Bears (Victoria, BC)
9.     Andrew Ferguson – Oakville Crusaders/Ontario Blues (Mississauga, ON)
10.  Gordon McRorie – Calgary Hornets/Prairie Wolf Pack (Calgary, AB)
11.  Kainoa Lloyd – Mississauga Blues/Ontario Blues (Mississauga, ON)
12.  Nick Blevins – Calgary Hornets/Prairie Wolf Pack (Calgary, AB)
13.  Ben LeSage – UBC Thunderbirds/Prairie Wolf Pack (Calgary, AB)
14.  Cole Davis – Calgary Saints/Prairie Wolf Pack (Calgary, AB)
15.  Pat Parfrey – Swilers RFC/Atlantic Rock (St. John's, NL)
Substitutes:
Grant Crowell – Calgary Rams/Prairie Wolf Pack (Wolfville, NS)
Liam Murray – James Bay AA (Langley, BC)
Cole Keith – James Bay AA/Atlantic Rock (Sussex, NB)
Liam Chisholm – Castaway Wanderers/BC Bears
Dustin Dobravsky – Castaway Wanderers/BC Bears (Hanover, Germany) 
Robbie Povey – Castaway Wanderers/Prairie Wolf Pack (Northampton, UK)
Theo Sauder – UBC Thunderbirds (Vancouver, BC)
Guiseppe du Toit – UVIC Vikes/BC Bears (Maple Ridge, BC)
Karsten Leitner – UBCOB Ravens/BC Bears (Vancouver, BC)
Doug Fraser – Castaway Wanderers/BC Bears (Ladysmith, BC)
Ontario Arrows Roster:
1. Rob Brouwer
2. Alex Post
3. Clint Lemkus
4. Mike Sheppard (Captain)
5. Tom Van Horne
6. Marcello Wainwright
7. Peter Milazzo
8. Kolby Francis
9. Alex Gliksten
10. Shawn Windsor
11. Kyle Lagasca
12. Jamie Leveridge
13. Mitch Richardson
14. John Sheridan
15. Aaron Mclelland
16. Cam Sandison
17. Pat Lynott
18. Alex Forrest
19. Dillon Goos
20. Travis Larsen
21. Mario van der Westhuizen
22. Cooper Coats
23. Josh Campbell
24. Josh Thiel 
Upcoming development fixtures schedule:
May 26th
Westhills Stadium
Langford, BC
8pm ET/5pm PT
Watch LIVE> www.facebook.com/RugbyCanada
Canada's 2018 Summer Series:
June 9th
Canada vs. Scotland
Commonwealth Stadium
Edmonton, AB
Kick off: 7pm local time (9pm ET/6pm PT)
June 16th
Canada vs. Russia
Twin Elm Rugby Park
Ottawa, ON
Kick off: 4pm ET/1pm PT
June 23rd
Canada vs. USA
Wanderers Ground
Halifax, NS
Kick off: 4pm local time (3pm ET/12pm PT)
Tickets for the 2018 Summer Series can be purchased by clicking here > 
https://rugby.ca/en/tickets 
-30-