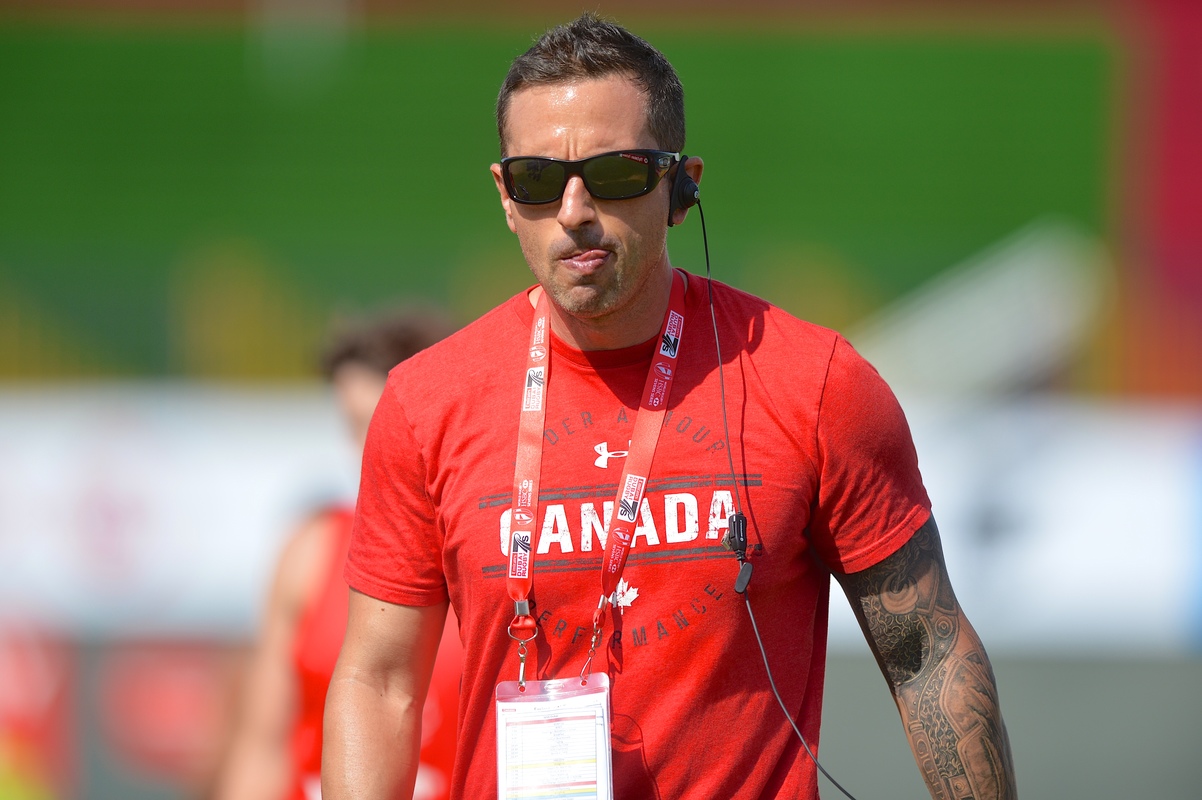 Fiorino named Head Coach of Canada's Women's Team
Bryan Kelly
Rugby 15s Senior Women
Rugby Canada is delighted to announce that Sandro Fiorino has been appointed Head Coach of Canada's Women's Rugby Team, effective immediately, in addition to his current role of Sevens Academy Head Coach
"We're happy to announce that Sandro Fiorino will remove the interim title to officially lead Canada's Women's Fifteens Team moving forward," said Dustin Hopkins, Rugby Canada Interim General Manager.
After helping lead Canada's Women's Sevens Team to a historic bronze medal at the 2016 Summer Olympics in Rio de Janeiro, Fiorino moved back to Toronto to build a next-generation academy focusing on finding and developing youth athletes in eastern Canada. 
"Sandro will continue to focus on developing next generation athletes for sevens, based on his current role, while also taking an expanded responsibility to oversee the Senior Women's Program," added Hopkins.
Fiorino, originally from Toronto, ON, is a former high level rugby and football player and full time employee with Rugby Canada's Women's Program since 2011. As Head Coach of the program, Fiorino led Canada's Women's Under-20 Team to back-to-back undefeated Nations Cup Championships in 2013-14, with victories over England, South Africa and USA.
"Having Sandro working on the development of sevens players at the academy level and the continued development of players through the pathway to both 7s and 15s will further enhance women's rugby in Canada," said Meaghan Howat, Rugby Canada's Director of Rugby Sevens and Women's Rugby.
"Additionally, his talent identification at U Sports and at the Canadian Rugby Championship will support both codes of the game as he works with our targeted athletes at the Under-18 level, but also continues to assess and track university and senior players," added Howat. 
Fiorino has received plenty of plaudits for his work in identifying and developing athletes. He spotted Ghislaine Landry a dozen years ago at a high school tournament and she is now Canada's sevens captain and the top points scorer on the HSBC World Rugby Women's Sevens Series. Fiorino is also currently enrolled in the advanced coaching diploma in Canada developing his coaching skills towards the performance end of the game.  
"I'm excited to take over the fifteens program, which has seen success and growth over the years. My goal is to have alignment within the sevens and fifteens programs to have a shared pathway for women's rugby to continue excelling in Canada," said Fiorino. 
"I will be building out a plan to strengthen the way we identity and develop our athletes from across the country to help drive elite women's rugby forward. The plan will have three simple goals:
1.       To achieve podium performances at the next Women's Rugby World Cup in 2021
2.       To create a united talent structure and system that grows players from age grade to senior.
3.       To align grassroots, universities, regional and provincial/territorial talent development with a talent pathway.
"The foundation of the Women's 15's Program is to drive and achieve World's Best Standards. Clear guidelines of defined positional and team attributes that provide a framework to progress, asses, monitor and track performance. This provides administrators/players with clear guidelines for developing 15's Canadian players," he added.
Jack Hanratty appointed Women's Under-20 Head Coach
Furthermore, Rugby Canada can also confirm that Jack Hanratty has been named the Head Coach of Canada's Women's Under-20 Program, effective immediately. 
"We are also pleased to announce that Jack Hanratty will take over the Under-20 Women's Head Coach position. Following a very detailed review process of the 2017 season, I believe that we have managed to assemble a strong and experienced coaching staff. We are looking forward to building on the work done by Francois Ratier," said Hopkins.
Canada's Under-20 Women's Team will face England in a three-game series in Nova Scotia in August.
The women's program will be supported by regional and assistant coaches that are responsible for their area as well as age-grade programs for attention and focus on local development:
NSW15s Staff
Dr. Maria Gallo –  Assistant Coach (BC Lead)
Dan Valley – Assistant Coach (Ontario Co-Lead)
Jen Boyd –  Assistant Coach (Ontario Co-Lead)
Kevin Rouet – Assistant Coach (Quebec Lead)
Jack Hanratty – U20 Head Coach (NSW15s Atlantic lead)
Ricky Coombe – U18 West Head Coach (NSW15s Prairies Lead)
Duncan McNaughton – U18 East Head Coach (NSW15s Scrum)
Technical Support:
Gary Dukelow (Scrum)
Morgan Williams (Halfbacks)
John Tait (Lineouts) 
Canada's Women's Rugby Team will be hosting East & West Camps this month to continue their preparation for an international tour to Europe in November.
May 16 to 20 – Canada East Camp at Queen's University
May 23 to 27 – Canada West Camp at Shawnigan Lake School
East Camp (16 May – 20 May @ Queens University):
Sam Ali – Barrhaven Scottish – Caledon, ON
Joanna Alphonso – Toronto Scottish – Ajax, ON
Emily Barber – Aurora Barbarians – Fenelon Falls, ON
Alexandria Bennett – Ottawa Irish – Ottawa, ON
Megan Copeland-Dinan – Barrhaven Scottish- Ottawa, ON
Alysha Corrigan – Charlottetown Rugby Club – Charlottetown, PEI
Olivia DeMerchant – Fredericton Loyalists – Mapledale, NB
Alex Ellis – Barrhaven Scottish – Ottawa, ON
Ngalula Fuamba – TMR RFC – Montréal, QC
Sasha Guedes – Beaconsfield RFC – Gatineau, QC
Veronica Harrigan – London St. George's – Lucan, ON
Magali Harvey – TMR RFC – Mount Royal, QC
Rachel Hickson – Barrhaven Scottish – Ottawa, ON
Anaïs Holly – TMR RFC – Montréal, QC
McKinley Hunt – Aurora Barbarians – King City, ON
Colleen Irowa – Toronto Saracens – Toronto, ON
Emmanuela Jada – Guelph Redcoasts – Guelph, ON
Holly Jones – Charlottetown Rugby Club – Charlottetown, PEI
Lori Josephson – Aurora Barbarians – Beaverton, ON
Brittany Kassil – Guelph Redcoats – Guelph, ON
Daria Keane – Guelph Redcoats – Sarnia, ON
Annie Kennedy – Kingston Panthers/Windsor Machine – Kingston, ON
Maude Laliberté – Club de rugby de Québec – Québec City, QC
Brianna Miller – Saint Anne de Bellevue RFC – Point Claire, QC
Lauren McEwan – Kingston Panthers – Kingston, ON
Cindy Nelles - Belleville Bulldogs – Belleville, ON
Emilie Nicholl – Guelph Redcoats – Guelph, ON
Jordyn Orando – Toronto Scottish – Burlington, ON
Irene Patrinos – Toronto Saracens – Mississauga, ON
Justine Pelletier – Club de Rugby de Quebec – Quebec City, QC
Brianna Phillips – Ottawa Irish – Orleans, ON
Frederique Rajotte – St Anne de Bellevue – Montréal, QC
Laura Russell – Toronto Nomads – Bolton, ON
Emily Samek – Guelph Redcoats – Hamilton, ON
Julia Schell – Guelph Redcoats – Uxbridge, ON
Kylie Shaughnessy – Guelph Redcoats – Peterborough, ON
Janna Slevinsky – Kingston Panthers – St. Albert, AB
Katie Svoboda – Brantford Harlequins – Belleville, ON
Sara Svoboda – Brantford Harlequins – Belleville, ON
Alex Tessier – Montreal Barbarians – Sainte-Clotilde-de-Horton QC
West Camp (23 May – 27 May @ Shawnigan Lake, BC): 
Maddi Aberg – Westshore RFC – Calgary, AB
Elissa Alarie – Westshore RFC/SABRFC – Trois-Rivières, QC
Jennifer Appleby – Castaway Wanderers – Regina, SK
Tyson Beukeboom – Cowichan Piggies – Uxbridge, ON
Gillian Boag – Capilano RFC/UBC – Calgary, AB
Andrea Burk – Capilano RFC – North Vancouver, BC
Mackenzie Carson – Abbotsford RFC – Abbotsford, BC
Julie David – Saskatoon Wild Oats – Vancouver, BC
Sophie De Goede – Queens University/Castaway Wanderers – Victoria, BC
Sydney de La Mare – St. Albert Rugby Club – St. Albert, AB
Abigail DuGuid – Pirates Football Rugby Club – Edmonton, AB
Chanelle Edwards-Challenger – Castaway Wanderers – Calgary, AB
Paige Farries - Westshore RFC – Red Deer, AB
Julia Folk – Castaway Wanderers – Regina, SK
Fabiola Forteza – Club de Rugby de Quebec – Quebec City, QC
Kara Galbraith – Castaway Wanderers – Ladysmith, BC
Maddie Gold – UBC – Vancouver, BC
Courtney Holtkamp – Red Deer Titans – Rimbey, AB
Daleaka Menin – Calgary, Hornets – Vulcan, AB
Kasselle Menin – Calgary, Hornets – Vulcan, AB
Chelsey Minter – Westshore RFC – Sidney, BC
Jess Neilson – Castaway Wanderers – Victoria, BC
Karen Paquin – Club de Rugby de Québec/Castaway Wanderers – Ville de Québec, QC
Rori Wood – Westshore RFC – Sooke, BC
Elysa Sandron – Calgary Hornets – Winnipeg, MB
Alayna Scramstad -  Thunderbirds – Lashburn, SK
Gabrielle Senft – Castaway Wanderers – Regina, SK
Berlyn Sesalja - Bayside Sharks – Surrey, BC
Demi Stamatakis – Capilano RFC/SFU – Vancouver, BC
Zoe Sutton-Goodwin – Westshore RFC – Ottawa, ON
Amanada Thornborough – Westshore Valkyries- Brandon, MB
Sya Trafford – Castaway Wanderers – Calgary, AB
Emily Tuttosi – Calgary Hornets – Souris, MB
Valerie Wideski – Westshore Valkyries - Richmond, BC