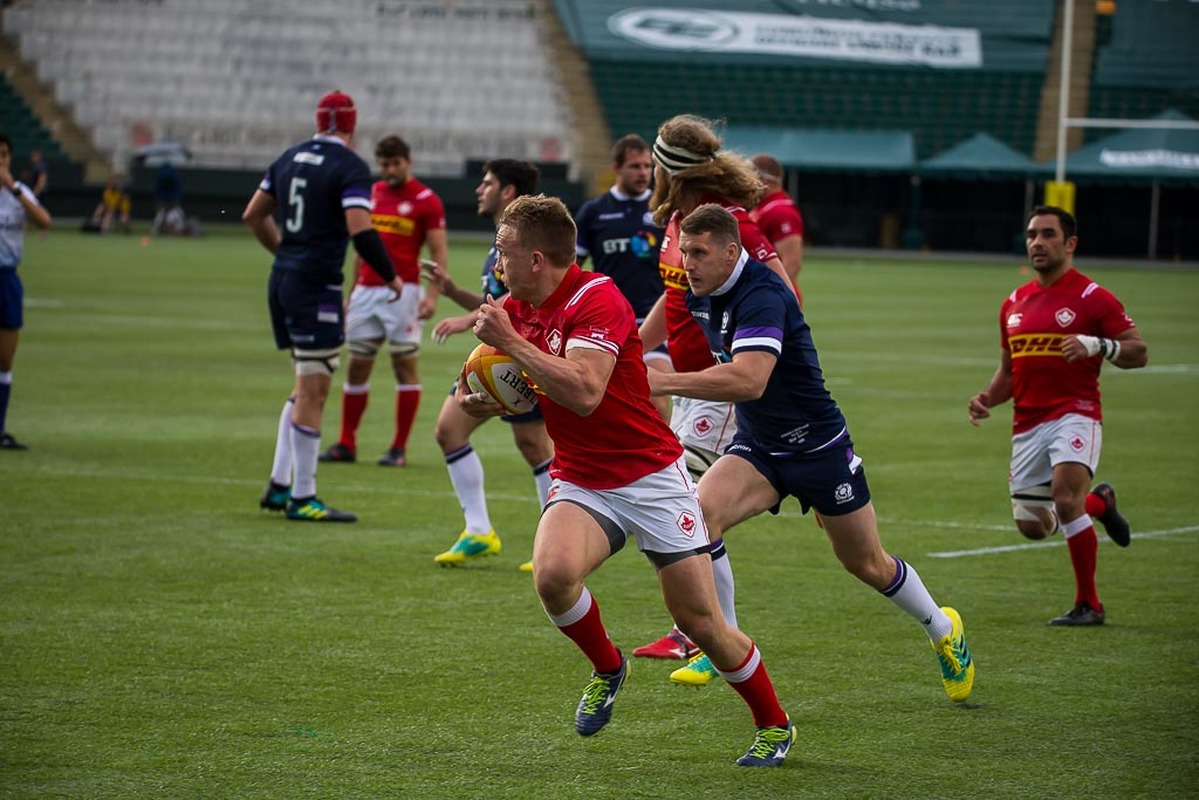 STATS & FACTS: CANADA VS. RUSSIA
Canada's Men's Rugby Team will meet Russia in the second of their June Internationals at Twin Elm Park in Ottawa, Ontario on Saturday.
Saturday's Test Match against Russia will be the fifth encounter between the two nations - geographically the two largest in the world.
Russia has an area of 17,075,400 km2 (6,592,800 sq mi). Canada an area of 9,984,670 km2 (3,855,103 sq mi).
21st ranked, Canada hold a 100%-win record against the 19th ranked Russians – the last meeting finishing in a 46-21 victory for Canada in Calgary in 2016.
Both teams come off the back of defeats in their opening June Internationals – Canada falling 48-10 to Scotland and Russia being outplayed by USA, 62-13.
Scotland scored seven tries on the way to victory over Canada at the Commonwealth Stadium in Edmonton, while USA converted nine tries in their impressive win over the Russians in Denver, Colorado.
Canada placed fourth in this year's Americas Rugby Championship, while opponents, Russia finished the Rugby Europe International Championships in second place. Both teams concluding with a 2-0-3 record.
Russia have qualified for next year's Rugby World Cup after Spain, Belgium and Romania were sanctioned for fielding ineligible players. Russia join Ireland, Scotland and hosts Japan in Pool A.
Canada is headed to a last-chance repechage in November to decide the final berth in the World Cup.The repechage teams will play a round-robin to decide which country will draw into Pool B in Japan with New Zealand, South Africa, Italy and Africa 1.
2019 will be Russia's second ever appearance at a Rugby World Cup. The only other coming at the 2011 edition in New Zealand, where they failed to win any matches.
Canada has played in every Rugby World Cup since the inaugural tournament in 1987. Their best performance was in 1991, when they beat Fiji and Romania, qualifying for the quarter-finals, where they lost to New Zealand.
Canada head coach, Kingsley Jones is also the former head coach of Russia. Jones spent more than three years with the Russian National Team and left his post with 11 wins from 26 games. Russia never losing to a team ranked below them with Jones at the helm, a 42% win rate.
Twin Elm Rugby Park has hosted eight previous Canadian Internationals. The first on June 5, 1993 against an England XV, the last against USA on August 22, 2015. Canada has a record of four wins and four losses when playing at Twin Elm.
Summer Series Schedule:
June 16th
Canada vs. Russia
Twin Elm Rugby Park
Ottawa, ON
Kick off: 4pm ET/1pm PT
June 23rd
Canada vs. USA
Wanderers Ground
Halifax, NS
Kick off: 4pm local time (3pm ET/12pm PT)
Tickets for the 2018 Summer Series can be purchased by clicking here> https://rugby.ca/en/tickets