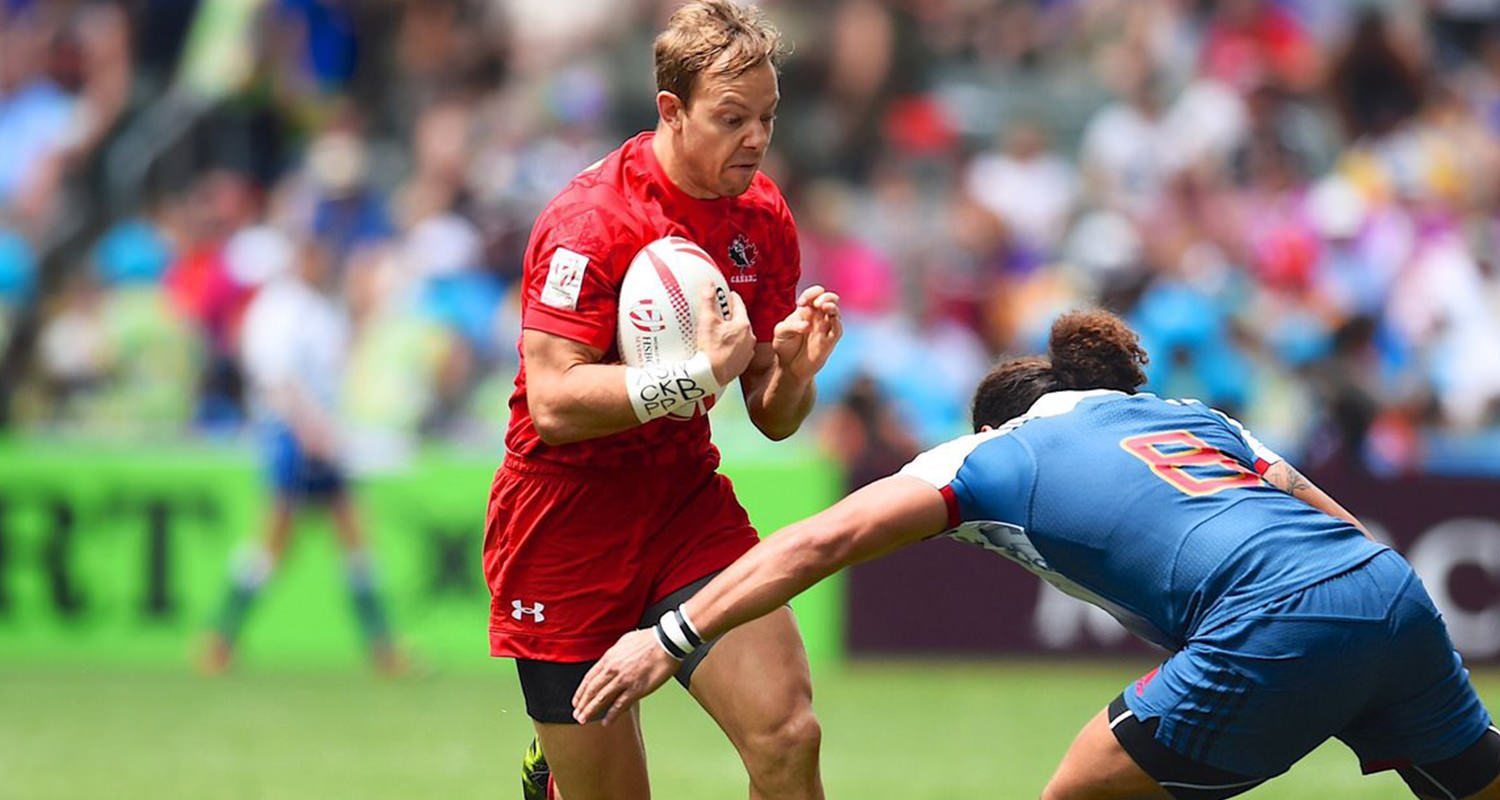 McGrath names Rugby World Cup Sevens roster
Bryan Kelly
Rugby 7s Senior Men
LANGFORD, BC (July 10, 2018) –Canada Men's Sevens head coach Damian McGrath has named his 12-man roster for the 2018 Rugby World Cup Sevens in San Francisco.
Canada will be captained by North Vancouver veteran Harry Jones. The 28-year-old recently passed the 100 try mark on the HSBC World Rugby Sevens Series and has shared the captaincy duties since the departure of John Moonlight earlier this season. This will be Jones' third World Cup appearance after the 2013 in Russia and 2015 (fifteens) in England and Wales.
 
Jones' leadership role will be complimented by long-time teammate and 2017-18 Series points scoring leader Nate Hirayama. The 30-year-old from Richmond, BC adds to his impressive Rugby World Cup appearance tally, having been on the roster for three fifteens tournaments (2007, 2011 & 2015) along with the 2013 edition in Moscow, Russia.
 
McGrath's roster includes five members – Jones, Hirayama, Lucas Hammond, Mike Fuailefau, and Justin Douglas – from the 2013 campaign, which finished the tournament with a 5-1 record for 9thplace.  Andrew Coe, Isaac Kaay, Connor Braid, Admir Cejvanovic, Pat Kay, Luke McCloskey & Matt Mullins are set to make their Sevens World Cup debuts in less than two weeks' time.
 
Abbotsford, BC's Douglas was in fine form this past season the world series, scoring 35 tries in 10 tournaments and winning the DHL Impact Player for the series.
 
Canada finished the 2017-18 HSBC World Rugby Sevens Series in a respectable ninth place position with 76 points throughout the 10 tournaments. Despite battling injuries, player unavailability's and retirement, McGrath's outfit put forward two top four finishes in Cape Town and Paris.
 
Rugby World Cup Sevens 2018, which features the world's top 24 men's and 16 women's teams, will be played on 20-22 July at the iconic AT&T Park in California. With the recently confirmed innovative 'knock-out' tournament format both the men's and women's teams will have to win every match to be crowned World Cup winners. 
 
The men's competition starts off on Friday morning with the Pre-Round of 16, where Canada is set to face Papua New Guinea with chance to face Argentina in the Round of 16 up for grabs.  
 
This month's historic event in California will be the first-ever Rugby World Cup in any form in USA and only second in North America after Canada hosted the 2006 Women's Rugby World Cup in Edmonton, Alberta.
 
Rugby Canada, in partnership with Bear Mountain, Butchart Gardens & the City of Langford, is throwing an official Rugby World Cup Sevens Send Off event on Thursday, July 12th. Members of the Canadian Rugby community are encouraged to attend from 12pm to 2pm to celebrate our teams and properly send them off to San Francisco as part of the annual Players' Championship Golf Tournament.
 
Canada Roster for Rugby World Cup Sevens:
 
Connor Braid – James Bay AA (Victoria, BC)
Andrew Coe – Markham Irish (Toronto, ON)
Admir Cejvanovic – Burnaby Lake RFC (Burnaby, BC)
Justin Douglas – Abbotsford RFC (Abbotsford, BC)
Mike Fuailefau – Castaway Wanderers (Victoria, BC)
Lucas Hammond – Toronto Nomads (Toronto, ON)
Nathan Hirayama – Unattached (Richmond, BC)
Harry Jones – Captain,Capilano RFC (North Vancouver, BC)
Isaac Kaay – UVIC Vikes (Kamloops, BC)
Pat Kay – Castaway Wanderers (Duncan, BC)
Luke McCloskey – Castaway Wanderers (Victoria, BC)
Matt Mullins – Queen's University (Belleville, ON)
 
Rugby World Cup Sevens Schedule:
 
Friday, July 20 –
Canada vs. Papua New Guinea at 4:23pm ET/1:23pm PT – Pre Round of 16
 
The entire tournament can be streamed live on www.cbcsports.ca, along with television coverage throughout various times during the weekend. Visit CBC's website for more information.
 
-30-
Le Canada sera dirigé par le vétéran de North Vancouver Harry Jones. Le joueur de 28 ans a récemment passé le cap de 100 essais au sein du Série de R7 de World Rugby HSBC et il a partagé le brassard de capitaine depuis le départ de John Moonlight plus tôt cette saison. Il s'agira de la troisième participation de Jones à une Coupe du Monde de World Rugby après 2013 en Russie (R7) et en 2015 (XV) en Angleterre et au Pays de Galles.
 
Le rôle de leadership de Jones sera complété par son coéquipier de longue date et meilleur marqueur de points de la Série 2017-2018 Nate Hirayama. Le joueur de 30 ans originaire de Richmond en Colombie-Britannique ajoute à son impressionnant parcours de Coupe du Monde de World Rugby, ayant participé à trois éditions de la CMR-XV (2007, 2011 et 2015) en plus de l'édition de 2013 de la CMR7 à Moscou en Russie.
 
Le groupe de McGrath comprend cinq membres (Jones, Hirayama, Lucas Hammond, Mike Fuailefau et Justin Douglas) du tournoi de 2013 qui a complété la compétition avec une fiche de 5-1 pour prendre le neuvième rang. Andrew Coe, Isaac Kaay, Connor Braid, Admir Cejvanovic, Pat Kay, Luke McCloskey et Matt Mullins en seront à une première expérience de CMR7 dans deux semaines. 
 
Douglas d'Abbotsford en Colombie-Britannique était en grande forme cette saison dans la Série de R7 de World Rugby, amassant 35 essais en 10 tournois et remportant le titre de Joueur d'impact DHL de la Série.
 
Le Canada a conclu la Série de R7 de World Rugby 2017-2018 aec une neuvième place respectable grâce à une récolte de 76 points après 10 tournois. Malgré les blessures, la non disponibilité des joueurs et la retraite, le groupe de McGrath a grimpé deux fois dans le carré d'as au Cap et à Paris. 
 
La Coupe du Monde de R7 2018, qui réunit les 24 meilleures équipes masculines et les 16 meilleures équipes féminines au monde sera disputée du 20 au 22 juillet dans le légendaire AT&T Park de San Francisco en Californie. Avec le format éliminatoire récemment confirmé, les équipes masculines et féminines devront remporter tous leurs matchs pour être couronnés champions de la Coupe du Monde.
 
La compétition masculine démarrera le vendredi match avec les 16ede finale alors que le Canada affrontera la Papouasie-Nouvelle-Guinée pour avoir l'occasion d'affronter l'Argentine en huitièmes de finale.
 
Le tournoi historique de la fin juillet en Californie sera la première Coupe du Monde de Rugby à avoir lieu aux États-Unis et la deuxième en Amérique du Nord après la tenue de la Coupe du Monde de Rugby Féminine en 2006 à Edmonton en Alberta.
 
Rugby Canada, en partenariat avec Bear Mountain, Butchart Gardens et la Ville de Langford, organisent une activité officielle d'envoi de l'équipe pour la Coupe du Monde de R7, le jeudi 12 juillet. Les membres de la communauté de rugby sont encouragés à y participer de 12 h à 14 h pour célébrer nos équipes et les envoyer adéquatement à San Francisco dans le cadre du Tournoi annuel de golf du Championnat des joueurs.
Groupe canadien pour la Coupe du Monde de R7
 
Connor Braid – James Bay AA (Victoria, C.-B.)
Andrew Coe – Irish de Markham (Toronto, ON)
Admir Cejvanovic – Burnaby Lake RFC (Burnaby, C.-B.)
Justin Douglas – Abbotsford RFC (Abbotsford, C.-B.)
Mike Fuailefau – Wanderers de Castaway (Victoria, C.-B.)
Lucas Hammond – Toronto Nomads (Toronto, ON)
Nathan Hirayama – Sans club (Richmond, C.-B.)
Harry Jones – capitaine, Capilano RFC (North Vancouver, C.-B.)
Isaac Kaay – Vikes d'UVIC (Kamloops, C.-B.)
Pat Kay – Wanderers de Castaway (Duncan, C.-B.)
Luke McCloskey – Wanderers de Castaway (Victoria, C.-B.)
Matt Mullins – Université Queen's (Belleville, ON)
 
Horaire de la Coupe du Monde de R7
 
Vendredi 20 juillet
Canada vs Papouasie Nouvelle-Guinée à 16 h 23 HE / 13 h 23 HP – 16e de finale
 
Tout le tournoi sera webdiffusé en direct avec commentaires en français sur www.ici.radio-canada.ca/sports et en anglais sur www.cbcsports.caavec quelques matchs à la télévision sur les ondes de la CBC.
 
-30-