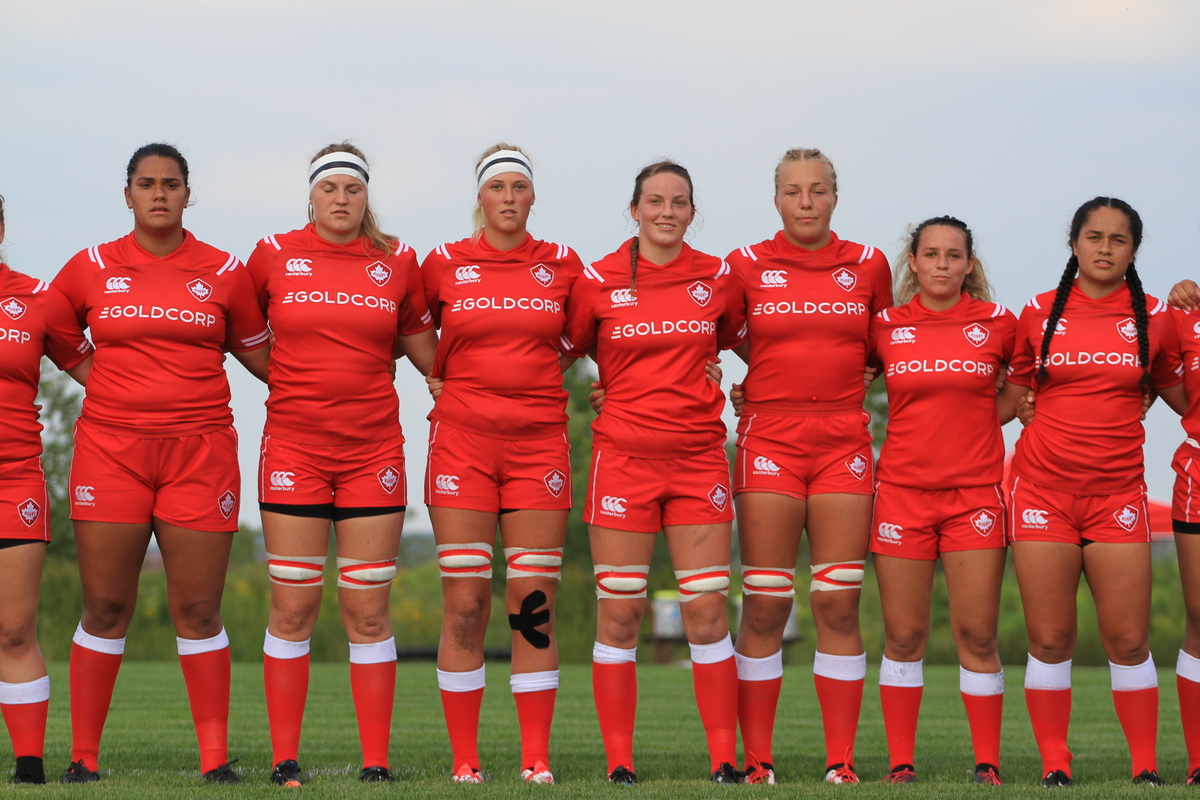 Canada Defeat USA to open U20 Women's Tri-Nations Cup
Bryan Kelly
Rugby 15s U20 Women
Canada's Women's Under-20 Team opened the 2018 Tri-Nations Cup with an exciting 36-12 victory over USA U-20 today in Wolfville, Nova Scotia
Canada was led by their captain Sophie de Goede, who scored four tries in the victory, while Madison Gold and Niahm Haughey also touched down for one. Tausani Levale added three conversions off the boot. 
Canada will now have a short three-day turnaround before facing England on August 10th. 
The entire game will be posted later tonight on Rugby Canada's Youtube page. 
Canada Scoring:
Tries: Sophie de Goede x4, Madison Gold, Niamh Haughey
Conversion: Tausani Levale (x3)
Canada U-20 Roster to face USA U-20:
 
1. Idia Ihensekien - Dartmouth College/Oakville Crusaders RFC (ON)
2. Mackenzie Carson - UBC Thunderbirds/Bristol Bears (BC)
3. Valerie Wideski - Acadia University/Westshore RFC (BC)
4. Abby duGuid - University of Lethbridge/Edmonton Pirates RFC (AB)
5. Keegan Branter - University of Lethbridge/Lethbridge Rugby Club (AB)
6. Harley Tucker - Acadia Universtiy/Windsor Machine RFC (AB)
7. Courtenay Holtkamp - University of Alberta/Red Deer Titans (AB)
8. Sophie de Goede – Captain,Queen's University/Castaway Wanderers (BC)
9. Sasha Guedes - UVic Vikes/Beaconsfield (QC)
10. Tausani Levale - Abbotsford Griffins (BC)
11. Asia Hogan - York University/Toronto Nomads (ON)
12. Madison Gold - UBC Thunderbirds (BC)
13. Niamh Haughey - Brock University/Saracens (ON)
14. Hannah Daniels - Queen's University/Aurora Barbarians (ON)
15. Brooke Bazian - UBC Thunderbirds (BC)
16. Erika Barton - Guelph University/Kingston Panthers (ON)
17. Amelia Hatfield - St Francis Xavier University/Halifax Tars RFC (NS)
18. Maya Monteil - Ottawa University/Ottawa Irish Rugby Club (NB)
19. Zoe Goodwin-Sutton - UVic Vikes/Westshore RFC (ON)
20. Aly Macdougal - University of Calgary/Calgary Irish (AB)
21. Taylour Hurd - Brock University/Oakville Crusaders (ON)
22. Annie Kennedy - Acadia University/Windsor Machine RFC (ON)
23. Sarah-Maude Lachance - CEGEP Victoriaville/Club De Rugby Quebec (QC)
 
Game details and ticket information:
 
Aug. 7th -  Canada 36 - 12 USA
Aug. 10th - Canada vs England, Acadia University @ 6:30pm local time (5:30pm ET/2:30pm PT)
(tickets available at the gate)
Aug. 14th - USA vs England, Acadia University @ 6:30pm local time (5:30pm ET/2:30pm PT)
(tickets available at the gate)
Aug. 18th - Canada v England, Wanderers Grounds, Halifax @ 4:00pm local time (3pm ET/12pm PT)
(Click here for tickets here) 
 
Canada Under-20 Staff:
 
Jack Hanratty, Head Coach
Kelly Russell, Assistant Coach
John Lavery, Assistant Coach
Jocelyn Barrieau, Assistant Coach
Jeremy Steinbach, Strength and conditioning Coach
Tom Mcleod, Video analyst
Danielle McNally, Physiotherapist
Sarah MacNeil, Manager  
 
-30-
Le Canada a été mené par sa capitaine Sophie de Goede, auteur de quatre essais dans la victoire, tandis que Madison Gold et Niahm Haughey ont aussi inscrit chacun un essai. Tausani Levale a ajouté trois conversions.
Le Canada profitera de trois jours de congé avant son prochain match, le 10 août contre l'Angleterre.
Visitez la page YouTube de Rugby Canada pour revoir ce match en entier.
Marqueurs du Canada
Essais : Sophie de Goede (4), Madison Gold, Niamh Haughey Conversions: Tausani Levale (3)
Groupe canadien U20 pour affronter les États-Unis U20 1. Idia Ihensekien - Dartmouth College/ Crusaders RFC d'Oakville (ON) 2. Mackenzie Carson – Thunderbirds de l'UBC/Bears de Bristol (BC) 3. Valerie Wideski – Université Acadia/Westshore RFC (BC) 4. Abby duGuid – Université de Lethbridge/Pirates RFC d'Edmonton (AB) 5. Keegan Branter - Université de Lethbridge /Lethbridge RC (AB) 6. Harley Tucker - Université Acadia /Machine RFC de Windsor (AB) 7. Courtenay Holtkamp - University de l'Alberta/Titans de Red Deer (AB) 8. Sophie de Goede – Capitaine, Université Queen's/Wanderers de Castaway (BC) 9. Sasha Guedes – Vikes de l'UVic/Beaconsfield (QC) 10. Tausani Levale – Griffins d'Abbotsford (BC) 11. Asia Hogan – Unviersité York/Nomads de Toronto (ON) 12. Madison Gold - Thunderbirds de l'UBC (BC) 13. Niamh Haughey – Université Brock/Saracens (ON) 14. Hannah Daniels - Université Queen's/Barbarians d'Aurora (ON) 15. Brooke Bazian - Thunderbirds de l'UBC (BC) 16. Erika Barton – Université de Guelph/Panthers de Kingston (ON)
17. Amelia Hatfield – Université St. Francis Xavier/ Tars RFC de Halifax (NS) 18. Maya Monteil – Université d'Ottawa/ Irish RC d'Ottawa (NB) 19. Zoe Goodwin-Sutton - Vikes de l'UVic /Westshore RFC (ON) 20. Aly Macdougal – Université de Calgary/Irish de Calgary (AB) 21. Taylour Hurd – Université Brock/ Crusaders RFC d'Oakville (ON) 22. Annie Kennedy - Université Acadia / Machine RFC de Windsor (ON) 23. Sarah-Maude Lachance - CÉGEP de Victoriaville/Club de rugby de Québec (QC) Horaire des matchs
7 août - Canada 36-12 États-Unis 10 août - Canada vs Angleterre, U. Acadia à 18 h 30 HA / 17 h 30 HE (billets en vente à la porte) 14 août - États-Unis vs Angleterre, U. Acadia à 18 h 30 HA / 17 h 30 HE (billets en vente à la porte) 18 août – Canada vs Angleterre, Wanderers Grounds, Halifax à 16 h (HA) / 15 h (HE) (Cliquez ici pour obtenir des billets) Personnel de l'équipe U20 Jack Hanratty, Entraîneur-chef Kelly Russell, Entraîneur adjoint John Lavery, Entraîneur adjoint Jocelyn Barrieau, Entraîneur adjoint Jeremy Steinbach, Préparateur physique Tom Mcleod, Analyste vidéo Danielle McNally, Physiothérapeute Sarah MacNeil, Gestionnaire