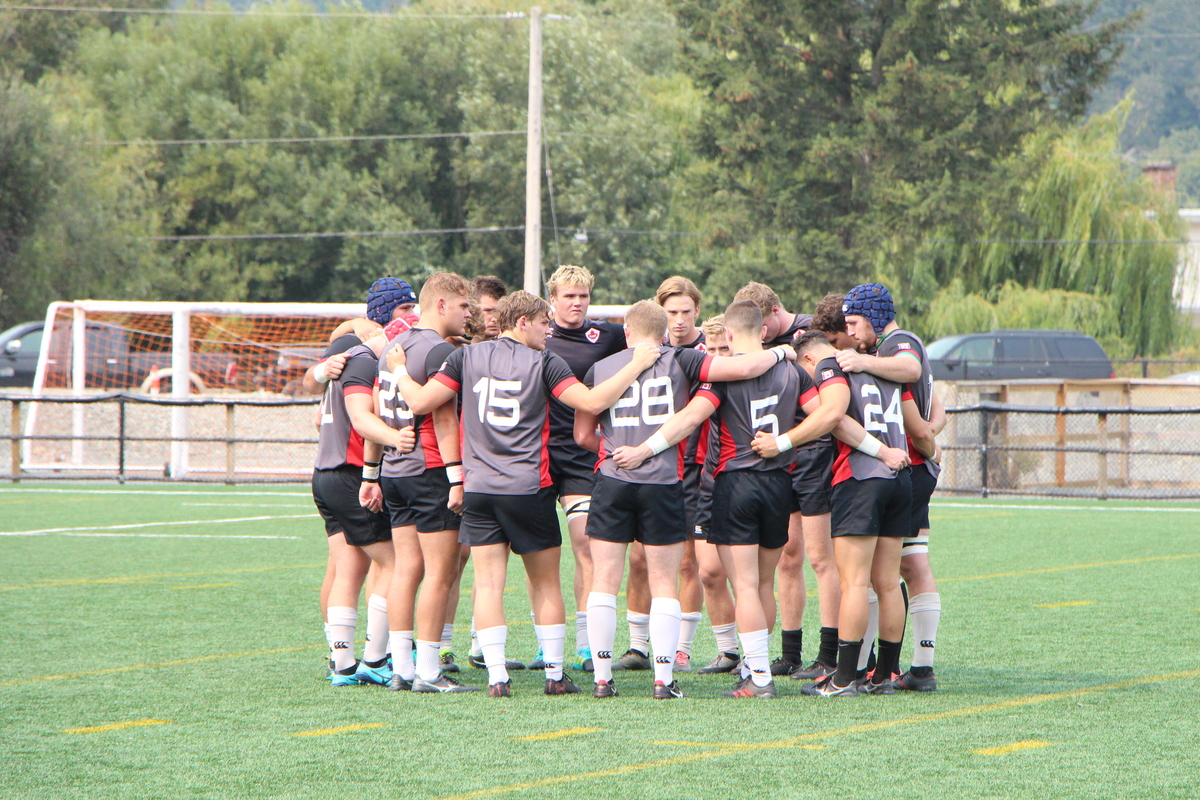 Men's U20 Team named for Junior World Rugby Trophy
Rugby Canada
Rugby 15s U20 Men
LANGFORD, BC (August 20, 2018) – Following a selection camp at Shawnigan Lake School and a game against British Columbia Under-23, head coach Jeff Williams has announced his 26-man squad to travel to Bucharest to play in the Junior World Rugby Trophy.
There are seven changes to the squad that qualified by defeating USA in a two-game series in June, driven by a concerted approach to player identification by the selectors at the Under-19 Canadian Rugby Championships in July. Foremost among the changes are the selections of U-17 outside half Campbell Clarke from Newfoundland, U-18 centre Lachlan Kratz from BC - who joins his brother Gavin on the team - and U-18 Tyler Duguid from Alberta at second row.
The other new selections are Guerschom Mukendi at loose head, Mitch Wainman at prop, Tyler Rockwell at hooker, Josiah Morra at wing, and Gabriel Casey as a utility back.
"The U-19 CRC was really helpful to us in identifying this year's final squad, even though its major utility was in the identification of next year's squad," commented Jeff Williams. "We are very happy about the strength and conditioning improvements made by most of the squad since the Houston qualifiers, and buoyed by the strong team culture engendered by the players. We will play Portugal on August 28 and our entire focus this week will be on that game," he added.
 
The entire JWRT will be streamed live, with details to be confirmed by World Rugby.
Canada U20 Team for Junior World Trophy:
 
Gabriel Casey – Bytown Blues (Ottawa, ON)
Campbell Clarke – Swilers RFC (St. John's, NL)
Reid Davis – Bayside RFC (Surrey, BC)
Tyler Duguid – Nor'Westers (Edmonton, AB)
Elias Ergas – UBC Thunderbirds (Vancouver, BC)
Peter Ingoldsby – Exmouth RFC (England)
Quentin James – Perpignan (Vancouver, BC)
Gavin Kratz – UVIC Vikes (Victoria, BC)
Lachlan Kratz – Castaway Wanderers (Victoria, BC)
Jackson Matthews – UVIC Vikes (Montreal, QC)
Jack McCarthy – Vandals RFC (St, John's, NL)
Jack McRogers – McMaster University (Toronto, ON)
Josiah Morra – Toronto Saracens (Toronto, ON)
Guershom Mukendi – Stoney Creek RFC (Mississauga, ON)
James O'Neill – UVIC Vikes (Cochrane, AB)
Will Percillier – UBC Thunderbirds (Victoria, BC)
Brennig Prevost – UVIC Vikes (Victoria, BC)
Emerson Prior – Trent University (Toronto, ON)
Seth Purdey – UCal at Berkeley (Shawnigan Lake, BC)
Tyler Rockwell – James Bay AA (Calgary, AB)
Tyler Rowland – UBC Thunderbirds (Toronto, ON)
Owain Ruttan – UBC Thunderbirds (Toronto, ON)
Brandon Schellenberger – Castaway Wanderers (Victoria, BC)
Michael Smith – UBC Thunderbirds (Surrey, BC)
Kevin Vertkas – UBC Thunderbirds (Toronto, ON)
Mitchell Wainman – (Banff, AB)
 
Canada's schedule:
 
August 28 - Canada vs. Portugal
September 1 - Canada vs. Uruguay
September 5 - Canada vs Fiji
September 9 - Canada vs. TBC
Management:
Gethin Watts – Program Leader
Jeff Williams – Head Coach
Adam Roberts – assistant coach
Pat Parfrey – Manager
Kiyomi Thompson – Physiotherapist
Mylan Clairmont – Strength and Conditioning Coach
Derek Pue – Video Analyst
Shannon Houston – Doctor
U20 Support Group:
Karl Fix – Saskatchewan(Chair)
Andrew Purdey – BC
Mike Holmes – BC
David Robertson – BC
Bill Webb – Ontario
Pat Parfrey – Newfoundland
 
-30-
Sept changements ont été apportés à la formation qui s'est qualifiée face aux États-Unis dans le cadre d'une série de deux matchs disputés au mois de juin. Ceux-ci ont été motivés par une approche concertée au chapitre de l'identification des joueurs qui a été adoptée par les sélectionneurs aux Championnats canadiens de rugby U19 qui se sont déroulés en juillet. Parmi les modifications, il y a notamment la sélection du demi extérieur Campbell Clarke, de Terre-Neuve, du centre de catégorie U18 Lachlan Kratz, de la Colombie-Britannique – qui rejoindra son frère Gavin au sein de l'équipe – et du joueur U18 Tyler Duguid, de l'Alberta, en deuxième rangée.
Les autres nouveaux venus sont Guerschom Mukendi sur la gauche, Mitch Wainman au poste de pilier, Tyler Rockwell au poste de talonneur, Josiah Morra à l'aile et Gabriel Casey en tant qu'arrière d'utilité.
« Les Championnats canadiens de rugby U19 ont vraiment été utiles dans le processus d'identification de notre formation finale, même si l'objectif principal de l'exercice était d'identifier des joueurs pour l'équipe de l'an prochain, a indiqué Jeff Williams. Nous sommes très heureux de la façon dont la majorité des joueurs de l'équipe se sont améliorés au chapitre de la préparation physique depuis la qualification à Houston, et nous sommes enchantés de voir le solide esprit d'équipe qui s'est installé parmi les joueurs. Nous affronterons le Portugal le 28 août et cette semaine, nous allons nous concentrer exclusivement sur ce match. »
Les matchs du Trophée Junior de World Rugby seront webdiffusés en direct (détails à confirmer par World Rugby).
L'équipe canadienne U-20 en vue du Trophée Junior de World Rugby :
Gabriel Casey – Bytown Blues (Ottawa, ON) Campbell Clarke – Swilers RFC (St. John's, T.-N.)
Reid Davis – Bayside RFC (Surrey, C.-B.) Tyler Duguid – Nor'Westers (Edmonton, AB) Elias Ergas – UBC Thunderbirds (Vancouver, C.-B.) Peter Ingoldsby – Exmouth RFC (Angleterre) Quentin James – Perpignan (Vancouver, C.-B.) Gavin Kratz – UVIC Vikes (Victoria, C.-B.) Lachlan Kratz – Castaway Wanderers (Victoria, C.-B.) Jackson Matthews – UVIC Vikes (Montréal, QC) Jack McCarthy – Vandals RFC (St, John's, T.-N.) Jack McRogers – McMaster University (Toronto, ON) Josiah Morra – Toronto Saracens (Toronto, ON) Guershom Mukendi – Stoney Creek RFC (Mississauga, ON) James O'Neill – UVIC Vikes (Cochrane, AB) Will Percillier – UBC Thunderbirds (Victoria, C.-B.) Brennig Prevost – UVIC Vikes (Victoria, C.-B.) Emerson Prior – Trent University (Toronto, ON) Seth Purdey – UCal at Berkeley (Shawnigan Lake, C.-B.) Tyler Rockwell – James Bay AA (Calgary, AB) Tyler Rowland – UBC Thunderbirds (Toronto, ON) Owain Ruttan – UBC Thunderbirds (Toronto, ON) Brandon Schellenberger – Castaway Wanderers (Victoria, C.-B.) Michael Smith – UBC Thunderbirds (Surrey, C.-B.) Kevin Vertkas – UBC Thunderbirds (Toronto, ON) Mitchell Wainman – (Banff, AB) Horaire du Canada 28 août - Canada vs Portugal 1er septembre - Canada vs. Uruguay 5 septembre - Canada vs Fidji 9 septembre - Canada vs Adversaire à déterminer
Personnel de l'équipe
Gethin Watts – Responsable du programme Jeff Williams – Entraîneur-chef Adam Roberts – Entraîneur adjoint Pat Parfrey – Gérant Kiyomi Thompson – Physiothérapeute Mylan Clairmont – Préparateur physique Derek Pue – Analyste vidéo Shannon Houston – Médecin
Groupe de soutien U20
Karl Fix – Saskatchewan (président) Andrew Purdey – C.-B. Mike Holmes – C.-B. David Robertson – C.-B. Bill Webb – Ontario Pat Parfrey – Terre-Neuve -30-