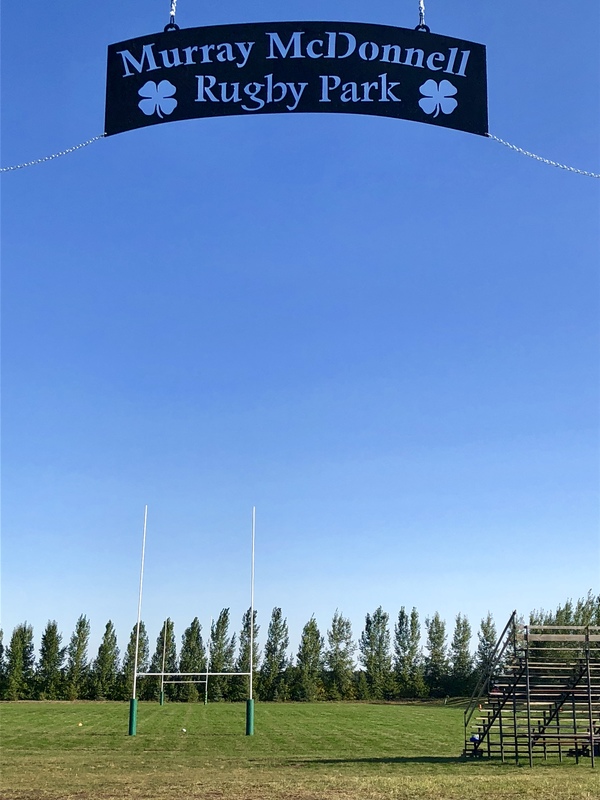 Grand Opening of the Fields of Dreams in Lashburn, Saskatchewan
Karl Fix
Rugby 7s Senior Men, Rugby 7s Senior Women
Two very young Dog River Howlers teams were part of celebrating the opening of the Murray McDonnell Rugby Park aka "Field Of Dreams" in Lashburn, Saskatchewan on September 2 playing in two Ultra Rugby 7's games against Lashburn men and women's invitational sides. What a grand day for rugby!  
Thank you Chris and Shauna Scarmstad, the driving forces behind this amazing endeavour along with everyone from this local supportive community for this memorable experience highlighting grass roots rugby.  
Talk about vision, leadership and commitment. Lashburn, SK – located 2.5 hours from both Edmonton and Saskatoon – a rural town with a population of less than 1,000 has built two full international rugby pitches named after the man that started it all there some 30 years ago - Murray McDonnell.  
When Murray started the first high school program he was literally new to the game. He taught himself the game from books and videos. The school, with a total of 200 boys and girl from grades 7 to 12, has won six provincial high school championships competing against schools that are up to 10 times as large. They also run a full mini rugby program which in turn adds up to over 100 kids under the age of 18 part of this amazing prairie town's rugby culture, where obviously, rugby has become more than a game, but a way of life. 
 
Canada Men's Sevens Head Coach (via Twitter):
 
An amazing story in rural Saskatchewan. A small town of just a few 100 called Lashburn built and opened 2 brand new rugby fields. Very humbled to be invited to be part of the celebrations. Looking forward to coaching there tomorrow. A wonderful Canadian rugby story.
Howlers Men:
Carson Clarke - Rouleau Saskatchewan  
Nathan Sgrazzutti - Regina Saskatchewan  
Olaf Erasmus - Provost Alberta  
Tristan Franc - Prince Albert Saskatchewan  
Campbell Johnston - Baltimore Maryland  
Matt Klimchuk - Regina Saskatchewan  
Josh Looker - St. Albert Alberta  
Brennan Marcoux -Saskatoon Saskatchewan 
Dreydon Martin - Regina Saskatchewan  
Evan Norris - Victoria BC  
Graeme Norris - Victoria BC  
Mitchell Novak - Regina Saskatchewan  
Carlos Pestana - Medellin Colombia 
James Reid - Purceville Virginia  
Mitchell Rudy - Calgary Alberta  
Nick Taylor - Calgary Alberta  
Siaki Vikilani - Burnaby BC 
Coach: Damian McGrath - Victoria BC (Canadian National 7's Team coach) 
Assistant Coach: Jack Taylor , Calgary Alberta  
Manager for men and women's team - Leo Lane 
Howlers Women:
Davine Burton - Victoria BC / Toronto Ontario  
Senah Debia - Regina Saskatchewan  
Julie Foster (player / coach) - Regina Saskatchewan 
McKenzie Grad - Regina Saskatchewan 
Emily Godfrey - Calgary Alberta  
Kelcey Levitt - Calgary Alberta  
Natasha Loucks - Calgary Alberta  
Mandy Marchak (player / coach) - Victoria BC/ Winnipeg Manitoba  
Bre McGillicky - Regina Saskatchewan 
Brogan Mior - Calgary Alberta  
Hanna Olson - Cold Lake Alberta  
Danica Pedric - Regina Saskatchewan 
Angela Thompson - Regina Saskatchewan  
Trinity Todd - Calgary Alberta  
Mikayla Wall - Regina Saskatchewan 
Coach - Kayla Mack