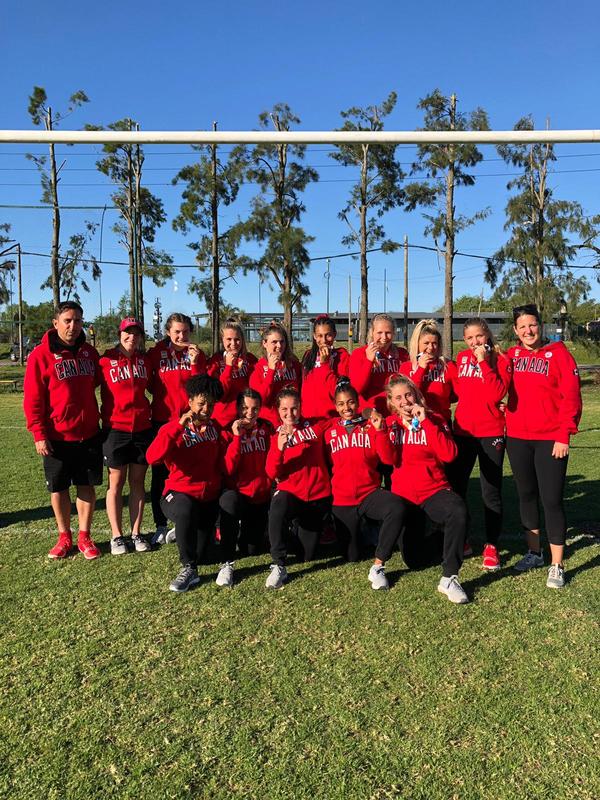 Canada wins Youth Olympic Games Bronze
Rugby Canada
Rugby 7s Senior Women
Canada's Women's Team has won the 2018 Buenos Aires Youth Olympic Games Bronze Medal after defeating Colombia on Monday afternoon
Day One:
Canada 24 - 15 Kazakhstan
Canada opened the tournament with a 24-15 victory over Kazakhstan, who qualified as the Asian representative in the six-team event. Canada took a 17-0 lead into the half time break, but let their guard down early in the second half and allowed their opponents to score three quick tries to bring the game within two points. With Madison Grant in the sin bin for a yellow card, Canada stole possession and Carmen Izyk used her pace to sprint around the defender and touch down under the posts. 
Canada 48 - 7 Tunisia
Canada scored early and often in their second game of day one, while only allowing one Tunisian try in the victory. With the win, Canada sits in a three-way tie for first place with New Zealand and France with six points after two games. 
Day Two:
Canada 27 - 10 Colombia
Canada opened day two with another stellar performance against Colombia, scoring five tries en route to their third victory of the tournament. 
Canada 5 - 20 New Zealand
Keyara Wardley scored Canada's lone try in the loss as she showed her incredible pace to beat two defenders. However, the advantage fell to New Zealand as they ran in four tries after showing considerable patience and skill in each build up. 
Day Three:
Canada 19 - 33 France
Extra pressure was on the line in Monday's fixture against France, as a win would see Canada into the Gold Medal final against New Zealand. Delaney Aikens scored two brilliant tries and Madison Gold added another, however France was took dominant as they ran away with a 33-19 victory in the final pool match. With the loss, Canada finished the round robin stage with a 3-2 record.
Canada 24 - 19 Colombia
Canada pulled off a come-from-behind victory against Colombia to win the bronze medal match on Monday afternoon and finish off the tournament. Speedster Carmen Izyk sealed the game with a try after she outpaced the defenders for the win.
------------------------------------
Fans back home in Canada can watch the action online via CBC Sports at www.cbcsports.ca. Women's Youth Olympic Games Schedule
 
For more information on the Youth Olympic Games in Buenos Aires, visit www.buenosaires2018.com
 
Canada roster for 2018 Youth Olympic Games:
 
Delaney Aikens – Rogues Rugby Club (Hearne, SK) 
Taylor Black - Oakville Crusaders (Oakville, ON)
Kendra Cousineau - Niagara Wasps (Port Colborne, ON)
Hunter Czeppel – ARFC (Abbotsford, BC) 
Olivia De Couvreur - Ottawa Irish (Ottawa, ON)
Brooklynn Feasby - Oshawa Vikings (Port Perry, ON)
Lizzie Gibson – Oakville Crusaders (Caledon, ON) 
Madison Grant - Cornwall Claymores (Cornwall, ON)
Carmen Izyk - Foothills Lions RC (High River, AB)
Aleisha Lewis - Guelph Redcoats (Guelph, ON)
Maggie Mackinnon – Unattached (Sooke, BC)
Keyara Wardley - Okotoks Lions (Vulcan, AB)
 
Saturday, October 13
Canada 24 - 15 Kazakhstan 
Canada 48 - 7 Tunisia
 
Sunday, October 14
Canada 27 - 10 Colombia 
Canada 5 - 20 New Zealand
 
Monday, October 15
Canada 19 - 33 France 
Bronze Medal Match - Canada 24 - 19 Colombia 

Non-Travelling Reserves:
 
Bethany Cudmore
Bridget Peros
Kally King
Brogan Mior
Piper Logan 
Maggie Banks 
 
Important Dates:
 
October 3 – Canada depart for Argentina
October 6 – Opening Ceremony
October 13 – Day 1 of competition
October 14 – Day 2 of competition
October 15 – Day 3 of competition
October 18 – Closing Ceremony
 
-30-