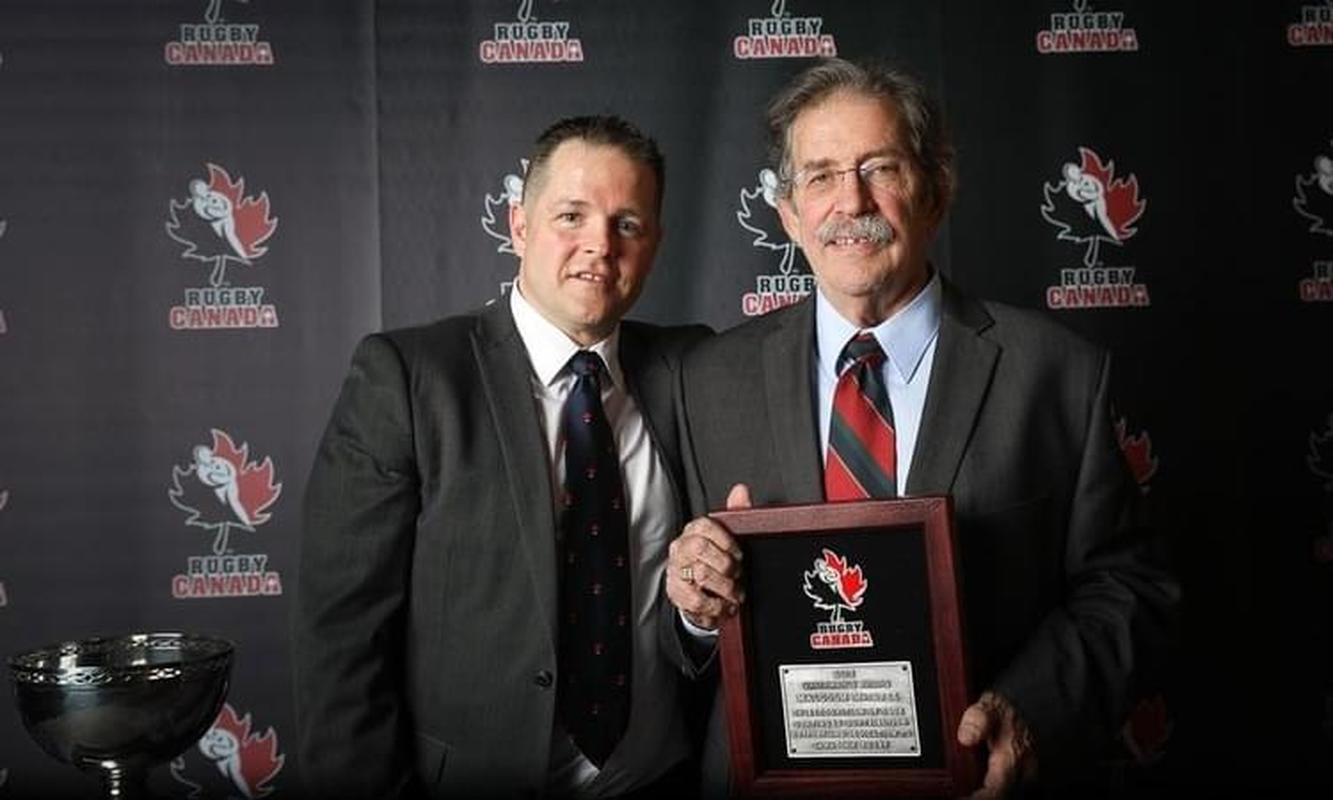 'Champion of the underdog': Malcolm MacAfee mourned
Bruce Hallihan - Telegraph Journal
Rugby 15s Senior Men
Simon Pacey took a lot of hard hits during his rugby career, but none compare to the gut punch of losing his beloved, full-of-merriment mentor, Malcolm MacAfee.
"He was my godfather and the godfather of rugby," Pacey said. "He leaves a huge hole but an incredible legacy."
MacAfee, 70, died at the Fredericton Hospice on Tuesday afternoon, surrounded by family and rugby friends.
In August, he began treatment for brain tumours so he could get back to fighting his lung cancer.
"Fight the dog in front of you first" was his philosophy - or Malcolmism - on how to tackle his plight.
"Malcolm showed his dogged determination right to the end," Pacey said. "We had a number of people stand vigil over him the last few days and it was neat to hear all the stories.
"To hear people I've looked up to and admired my whole life tell me they wouldn't have done the things they've done in their lives without Malcolm pushing them there is pretty amazing," Pacey said. "He was like that for me in my work life, family life, rugby life...
"He taught me to approach life with excitement, humour and good nature ... and to treat everybody with dignity and respect."
MacAfee earned Coach NB's 2016 Leave Your Mark Lifetime Achievement Award.
"I think it's just thinking about all the people you've coached ... knowing you've had an effect on so many people," MacAfee said at the time. "Since we started, I've probably trained over 100 coaches, and probably coached 1,000 different people.
"I always promoted that it's not just the idea of being a better player, but being a better person."
In 2017, MacAfee received the Rugby Canada Chairman's Award in Vancouver, B.C., given out periodically "to recognize individuals who have impacted communities and played a major role in fostering the growth of those involved in our sport."
Two months later, MacAfee joined his longtime friend Peter Pacey - Simon's dad - as rugby builders on the Fredericton Sports Wall of Fame.
MacAfee was involved in rugby for more than 50 years, playing at Fredericton High School before becoming a fixture with the Fredericton Loyalists and, later, New Brunswick Black Spruce.
Nancy, his wife of 47 years, son Scott MacAfee and daughter Meghan Morrison are also well-respected individuals.
"To share Malcolm with us is the best gift Nancy, Scott and Meghan ever could have given to us," said Stu Cosman, who played against the Loyalists - with the Saint John Trojans and Moncton Black Tide - but also for Malcolm with the Black Spruce.
"The whole MacAfee family are salt-of-the-earth people," Cosman said. "Malcolm was a larger-than-life, cartoon character, someone I came to love and admire as a coach, a mentor and, at times, a father figure."
Cosman's admiration grew when MacAfee was able to unite bitter rivals to collectively compete for the Spruce.
"He was able to bring us together to take on a common enemy," Cosman said. "I don't know a lot of other people would have had the charisma to be able to do that."
Cosman said MacAfee was a study in contrasts.
"He was always the champion of the underdog. He preached toughness and rewarded toughness, but off the field he was just the opposite. He had a heart of gold. He helped so many players financially - myself included - but people would never know because he did it behind the scenes."
Jebb Sinclair, a Charters Settlement native who didn't play rugby until he was in Grade 11 at FHS, retired last year as the most-capped player in New Brunswick history. His international career saw him make 42 test appearances for Canada, but he never forgot his roots - or the impact MacAfee had on his life.
"Thankfully, I was able to talk to Scotty on the weekend to tell him just how much Malcolm meant to me," Sinclair said from B.C.
"So much of what I learned and loved about the game, he taught me in those first few years," Sinclair said. "The importance of effort, work rate, physicality, that don't-back-down attitude and, I guess, that underdog spirit that a lot of people from Atlantic Canada carry."
Off the field, "I've never met anyone who was as universally well-liked as Malcolm," Sinclair said. "He was just so funny - a master storyteller. The circles would form around him in the clubhouse or the bar."
Cosman recalled the Spruce scrambling to the clubhouse during a thunder and lightning delay.
"Macdaddy had 25 guys hanging on his every word and laughing at every story," Cosman said, "After 15 or 20 minutes, secretly we were hoping that the lightning wouldn't let up."
Loyalists head coach Keith McAlpine met MacAfee when he joined the club in 1989, the beginning of an almost three-decade-long bond.
"You always knew Malcolm had rugby at heart, and the good of the game and the good of the individuals," McAlpine said. "I will miss his presence. There will be some very large unfilled boots, not just rugby boots, that will exist for a while and may never be filled. Quite appropriately."
The visitation will be from 2-8 p.m. Friday at McAdam's Funeral Home, with the funeral at 1 p.m. Saturday at St. Dunstan's Catholic Church, followed by a gathering at the Loyalists Field clubhouse.