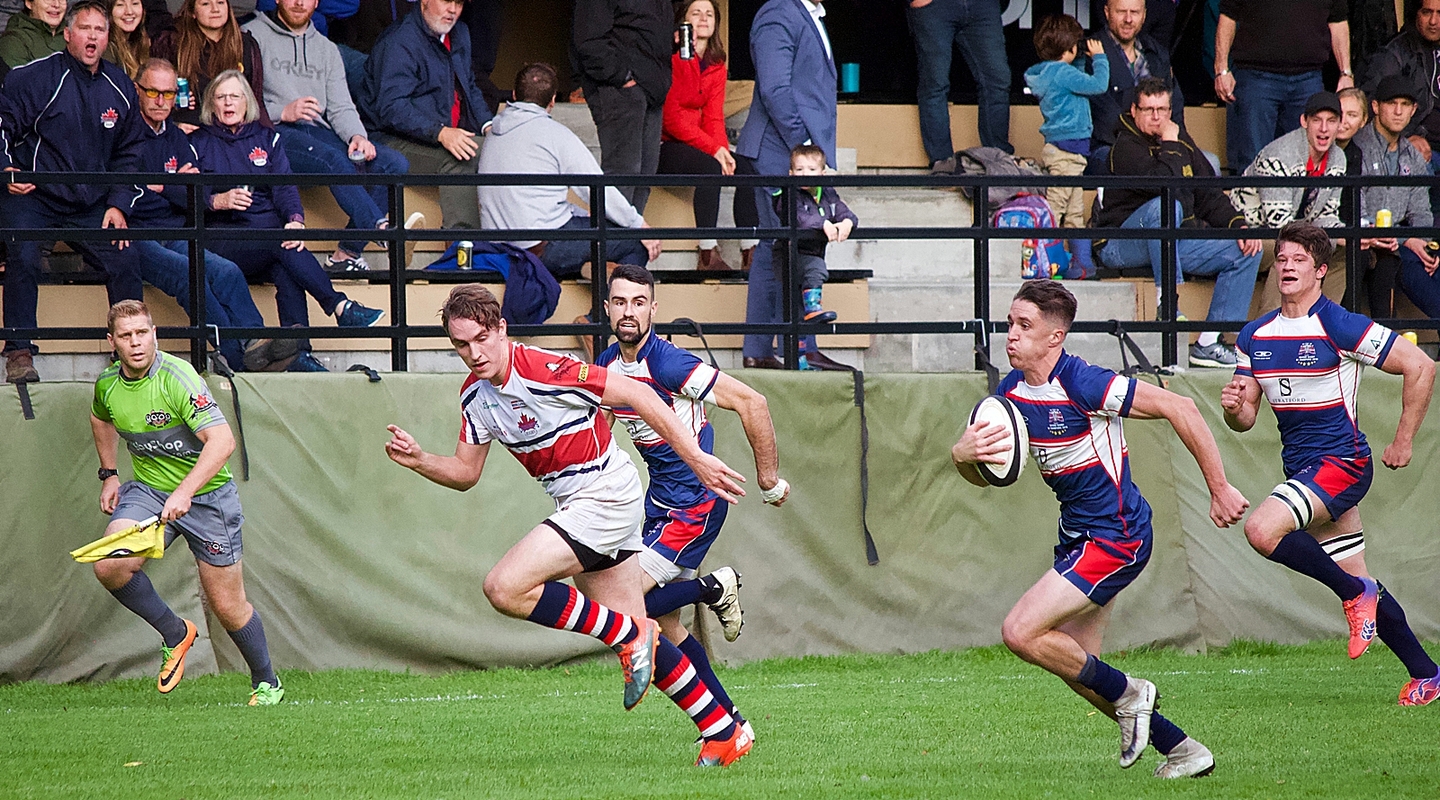 UBCOB Ravens win Canadian Rugby Club Championship
Canadian Rugby Club Championship
Rugby 15s Senior Men
The Canadian Rugby Club Championship wrapped up on Sunday with the UBCOB Ravens claiming the title with a comprehensive 41-3 win over Brantford Harlequins.
The Harlequins had much of the possession in the early going but just couldn't get over the try line and turned down multiple opportunities to kick for points. Lock Cameron McWilliam scored first for the Ravens just four minutes into the match after several phases from a 5 metre lineout. The Ravens were having a lot of success in holding players up in the tackle and stripping the ball, the rain and greasy conditions made this a productive strategy. At the 15 minute mark a great offload by #7 O'Donaghue to Jorden Sandover-Best saw the scrum half scamper 60 metres for a solo try. The Harlequins eventually got on the board at about 25 minutes with a penalty but it was scant reward for all the pressure they had put on in the first quarter. 
A key moment just before half was when the Ravens won a scrum penalty just metres from their line. The Harlequins scrum was winning the battle in the first half and were looking good for a push over try but the Ravens dug deep and turned the tables, that was a key turning point. The nail in the coffin was the counter attack try just at the half time whistle. Harlequins had owned so much possession in the first half but were down 14-3. They had the lineout in attacking position but it was stolen and a few passes later from inside their 22, it was Braid to McLelland to Ferguson, a chip ahead ended with McLelland winning the race. It was 21-3 and there was no coming back. 
It was the dynamic trio of Ferguson, McLelland and Braid that were the attacking threat but it was the defensive stand by the Ravens in the first half that won them the match. They added another 20 points in the second half to complete the deal and earn the championship title. 
In the Consolation match it was the Loyalists who scored the first try 15 minutes into the match but it was to be their only score of the day. It took 25 minutes for the Nor'Westers to score their first try and it came off a Loyalists lineout error from inside their 22, the ball bounced back and was secured by the attacking team, one phase later and the openside flanker Kyle Morrison was over the line. It was all Nor'Westers after that and they added 26 more points. 
UBCOB Ravens 41 - Brantford Harlequins 3 
Edmonton Nor'Westers 33 - Fredericton Loyalists 5