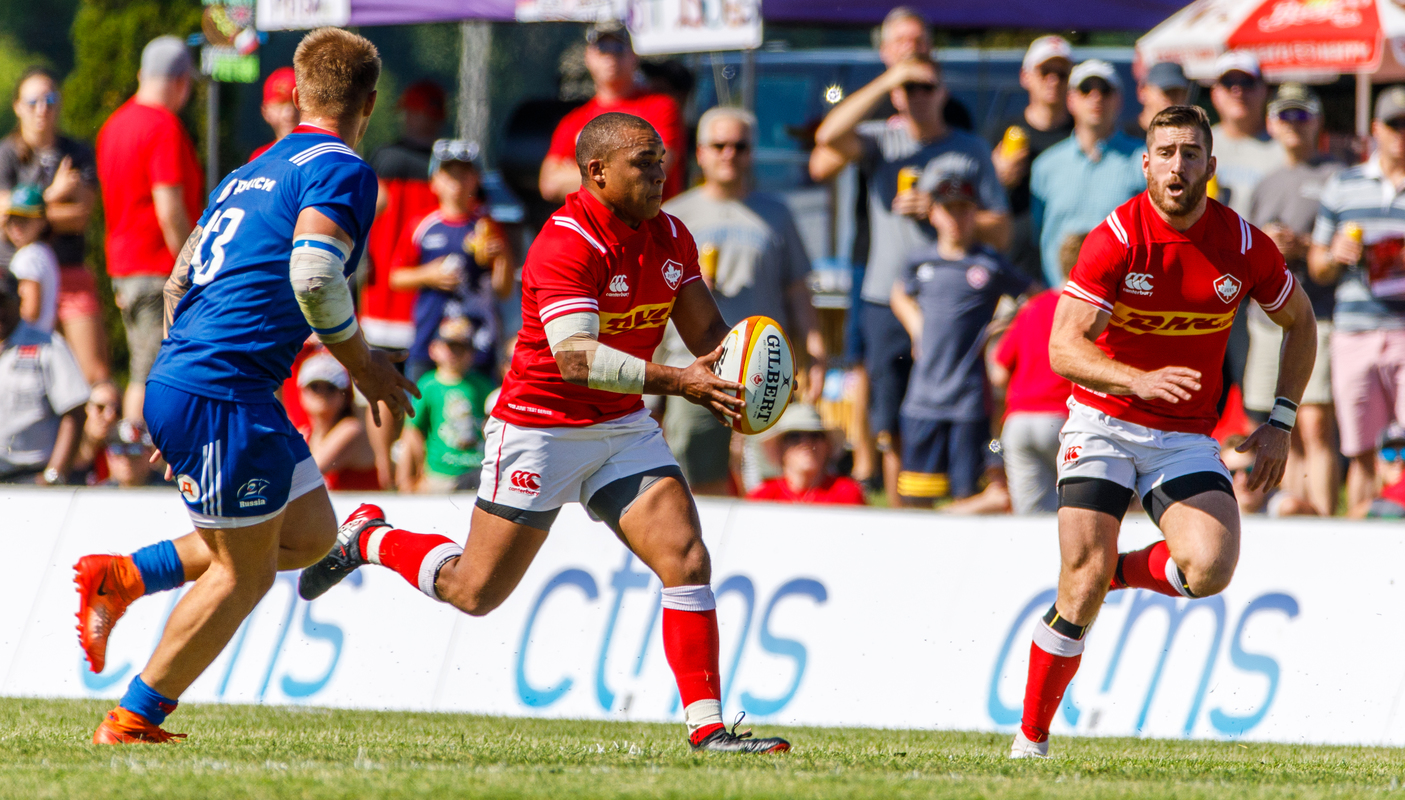 Uruguay "A" defeat Canada "A" 35-21
Bryan Kelly
Rugby 15s Senior Men
Canada "A" dropped their opening game of the 2018 World Rugby Americas Pacific Challenge to Uruguay "A" 35-21 on Saturday afternoon in Montevideo, Uruguay.
Canada were in tough early on as both flankers, Lucas Rumball and Matt Heaton, had to leave the pitch in the opening 10 minutes due to injury, replaced by Dustin Dobravsky and Conor Keys. 
Canada's tries were scored by Doug Fraser, Pat Parfrey and Gordon McRorie, who made an immediate impact off the bench, in the loss. McRorie's score at the 74th minute mark brought the visitors within two points with only minute to play, however momentary lapses of judgement allowed Uruguay to score two more late tries to push the scoreline heavier in their favour. 
Next up, Coach Kingsley Jones' outfit will Argentina "A" on October 10, after they lost their opening game in a high scoring affair 36-31 to Samoa.  
Kick off on October 10 is 4pm local time, 3pm ET/12pm PT and you can watch LIVE at www.worldrugby.org
 
Canada's "A" roster to face Uruguay "A":
 
1. Noah Barker – James Bay AA/BC Bears (Courtenay, BC)
2. Ray Barkwill – Seattle Seawolves/Ontario Blues (Niagara Falls, ON)
3. Cole Keith – James Bay AA/Atlantic Rock (Sussex, NB)
4. Paul Ciulini – Aurora Barbarians/Ontario Blues (Vaughan, ON)
5. Kyle Baillie – Westshore RFC/Atlantic Rock (Summerside, PEI)
6. Lucas Rumball – Balmy Beach RFC/Ontario Blues (Mississauga, ON)
7. Matt Heaton – Darlington Mowden Park/Atlantic Rock (Godmanchester, QC)
8. Luke Campbell – James Bay AA/BC Bears (Victoria, BC)
9. Phil Mack –Captain, Seattle Seawolves/BC Bears (Victoria, BC)
10. Pat Parfrey – Swilers RFC/Atlantic Rock (St. John's, NL)
11. Brock Staller – Seattle Seawolves/BC Bears (Vancouver, BC)
12. Guiseppe du Toit – UVIC Vikes/BC Bears (Maple Ridge, BC)
13. Doug Fraser – Castaway Wanderers/BC Bears (Ladysmith, BC)
14. Kainoa Lloyd – Mississauga Blues/Ontario Blues (Mississauga, ON)
15. Theo Sauder – UBC Thunderbirds (Vancouver, BC)
16. Eric Howard – NOLA Gold/Ontario Blues (Ottawa, ON)
17. Hubert Buydens – NOLA Gold/Prairie Wolf Pack (Saskatoon, SK)
18. Ryan Kotlewski – Westshore RFC/Prairie Wolf Pack (Calgary, AB)
19. Conor Keys – UVIC Vikes/Atlantic Rock (Stittsville, ON)
20. Dustin Dobravsky – Castaway Wanderers/BC Bears (Hanover, Germany) 
21. Gordon McRorie – Calgary Hornets/Prairie Wolf Pack (Calgary, AB)
22. Jordan Wilson-Ross – Vancouver Rowing Club/Atlantic Rock (Alliston, ON)
23. Brock Webster – Oshawa Vikings (Uxbridge, ON)
 
APC Staff:
 
Kingsley Jones – Head Coach
Henry Paul – Defence Coach
Aaron Carpenter – Assistant Coach 
Michael Deasy – S & C Coach
Calum Ramsay – Performance Analyst
Mallory White – Head Physiotherapist
Mike Cook – Physiotherapist
Dr. Lindsay Bradley – Team Physician
Alana Gattinger – Team Manager
 
Canada's Americas Pacific Challenge schedule:
 
October 6
Canada "A" 21 - 35 Uruguay "A"
 
October 10
Canada "A" vs. Argentina "A"
4pm local time (3pm ET/12pm PT)
 
October 14
Canada "A" vs. Tonga "A"
11am local time (10am ET/7am PT)