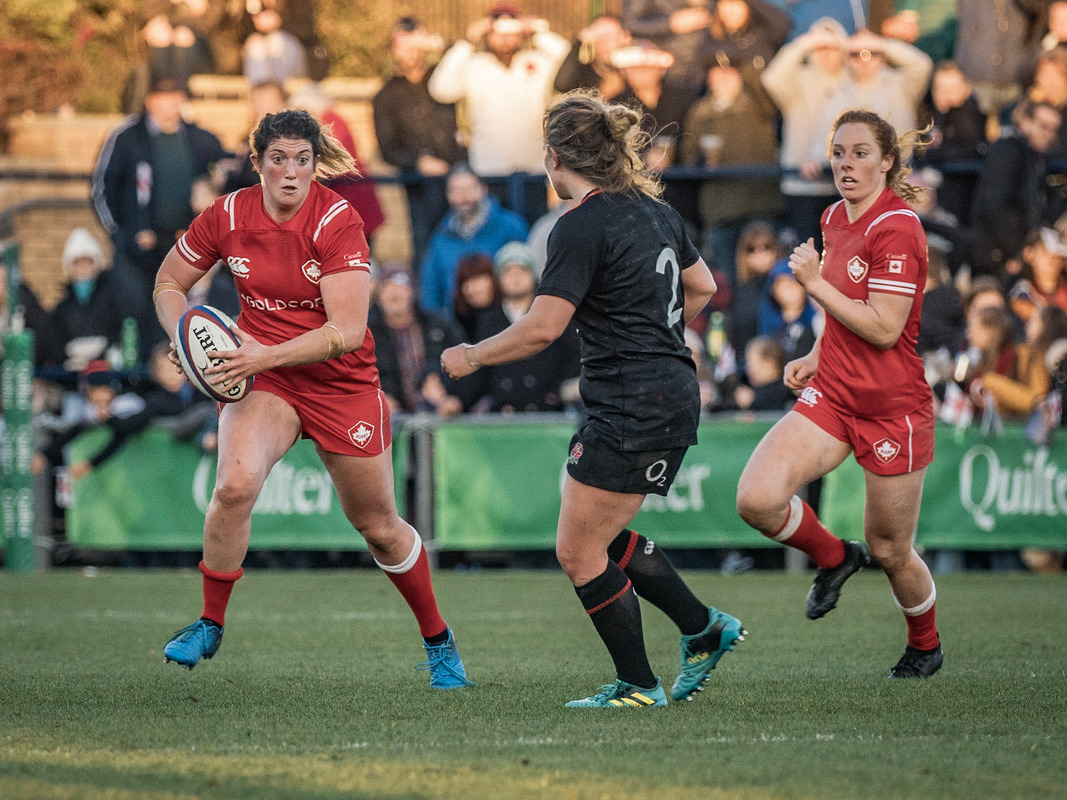 Canada defeat Scotland to end UK tour on a win
Bernadette Larose
Rugby 15s Senior Women
Canada closed out their Autumn tour with a narrow win against Scotland on Tuesday, November 27th, with a final score of 28-25.
After Scotland opened the scoring, Canada's forward pressure was too much to defend and Olivia DeMerchant powered through for the try.
Another push by the forwards set up Canada deep inside Scotland's end. Tausani Levale came speeding in off the inside pass and dotted down for her first ever international try. Brianna Miller made both conversions for Canada.
Scotland added on two tries of their own in the half, putting them in the lead 15-14 at the break.
Canada started off the second with a quick try scored by Tyson Beukeboom. Scotland answered right back with one of their own that Canada's defense couldn't hold up.
Janna Slevinsky smashed over the line off a pick-and-go to score another one for Canada and her first of the tour with Irene Patrinos making her second conversion of the match. A penalty late in the match gave Scotland the opportunity to tie the game, but a bumbled kick handed Canada the victory, 28-25.
Canada finished their UK tour with a 3-1 record, defeating England 'A', Wales, and Scotland, after falling to England in their opening match.
Canada roster to face Scotland:
1. Brittany Kassil – (Guelph Redcoats) Guelph, ON
2. Laura Russell – Captain (Toronto Nomads) Bolton, ON
3. Olivia DeMerchant – (Fredericton Loyalists) Mapledale, NB
4. Ngalula Fuamba – (TMRRFC) Notre-Dame-de-L'Île-Perrot
5. Tyson Beukeboom – (Cowichan Piggies) Uxbridge, ON
6. Sara Svoboda – (Belleville Bulldogs/Toronto Saracens) Belleville, ON
7. Janna Slevinsky – (Kingston Panthers) St. Albert, AB
8. Cindy Nelles – (Belleville Bulldogs) Belleville, ON
9. Brianna Miller – (Saint-Anne-de-Bellevue) Point-Claire, QC
10. Alex Tessier – (SABRFC) Sainte-Clotilde-de-Horton, QC
11. Emily Samek – (Guelph Redcoats) Hamilton, ON
12. Tausani Levale – (Abbotsford RFC) Abbotsford, BC
13. Anaïs Holly – (TMR RFC) Montreal, QC
14. Alysha Corrigan – (CRFC) Charlottetown, PEI
15. Irene Patrinos – (Toronto Saracens) Mississauga, ON
16. Gillian Boag – (Capilano/UBC) Calgary, AB
17. Maude Laliberté – (Club de Rugby Quebec) Quebec City, QC
18. DaLeaka Menin – (Calgary Hornets) Vulcan, AB
19. Abigail DuGuid – (Edmonton Pirates) Edmonton, AB
20. Chanelle Edwards-Challenger – (Castaway Wanderers) Calgary, AB
21. Lori Josephson – (Guelph Redcoats) Beaverton, ON
22. Paige Farries – (Westshore RFC) Red Deer, AB
23. Elissa Alarie – Vice Captain (Ste-Anne-De-Bellevue RFC/Westshore RFC) Trois Rivieres, QC
Canada's November Tour Schedule:
Sunday 18th November 
England 27 - 19 Canada
Wednesday 21st November
England "A" 14 - 35 Canada "A"
Saturday 24th November
Wales 21 - 38 Canada
 
Tuesday 27th November
Scotland 25 - 28 Canada