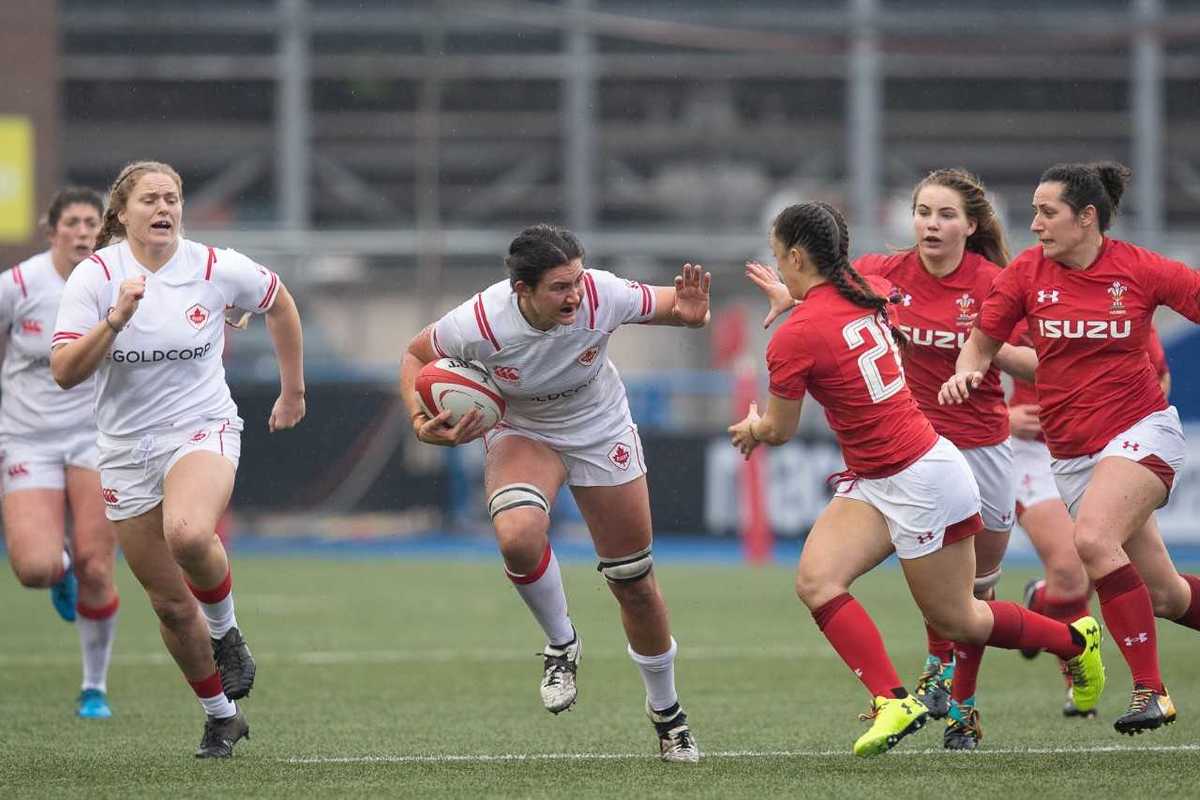 Canada Women's roster set against Scotland to end UK tour
Bernadette Larose
Rugby 15s Senior Women
Head Coach Sandro Fiorino has named his roster that will face off against Scotland on Tuesday, November 27th to close out their Autumn tour.
The women have won two of their three matches played so far on the tour, defeating England 'A' and Wales as they head into Tuesday's game.
Starting forwards Sara Svoboda and Cindy Nelles will look to continue their scoring ways, both getting on the board for Canada in Saturday's match against Wales. Tuesday's starting scrum-half Brianna Miller also added on two conversions in their 38-21 win.
With several changes in Tuesday's line-up including Irene Patrinos starting as full back and Tausani Levale, who earned her first cap on Saturday, starting in the inside centre position. In Patrinos debut against England 'A', she went 5-5 on conversion attempts.
This late season tour has seen seven players earning their first caps, showcasing the team's depth and commitment to development ahead of the 2021 Women's World Cup.
A Six Nations team with plenty of experience under their belt, Scotland is sure to prove a tough opponent. Canada will look to continue their disciplined play and utilize their athleticism and strength to hopefully end 2018 with a win.
Kick off is 2pm ET/11am PT and you can watch LIVE via www.bbc.co.uk/alba. 
Canada roster to face Scotland:
1. Brittany Kassil – (Guelph Redcoats) Guelph, ON
2. Laura Russell – Captain (Toronto Nomads) Bolton, ON
3. Olivia DeMerchant – (Fredericton Loyalists) Mapledale, NB
4. Ngalula Fuamba – (TMRRFC) Notre-Dame-de-L'Île-Perrot
5. Tyson Beukeboom – (Cowichan Piggies) Uxbridge, ON
6. Sara Svoboda – (Belleville Bulldogs/Toronto Saracens) Belleville, ON
7. Janna Slevinsky – (Kingston Panthers) St. Albert, AB
8. Cindy Nelles – (Belleville Bulldogs) Belleville, ON
9. Brianna Miller – (Saint-Anne-de-Bellevue) Point-Claire, QC
10. Alex Tessier – (SABRFC) Sainte-Clotilde-de-Horton, QC
11. Emily Samek – (Guelph Redcoats) Hamilton, ON
12. Tausani Levale – (Abbotsford RFC) Abbotsford, BC
13. Anaïs Holly – (TMR RFC) Montreal, QC
14. Alysha Corrigan – (CRFC) Charlottetown, PEI
15. Irene Patrinos – (Toronto Saracens) Mississauga, ON
16. Gillian Boag – (Capilano/UBC) Calgary, AB
17. Maude Laliberté – (Club de Rugby Quebec) Quebec City, QC
18. DaLeaka Menin – (Calgary Hornets) Vulcan, AB
19. Abigail DuGuid – (Edmonton Pirates) Edmonton, AB
20. Chanelle Edwards-Challenger – (Castaway Wanderers) Calgary, AB
21. Lori Josephson – (Guelph Redcoats) Beaverton, ON
22. Paige Farries – (Westshore RFC) Red Deer, AB
23. Elissa Alarie – Vice Captain (Ste-Anne-De-Bellevue RFC/Westshore RFC) Trois Rivieres, QC
Canada's November Tour Schedule:
 
Sunday 18th November 
England 27 - 19 Canada
Wednesday 21st November
England "A" 14 - 35 Canada "A"
Saturday 24th November
Wales 21 - 38 Canada
 
Tuesday 27th November
Scotland v Canada
Scotstoun Stadium - Glasgow
K.O.  7pm local time (2pm ET/11am PT)Watch LIVE: www.bbc.co.uk/alba