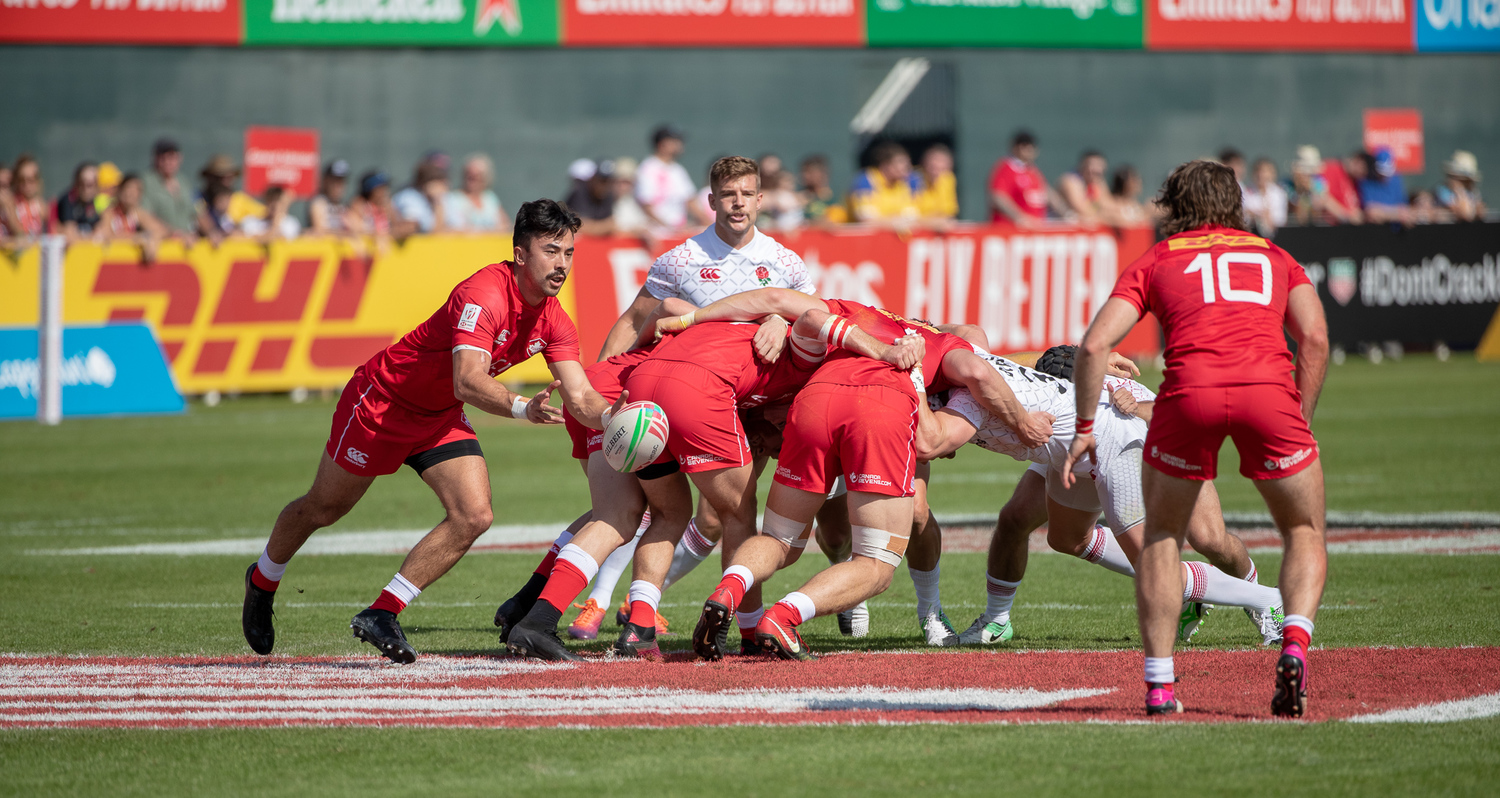 Dubai Sevens Series Updates: Canada finish 11th overall
Bernadette Larose
Rugby 7s Senior Men
Updates from the opening leg of the HSBC World Rugby Sevens Series in Dubai for Canada's Men's Sevens Team 
Canada vs. England: 
Canada start off the Dubai Sevens Series with a loss to England 26-12.
Matt Mullins was first to score for Canada but England's Dan Norton quickly answered with a try, his 300th point, to put England in the lead. England added on one more before Justin Douglas broke through the line to score for Canada, going into the break at 14-12. Both Douglas and Nathan Hirayama are on pace to break Sean Duke's all-time try scoring record for Canada.
A series of penalties from Canada gave England the advantage and they capitalized on it, scoring two more tries to give them the win, 26-12.
Canada vs. Australia: 
Canada lose their second match of the day, falling to Australia 31-19.
Australia's Lachie Anderson opened up the scoring with Canada's Connor Braid following shortly after. After Australia scored two more tries, it was Braid who closed out the first half with his second try of the game. Nathan Hirayama added on two conversions, bringing it to 17-14 at the break. 
In the second, Australia scored two tries in a row to widen their lead. In the final minute of play Luke McCloskey added on one more for Canada, getting the offload just before the try line and dotting it down. Australia finished 31-19 over Canada.
Canada vs. Japan
Canada closed out day one with an impressive 27-7 victory over Japan. Nathan Hirayama scored the opening points of the game, however Japan would respond through M. Kondo to level the score at 7-7 leading into the break. 
The second half, however, belonged to Canada as they ran in four tries through Pat Kay, Justin Douglas and two from Andrew Coe to seal their first win of the day. 
Canada vs. Zimbabwe, Challenge Trophy QFs:
Canada won their second match of the tournament against Zimbabwe, defeating them 38-5.
Justin Douglas scored first for Canada, putting him only two tries away from Sean Duke's all-time try record. Matt Mullins had back to back tries to bring Canada up 17-0 at the half.
Adam Zaruba found Connor Braid for the try before scoring one of his own. Zaruba continued his supporting effort with a give and go to Pat Kay who touched down for Canada's final try of the match. Three conversions by Nathan Hirayama and a score by Zimbabwe brought the final score to 38-5 for Canada.
Canada vs. Spain, Challenge Trophy Semi Finals:
Canada fall to France 28-12 in the Challenge Trophy Semi Finals.
France went up 21-0 on Canada quickly in the first half. Patrick Kay managed to get Canada on the board just before the break, receiving the offload from Isaac Kaay for the try. France were up 21-5 at the half.
With more offensive pressure from France, Adam Zaruba hustled back to make the try-saving tackle but received two minutes in the sin bin for not releasing. France utilized the man advantage to score their last try of the match. Before time was out, Connor Braid notched one more for Canada.
Canada's Dubai Series ended with the 28-12 loss to France and an 11th place finish for the team. A hard-fought series Braid and Kay had strong performances, scoring 4 and 3 tries respectively. 
The men will look to improve their finish in Cape Town for the second stop of the HSBC World Rugby Series, December 8-9th. 
Matches will be streamed LIVE on cbcsports.ca.
Canada Roster for Dubai:
1.    Connor Braid – James Bay AA (Victoria, BC)
2.    Admir Cejvanovic – Burnaby Lake RFC (Burnaby, BC)
3.    Andrew Coe – Markham Irish (Toronto, ON)
4.    Justin Douglas – Abbotsford RFC (Abbotsford, BC)
5.    Lucas Hammond– Toronto Nomads (Toronto, ON)
6.    Nathan Hirayama "C" – Unattached (Richmond, BC)
7.    Isaac Kaay – UVIC Vikes (Kamloops, BC)
8.    Patrick Kay – Castaway Wanderers (Duncan, BC)
9.    Luke McCloskey – Castaway Wanderers (Victoria, BC)
10.  Josiah Morra – Toronto Saracens (Toronto, ON)
11.  Matt Mullins – Queen's University (Belleville, ON)
12.  Jake Thiel – Abbotsford RFC (Abbotsford, BC)
13.  Adam Zaruba – Capilano RFC (North Vancouver, BC)
 
Dubai schedule day one:
 
England 26 - 12 Canada

Australia 31 - 19 Canada
 
Canada 27 - 7 Japan
QFs
Canada 38 - 5 Zimbabwe
Semi Finals
Canada 12 - 28 France