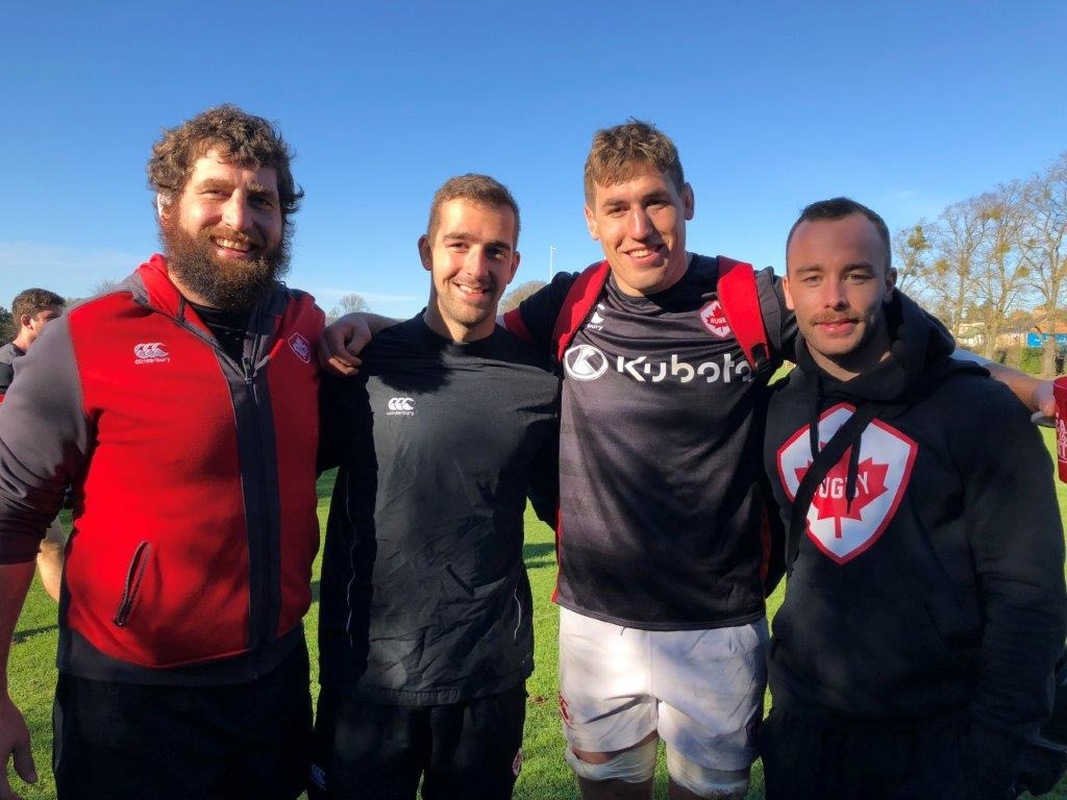 Five-try victory for Canada over Coventry
Bryan Kelly
Rugby 15s Senior Men
Canada's Men's Rugby Team defeated Coventry 35-12 on Monday evening in their second-of-two fixtures ahead of the 2019 Rugby World Cup repechage in England
Canada's forwards dominated early on as Ray Barkwill scored the opening try of the match five minutes in. The hosts responded at the 16 minute mark with a try of their own from hooker Phil Nilsen, however Canada dominated the remainder of the half.
Number 8 Tyler Ardron smashed over for the second try for the visiting side at the 22 minute mark and two minutes later inside-centre Nick Blevins scored off a beautiful feed from Barkwill. 
Ben LeSage nearly scored the fourth try before the half time whistle, however a superb try-saving tackle from fellow countryman and Coventry fullback Robbie Povey kept the score at 21-5 into the break. 
Winger Kainoa Lloyd opened the second half scoring with a try in the corner two minutes into the frame, and then the forwards were rewarded for their efforts 10 minutes later with a penalty try to further their lead to 35-5.
Replacement hooker Louis Roach would add another score for the home side, but in the end it was the Canadians who emerged victorious 35-12.
Canada Head Coach Kingsley Jones will now select a travelling roster to depart tomorrow morning for Marseille, France ahead of Sunday's RWC 2019 repechage opener against Kenya.  
Stay tuned for broadcast information for the tournament. 
Canada's roster:
 
1.Hubert Buydens – NOLA Gold/Prairie Wolf Pack (Saskatoon, SK)
2. Ray Barkwill – Seattle Seawolves/Ontario Blues (Niagara Falls, ON) 
3. Matt Tierney – Pau/Ontario Blues (Oakville, ON)
4. Kyle Baillie –Westshore RFC/Atlantic Rock (Summerside, PEI)
5. Evan Olmstead – Auckland/Prairie Wolf Pack (Vancouver, BC)
6. Lucas Rumball – Balmy Beach RFC/Ontario Blues (Mississauga, ON)
7. Matt Heaton – Darlington Mowden Park/Atlantic Rock (Godmanchester, QC) 
8. Tyler Ardron – Chiefs/Ontario Blues (Lakefield, ON) 
9. Phil Mack – Captain, Seattle Seawolves/BC Bears (Victoria, BC)
10. Gordon McRorie – Calgary Hornets/Prairie Wolf Pack (Calgary, AB)
11. Matt Evans – Cornish Pirates (Maple Bay, BC)
12. Nick Blevins – Calgary Hornets/Prairie Wolf Pack (Calgary, AB) 
13. Ben LeSage – UBC Thunderbirds/Prairie Wolf Pack (Calgary, AB)
14. Kainoa Lloyd – Mississauga Blues/Ontario Blues (Mississauga, ON)
15. Theo Sauder – UBC Thunderbirds/BC Bears (Vancouver, BC)
16. Eric Howard – NOLA Gold/Ontario Blues (Ottawa, ON)
17. Djustice Sears-Duru – Unattached/Ontario Blues (Oakville, ON)
18. Jake Ilnicki – Yorkshire Carnegie/BC Bears (Williams Lake, BC)
19. Josh Larsen – Otago (Parksville, BC)
20. Brett Beukeboom – Cornish Pirates/Ontario Blues (Lindsay, ON)
21. Jamie Mackenzie – Balmy Beach/Atlantic Rock (Oakville, ON)
22. Shane O'Leary – Nottingham Rugby (Cambleton, NB)
23. Doug Fraser – Castaway Wanderers/BC Bears (Ladysmith, BC)
Rugby World Cup 2019 Repechage Schedule
 
November 11
Canada vs. Kenya
Stade Delort
Marseille, France
Kick off: 7am ET/4am PT
 
November 17
Canada vs. Germany
Stade Delort
Marseille, France
Kick off: 10am ET/7am PT
 
November 23
Canada vs. Hong Kong
Stade Delort
Marseille, France
Kick off: 3pm ET/12pm PT
  
-30-