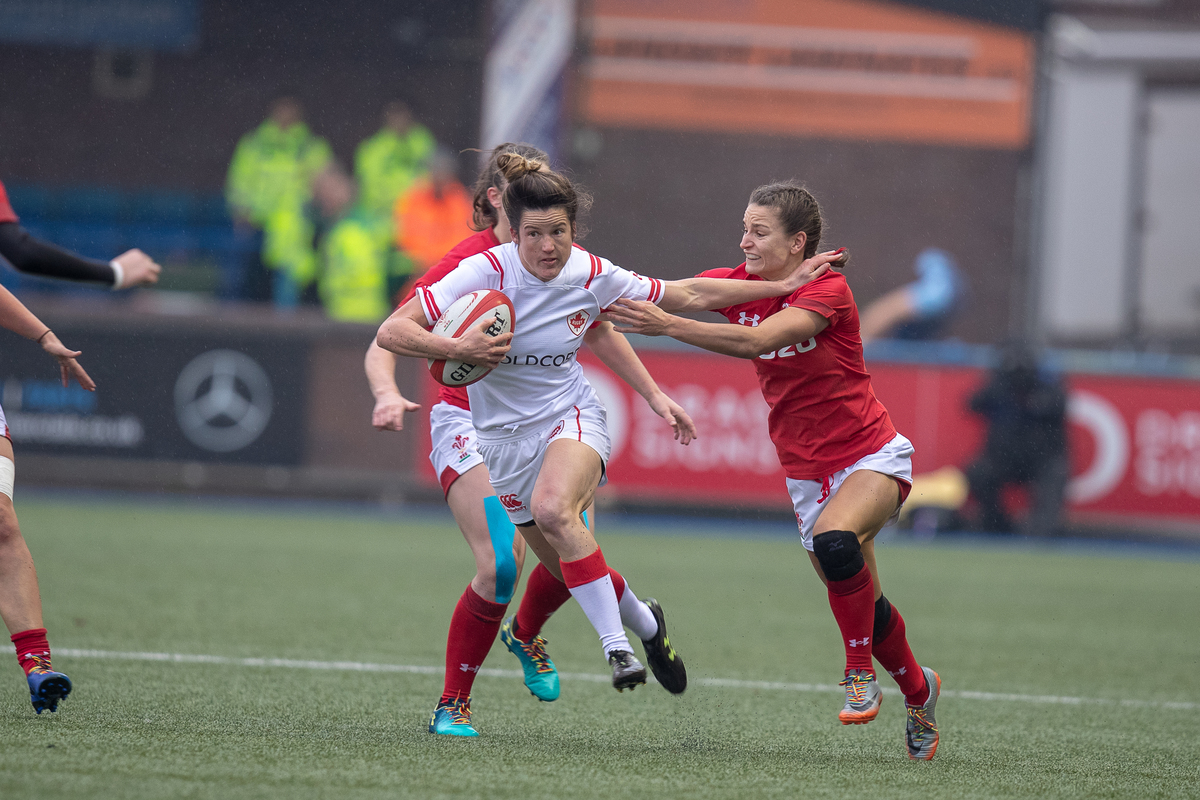 Second half surge sees Canada defeat Wales in Cardiff
Bryan Kelly
Rugby 15s Senior Women
Canada's Women's Rugby Team scored four second half tries to defeat Wales 38-21 on Saturday in the third match of the Autumn Tour. 
Canada took a narrow 10-7 lead into the break, however their substitutions and fitness proved to be too much for the home side as they showed their class in the second frame. 
Tries were scored by Sara Svoboda, Courtney Holtkamp x2, Elissa Alarie, Gabrielle Senft and Cindy Nelles, while Magali Harvey and Brianna Miller each kicked two conversions. 
Canada closes out their four match Autumn Tour on Tuesday against Scotland in Glasgow. The match will be streamed LIVE via www.bbc.co.uk/alba 
Canada roster to face Wales:
1. Veronica Harrigan – (London St. George's) Lucan, ON
2. Laura Russell – Captain (Toronto Nomads) Bolton, ON
3. DaLeaka Menin – (Calgary Hornets) Vulcan, AB
4. Cindy Nelles – (Belleville Bulldogs) Belleville, ON
5. Courtney Holtkamp – (Red Deer Titans) Rimbey, AB
6. Sara Svoboda – (Belleville Bulldogs/Toronto Saracens) Belleville, ON
7. Janna Slevinsky – (Kingston Panthers) St. Albert, AB
8. Gabrielle Senft – (Castaway Wanderers) Regina, SK
9. Lori Josephson – (Guelph Redcoats) Beaverton, ON 10. Taylor Black – (Oakville Crusaders) Oakville, ON
11. Sabrina Poulin – (TMR RFC) Saint-Georges-de-Beauce
12. Alex Tessier – (SABRFC) Sainte-Clotilde-de-Horton, QC
13. Marie Thibault – (CRQ) Quebec City, QC
14. Magali Harvey – (CRQ) Quebec City, QC
15. Elissa Alarie – Vice Captain (Ste-Anne-De-Bellevue RFC/Westshore RFC) Trois Rivieres, QC
16. Gillian Boag – (Capilano/UBC) Calgary, AB
17. Brittany Kassil – (Guelph Redcoats) Guelph, ON
18. Olivia DeMerchant – (Fredericton Loyalists) Mapledale, NB
19. Ngalula Fuamba – (TMRRFC) Notre-Dame-de-L'Île-Perrot
20. Tyson Beukeboom – (Cowichan Piggies) Uxbridge, ON
21. Brianna Miller – (Saint-Anne-de-Bellevue) Point-Claire, QC
22. Tausani Levale – (Abbotsford RFC) Abbotsford, BC
23. Anaïs Holly – (TMR RFC) Montreal, QC
Canada's November Tour Schedule:
 
Sunday 18th November 
England 27 - 19 Canada
Wednesday 21st November
England "A" 14 - 35 Canada "A"
Saturday 24th November
Wales 21 - 38 Canada
 
Tuesday 27th November
Scotland v Canada
Scotstoun Stadium - Glasgow
K.O.  7pm local time (2pm ET/11am PT)
Watch LIVE: www.bbc.co.uk/alba
  
-30-