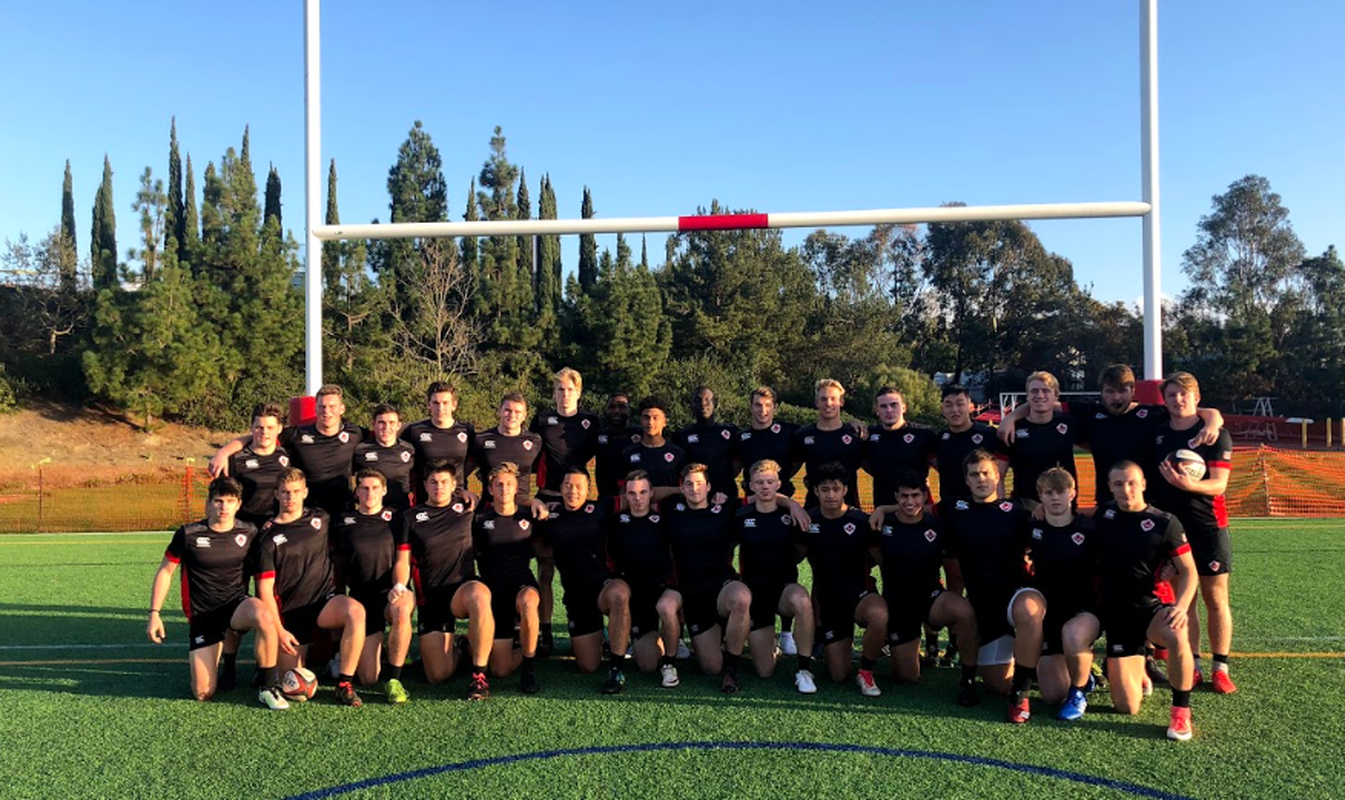 Canada Men's U18 December Tour Updates
Bernadette Larose
Rugby 15s U18 Men
Updates on the Canada's Men Under-18 team December tour in Chula Vista, California
Canada White vs. USA Red
Canada fell 22-10 in their first match of the tour. A try by Jacob Bourne got Canada on the board just before the end of the first half. A late try by Cody Nhalana closed out the match. 
Canada Red vs. USA Blue
Canada lost to USA in the second match of the day 40-13. Takoda McMullin made two penalties in the first half. Late in the second Ciaran Breen broke the USA line and scored a try for Canada. Jamie Hodgkins made the conversion to finish the game 40-13 for USA Blue.
Canada White vs. USA Blue
Canada went scoreless in their match against USA Blue 33-0. 
Canada Red will face USA Red at 11:30am PT/ 2:30pm ET. Updates are available via USA Rugby's Twitter.
Canada Red vs. USA Red
Opening up the scoring was Canada's Colin Rolph with a try. Jamin Hodgkins followed that up with the conversion and a penalty kick. Ciaran Breen scored his second of the tournament before USA answered back with a try just before the half. 
Jacob Bossi scored off a driving maul in the second half, tying the game at 20 all. The match finished in a tie with the score at 20-20. 
Canada White will face Canada Red on January 3rd to end their December tour. There will be no live stream or updates on the match.
Canada U18 White Roster:
1. Willem den Ouden
2. Ryan Goodyear
3. Hudson Barnaby
4. Adam Ford
5. George Piper
6. Philipe Marchand
7. Isiah Springer
8. Brenner Kelava
9. Carson Young
10. Mikko Vorster
11. Sony Bermudez-Chavez
12. Alex Hickman
13. Talon McMullin
14. Kevin Mwamba
15. Max Tavenor
16. David Scollon
17. Ben Mowbray
18. Nicholas Harington
19. Jayden Woodworth
20. Thomas Artmann Sherren
21. Reese Stanley
22. Cody Nhanala
23. Relmu Wilson-Valdes
24. Jan-Hendrik Lourens
25. Jacob Bourne
26. Eric Godden
27. Liam Bowman
28. Graeme Norris
29. Elvis Duru
30. Jack Carson
31. Jared Usmar
Canada U18 Red Roster:
1. Raymond Chou
2. Jacob Bossi
3. Logan Markland
4. Connor Paivarinta
5. Logan Weidner
6. David Bunmi-Nathan
7. Michael Reid
8. Braden Bruce
9. Sean Snyman
10. Zac Sanderson
11. Takoda McMullin
12. Ciaran Breen
13. Storm Buck
14. Lucas Vanderburg
15. Elijah Springer
16. Matt Klimchuk
17. Joshua Mao
18. Deklan Williamson
19. Matthew Amyotte
20. Colin Rolph
21. Daniel Clement
22. Sterling Seunarine
23. Callum O'Neil
24. Lucas Shortall
25. Jamin Hodgkins
26. Jackson Kerr
27. Brandon Power
28. Zach Monckton
29. Max Abercrombie
December Tour Schedule:
Dec. 28, 2018
Canada White 10 - 22 USA Red
Canada Red 13 - 40 USA Blue
Dec 31, 2018
Canada White 0 - 33 USA Blue
Canada Red 20- 20 USA Red
Jan. 3, 2019
Canada White vs. Canada Red- TBD