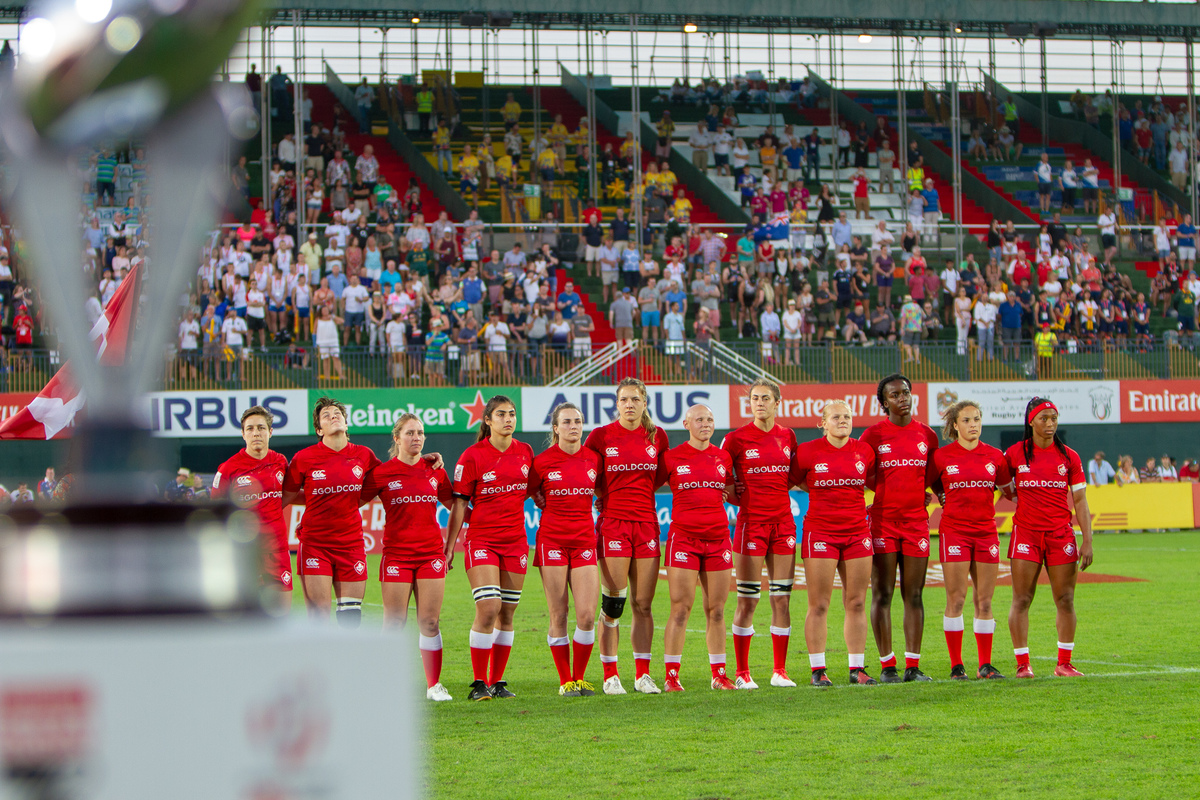 Scoring Wins for Diversity
Rugby 7s Senior Women, Rugby 15s Senior Women
In 2015, Goldcorp announced a 3-year sponsorship agreement with Rugby Canada's National Senior Women's Fifteens team and the National Senior Women's Sevens team. The agreement marked the first time Goldcorp had sponsored a national all-female sporting team.
Goldcorp has been a signatory to the United Nations Women's Empowerment Principles since 2015. In the same year Goldcorp signed a 3-year agreement with Rugby Canada's senior women's programs. 
The teams have achieved many successes over the course of the 3-year period, culminating recently with the Women's Sevens team winning silver place at the HSBC Women's World Rugby Sevens in Dubai on November 29-30, 2018. Narrowly losing the gold medal to New Zealand with a score of 26-14, the Canadian team played a terrific tournament in their Goldcorp branded uniforms.
The sponsorship agreement has helped challenge many perceptions and increase visibility of the sport. Rugby is the fastest growing sport in North America, and second largest sport in the world, but much like the mining sector, rugby is traditionally viewed as a men's game. However, the number of female rugby players is growing, with more than 25,000 women already playing across Canada, and women's interest in participation in the sport is increasing. According to World Rugby, it is estimated that by 2026, 40% of the total number of rugby players will be female, with the sport represented in over 80 countries worldwide.
Similarly, Goldcorp is attracting more women who want to develop careers in the mining industry too. But for this trend to continue to grow, a combination of collaborative solutions is required to support the mining sector — from encouraging young girls to pursue math and science studies to building a gender-inclusive awareness of the industry, to appointing more women to senior leadership and board positions.
At Goldcorp there are many avenues to attract, develop and retain women in our workforce. Advancing our own winning teams stems from our commitment to foster a culture of diversity and inclusion, reinforcing one of our core behaviours to 'develop people'. We provide opportunities to engage a wide variety of skilled people with a diverse range of backgrounds, traits and attributes and enable them to reach their full potential, through workplace empowerment programs such as Creating Choices, Growing Choices and Future Choices, and our leadership development program, Future Leaders.
Our leaders across the company promote an inclusive workplace culture and champion diversity and inclusion in their teams. In alignment with our Code of Conduct, our Diversity and Inclusion Policy, and our Respect in the Workplace program, all employees should demonstrate, through their behaviours and actions, commitment to fostering workplaces where people feel included, valued and able to contribute their best.
We also support the education of women and girls by funding programs with post-secondary institutions. Among others, this includes sponsorship of the University of British Columbia's Goldcorp Professorship for Women in Engineering, and donations to the National Autonomous University of Mexico and the National College of Technical Professional Education in Mexico to encourage leadership development for women in technical fields.
As Goldcorp continues to value diversity in our workplace, we are also proud to continue to support the Canadian Women's National Rugby Program as an Official Partner, which has recently been extended to 2021. We are also excited to see our powerhouse Canadian Sevens team go for gold on home turf in Langford, BC at the HSBC Canada Women's Sevens Tournament, where the women will be playing May 11-12, 2019.