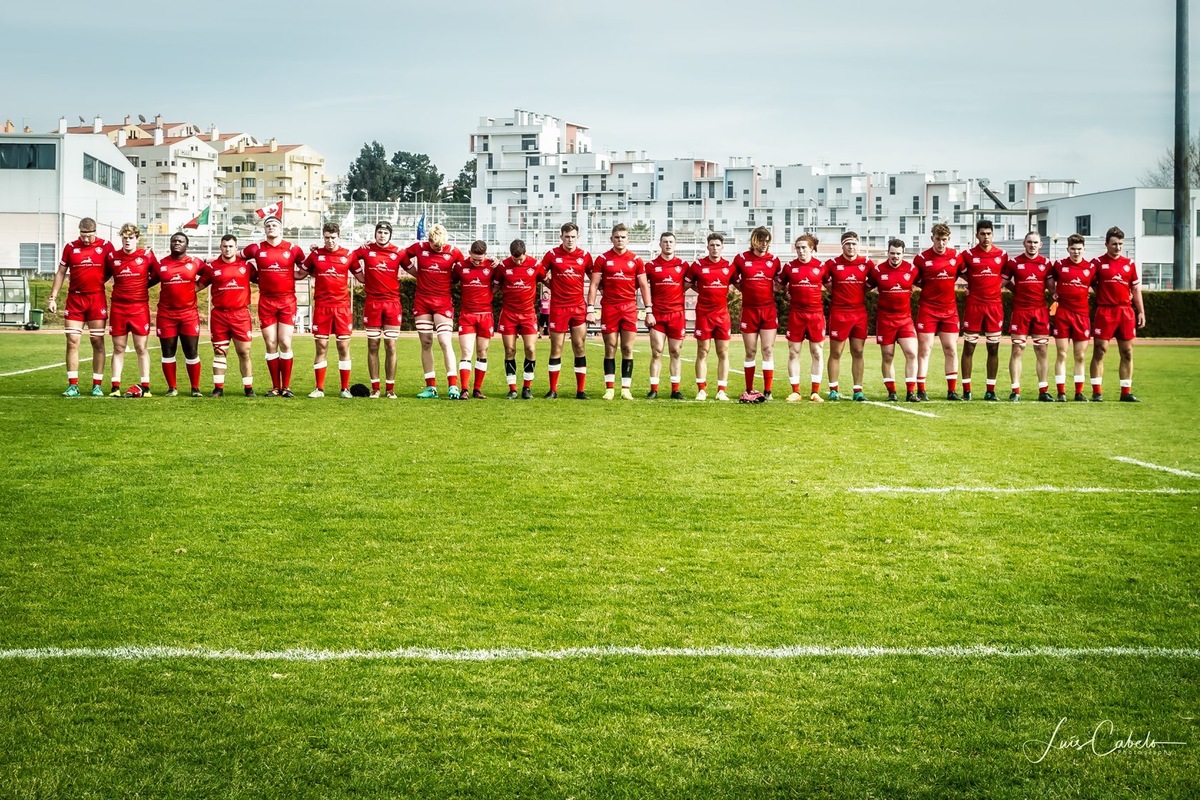 Canada U20 fall to Portugal 'B'
Dr. Pat Parfrey
Rugby 15s U20 Men
Canada's Under-20 Men's team lost to Portugal 'B', 17-12 in their second match of their European tour on Wednesday, February 20th, 2019. 
At Caldas da Rainha tonight Canada U20 lost to Portugal by 17-12 in the second of a 2 game series in which Canada played all 28 players and Portugal 35 players. It was a nice night with a full moon, but a new ball with a full dew played havoc with the handling. The game was not of high quality and Canada's first half performance was marred by 13 knock-ons.
The score was 14-0 at half time following 2 converted tries by Portugal. At 12 minutes Portugal finished in the left corner following a multi-phase movement. At 29 minutes Portugal scored again when a kick from a scrum was poorly covered.
In the second half there was more bite to Canada's performance, which was rewarded after 11 minutes by a try scored by Quebec's Brandon Hebert following a series of goal line drives. At 57 minutes Portugal kicked a penalty awarded for a scrum infringement. At the end of the half Guerschom Mukendi made a rollicking break to set up a try for another Quebecois Antoine de la Fontaine in the left corner, converted by Brock Webster.
For Canada the line out went well with several good catches at the tail. The scrum was under pressure in the first half but Mukendi made a difference in the second half. Restarts were effective both offensively and defensively, and discipline was good. Mason Flesch and Will Matthews had impact in the back row.
"Our overall feeling is one of disappointment as we did not play well. Frequently we got started only for our momentum to be stopped by a knock-on," commented head coach Jeff Williams.
"However the coaching staff recognizes the benefit of this match to our future, as our shape in offence and defense is improving."
The tour finishes in demanding fashion on Saturday, February 23 in Vallodolid with two 40 minute games against Spain and France, with a 30 minute interval between the first and second games. Tyler Rowland who had exams will replace Tyler Duguid for Saturday's games. Doubt exists for Quentin James with a hip flexor injury and Glen Butler with a bruised thigh. All fit players will play on Saturday.
Canada Men's U20 Roster:
1. Joshua Tweed, UBC, Surrey, BC.
2 Michael McCarthy, Swilers RFC, St John's ,Newfoundland.
3 Stefan Zuliani , Queens University, Thornhill Ontario.
4 Reid Davis, James Bay AA, White Rock .BC.
5 Brandon Hebert, St Anne de Bellevue, Montreal,Quebec.
6 Quentin James, Perpignan, Vancouver, BC.
7 Will Matthews, Beaconsfield RFC, Beaconsfield,Quebec.
8  Mason Flesch, Coburg Saxons,Coburg, Ontario.
9 Brock Gallagher, Westshore RFC, Edmonton,Alberta.
10 Brock Webster, Oshawa Vikings, Oshawa, Ontario.
11 Reece Tudor Jones, University of Victoria,Victoria,BC
12 Kevin Vertkas, Westshore RFC, Toronto,Ontario.
13 Quinn Ngawati, Westshore RFC, Victoria ,BC.
14 David Richard, Mississauga Blues, Milton ,Ontario.
15 Austin Pinnell, Nor'Westers, Edmonton,Alberta.
16 Guerschom Mukendi,Stoney Creek Camels, Stoney Creek, Ontario
17 Thomas Hagen ,Swilers RFC, St John's , Newfoundland.
18 Henry Stephenson, Toronto Nomads, Toronto,Ontario.
19 Alistair Bulman, Guildfordians, Dorking, England.
20 Connor McKinney, Swilers RFC, Toronto ,Ontario.
21 Sam Kahn, University of Western Ontario,Victoria,BC.
22 Campbell Clarke, Swilers RFC,St John's, Newfoundland.
23 Glen Butler,RMC Kingston, Grimsby , Ontario.
24 Antoine de la Fontaine, Sherbrooke ,Sherbrooke,Quebec.
Portugal/Spain Tour Schedule:
Canada U20 12-17 Portugal B
Canada U20 vs. Spain
Valladolid, Spain
6:50am ET/ 3:50am PT
Canada U20 vs. France
Valladolid, Spain
7:30am ET/ 4:30am PT