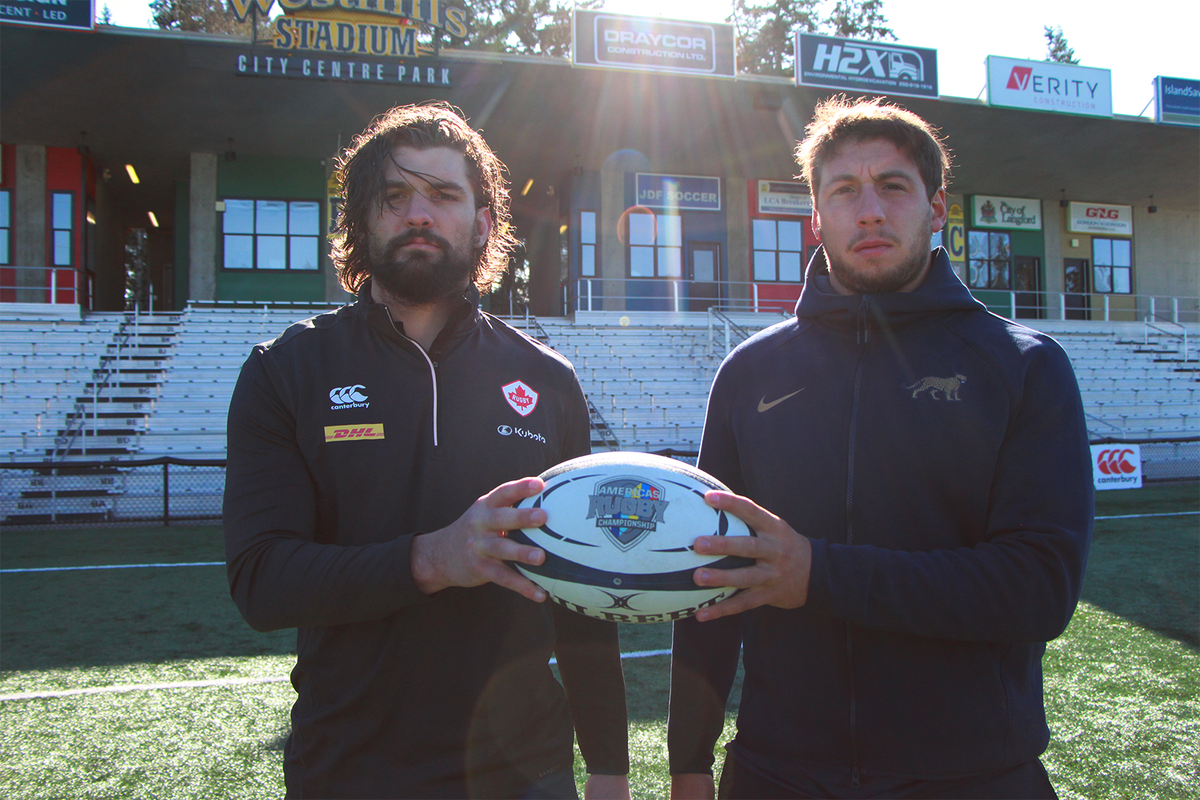 Canada vs. Argentina XV #ARC2019- Event Info
Canada is hosting Argentina XV at home in Langford, BC on Friday, March 1. Here's everything fans need to know before they head down to Westhills Stadium.
We are looking forward to hosting you at this year's Americas Rugby Championship match between Canada and Argentina at Westhills Stadium! Due to some exciting renovations happening here at Westhills Stadium, your access to the stadium has changed from what you might be used to in the past.
Here is everything you need to know about Game Day:
GATES OPEN: Gates will open to the public at 6:00pm, and Kick Off will be at approximately
7:00pm
PARKING:
• Parking is very limited at the Stadium due to other activities and the Boat Show taking place at City Centre Park. We recommend you car pool wherever possible.
• Parking is open at Belmont Secondary School and at the Stadium (entrance off of Langford Parkway) for the event.
• Please note all parking is first come, first served and parking is not guaranteed.
• Parking map is included below
STADIUM ACCESS:
• The entrance to the stadium for the match is on Glen Lake Road next to the Rugby Canada offices and the main stadium grandstand.
• There is a pedestrian walkway from the main parking lot off Langford Parkway that will provide easy access to the entrance gate.
• If using the overflow parking at Belmont School it is a short walk to the entrance gate.
• Access points and pedestrian walking routes to the entrance from the parking areas can be seen on the below map.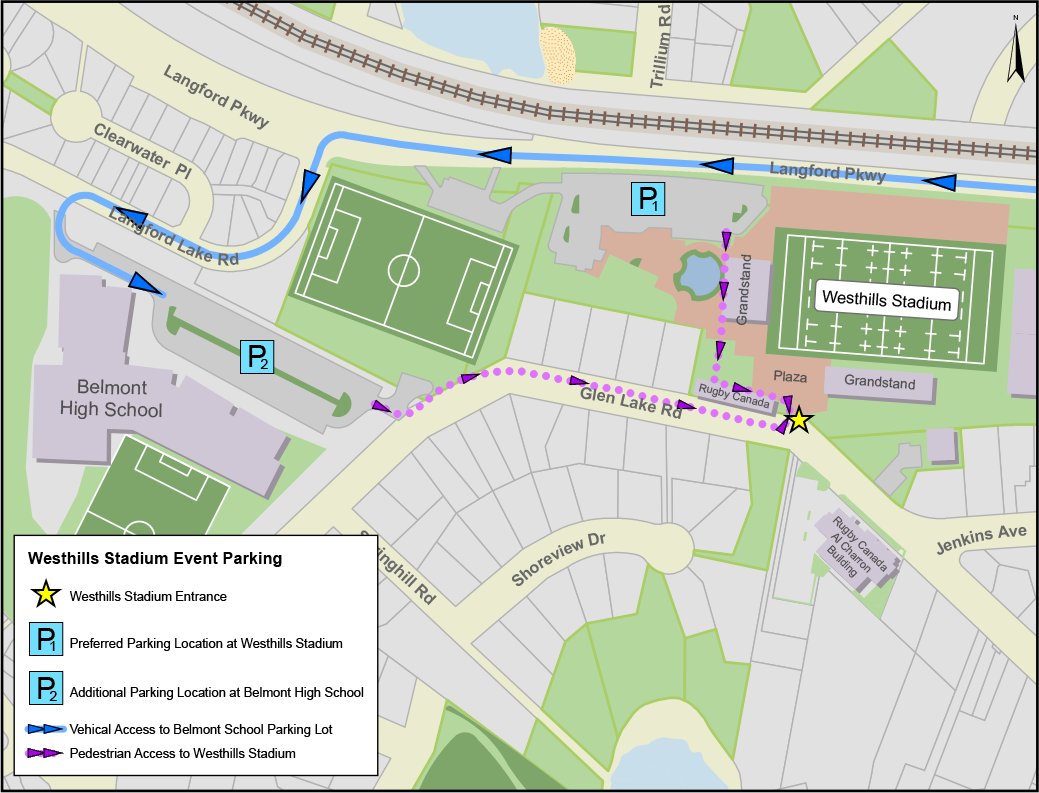 TICKET SALES & WILL CALL:
Ticket Sales and Will Call ticket pick up are located just outside the main entrance gate (see above)
The Ticket Sales and Will Call ticket pick up will open to the public at 6:00pm on game day. * Tickets can also be purchased in advance online at https://rugby.ca/en/tickets
FOOD & BEVERAGE
City Centre Park Grill Concessions and Molly's Fish and Chips Truck will both be onsite to help satisfy your hunger and thirst with many delicious and affordable options!
Both the Grill Concession and Molly's Fish and Chips will be located just inside the entrance gate.
PROHIBITED ITEMS
* Prohibited items for game days include:
- Outside alcohol
- Illegal drugs and illicit substances
- Weapons of any kind (knives, box-cutters, firearms, etc. or items deemed hazardous by Security and/or Police)
- Incendiary devices (fireworks, smoke bombs, etc.)
- Outside food* and beverage
- No coolers, glass/metal bottles, or cans of any kind; thermoses/plastic bottles exceeding 1L are also prohibited (exceptions will be made based on extreme heat conditions [+40]).
- Musical instruments, air horns, powered megaphones
- Electronic noisemakers
- Obscene/inappropriate signs
- Pets/animals with the exception of service animals
- Projectiles (beach balls, footballs, balls, inflatable devices such as balloons, etc.)
- Flag poles/sticks
- Flags & banners exceeding 5ft x 5ft
- Clothing or material with profane language or obscene graphics
- Headwear or clothing that may impede the view of other guests
- Laser pointers
- Bicycles, scooters, rollerblades, and skateboards
- Full size umbrellas with points. Collapsible umbrellas are permitted
- Professional photography/video equipment
- Aerosol cans
- Masks
- Drones
- E-cigerettes
- Wall affixations
- All Tobacco and Cannabis related products must be concealed within their package while inside the stadium limits. Including vaporizers and e-cigarettes.
* The Director of Security or his designate reserve the right to prohibit any additional items deemed dangerous or inappropriate. These items are subject to change at any time.
* *Guests with medical issues (e.g., diabetes, etc.) that require special exemptions for outside food and beverage must speak with security upon arrival or call City Centre Park to discuss in advance. Contact details for City Centre Park staff can be found here: https://www.eagleridgecentre.com/contact-us