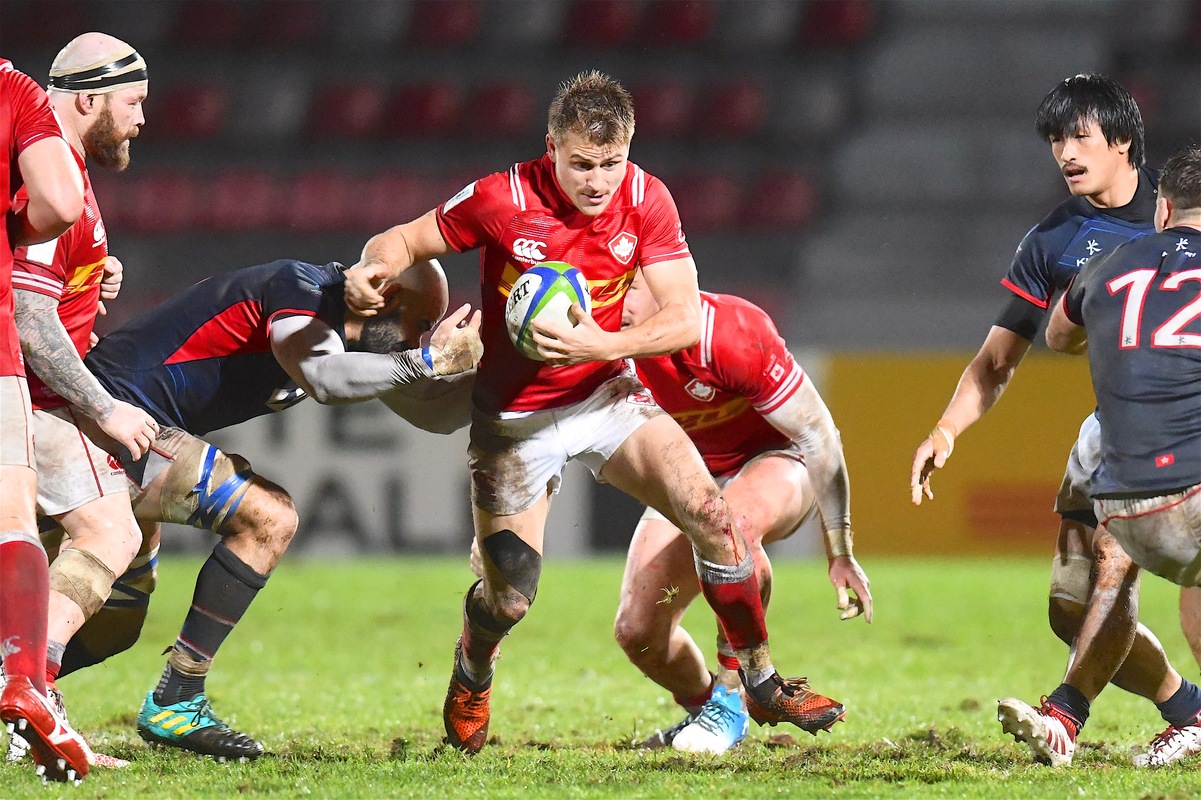 Theo Sauder talks growth of the game through Toronto Arrows expansion
Bernadette Larose
Rugby 15s Senior Men
LANGFORD, BC (February 11, 2019) - With a Rounsefell Cup, a Rugby World Cup repechage, and a Major League Rugby (MLR) contract already under his belt, 2019 looks to be another massive year for Vancouver's Theo Sauder.
Having won his first cap for Canada in June of 2018 against Scotland, 22-year-old Sauder—who plays at fullback and flyhalf—has quickly climbed up the rugby ranks and now finds himself apart of the MLR's first Canadian team.
Sauder recently represented Canada as part of the National Men's 15s squad that qualified for the 2019 Rugby World Cup in November of last year. Sauder started all three repechage matches against Kenya, Germany, and Hong Kong scoring two tries in the tournament.
The addition of the Toronto Arrows comes in a year already packed with international competition. Sauder and six other Arrows players were named to Canada's roster for the first two matches of the 2019 America's Rugby Championship (ARC), where Sauder notched a try and a conversion in Canada's match against Uruguay. 
Now on the ARC's bye week, Sauder will return back to Langford to continue preparations on the next set of ARC matches. The Arrows however will continue their inaugural season after just securing their first MLR win this past weekend against the Austin Elite. The Arrows have six games left to play on the road before heading back to Toronto for the final eight games of the regular season, finishing in early June.
With 27 fellow Canadians on the Arrows roster, we took a moment to talk to Sauder about his thoughts on the new team and what this could mean for the growth of the sport in Canada:
Bernadette Larose
How do you think the addition of a Canadian MLR team will affect rugby in Canada?
Theo Sauder
I'm hopeful that the addition of a Canadian MLR team will give more Canadian rugby players a chance to train and play in a full-time professional environment, where they can work on and hone their skills as they look to make the leap to the international stage.
BL
What do you think the impact of Arrows matches will be on other domestic events in terms of following/ interest?
TS
It would be great if the Arrows matches could continue to grow the Canadian rugby fan base and bring even more support to our national and age grade programs and hopefully give young athletes something to aspire to.
BL
What impact do you think the growth of the MLR will have on Rugby Canada's national programs?
TS
The MLR now gives players a pathway to grow and train full time professionally which gives domestic players a chance to improve and play at a higher level year round and not have to travel overseas to do so. 
BL
How do you think the addition of the Toronto Arrows can help Canada progress on the international rugby stage?
TS
Allowing Domestic players a chance to play and get better every week not only helps the players who were already in the running for selection for test matches and international duty, but also increases the depth and competition for those test match spots. In the long run more competition and depth will hopefully help Canada improve on the international stage.
For more details on the Toronto Arrows please visit https://torontoarrows.com/
----------------------
 
Catch the Canadian squad at home as they face Chile (Feb 22) and Argentina (March 1) in the next two matches of the ARC.
Tickets for the two fixtures in Langford, BC can be purchased at https://rugby.ca/en/tickets. With Westhills Stadium currently under construction, the total capacity for these two test matches is 1,000, therefore seating is limited.