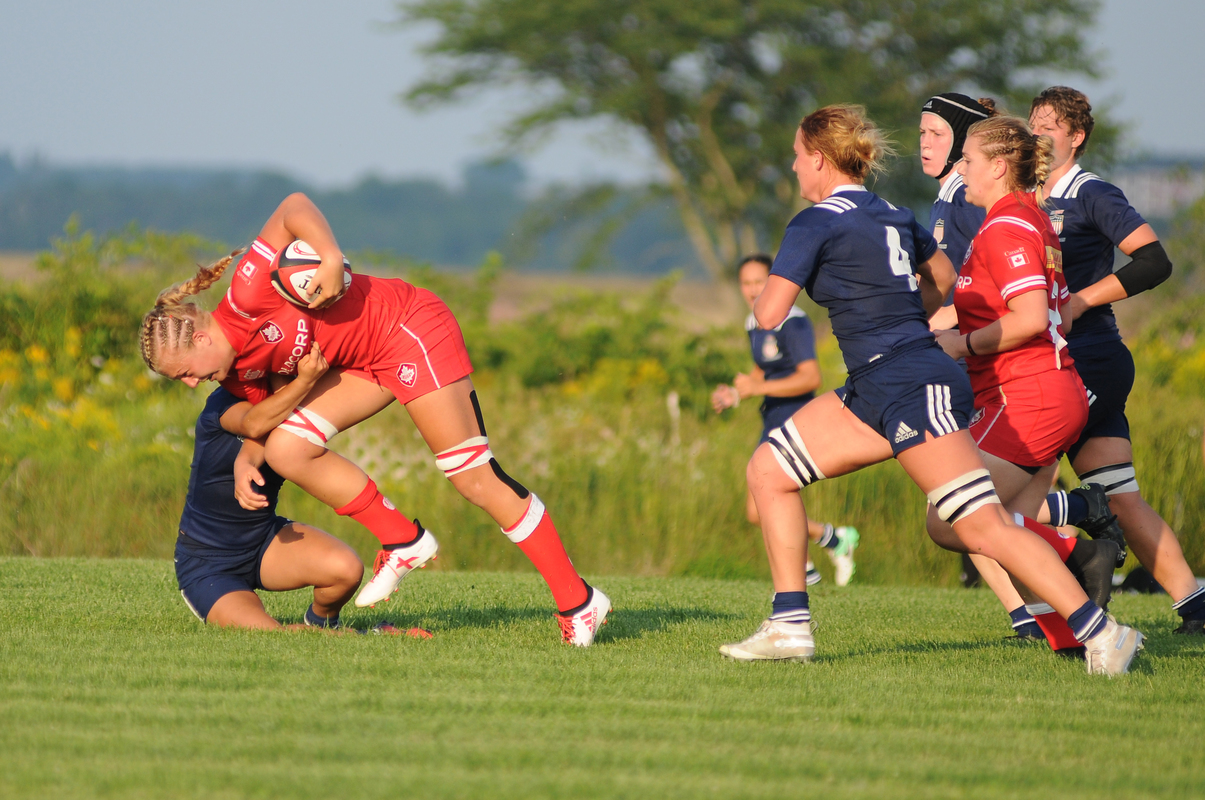 Women's U20 West Camp set for next week
Bernadette Larose
Rugby 15s U20 Women
(LANGFORD, BC) –Rugby Canada will host the top 40 Under-20 athletes from all over Canada on April 29th – May 4th at Shawnigan Lake School for a training camp as part of preparations for the 2019 Tri Nations Cup.
The top 40 athletes have been selected from U-Sports XV and Sevens programs, regional and national team nominations, and various regional camps.
The camp will be used as a talent ID and selection tool as the Women's Under-20 looks ahead to the Tri-Nations Cup. Following the camp, a long list will be established, and selected players monitored, as coaching staff work towards setting their 24-player Tri-Nations roster.
"Last year we made huge strides forward in our two-week Tri Nations campaign without being together prior to competition, so having the benefit of a pre-camp is something we are very excited for. Picking 40 players was not easy as we still have others outside the group vying for a place on our summer traveling squad, who are returning from injury or through performance with their regional and provincial teams," said Women's U20 head coach, Jack Hanratty.
"We are excited for this group of 40 to come together in Shawnigan and to gather momentum not only for this year but for the Senior Women's world cup campaign."
The U20 camp also offers opportunity for development ahead of the 2021 Women's Rugby World Cup. Sandro Fiorino, head coach of the Senior Women's XV, is working closely with the U20 program--looking for up-and-coming athletes to grow the program and potentially put their hand up for the World Cup team.
"I'm excited to see this year's group of U20 athletes compete for a spot for this summer's fixtures. The U20 program has produced many of current National Senior Women's XV squad and will continue to do so." said Fiorino.
The Tri-Nations Cup will take place this July with Canada will compete against England and USA.
Canada's U20 Women's West Camp Selects:
Alayna Scramstad- SK, Vancouver Thunderbirds
Aliesha Lewis- ON
Alexie Lachapelle-Johnstone-QC, Rugby Quebec
Angie Olukunmi- AB, Calgary Irish
Berlyn Seselja- AB, Calgary Irish
Brittany Imasuen- ON, Queens University
Brogan Mior- AB, Foothills Lion
Callie Harder- BC, UVic Vikes  
Celia Martensson- ON, Auroa Barbarians/Queens University
Charlotte Elliott- ON, Kingston Panthers
Claire Gallagher- ON, Aurora Barbarians
Claudia Fulton- NS, Valley Bulldogs RFC
Courtney Holtkamp- AB, Red Deer Titans
Danielle Franada- AB, Grande Prairie Sirens
Emily Brown- AB, Red Deer Titans
Emma Feldinger- BC, UBC Thunderbirds
Erin Geddie- AB, Dinos River
Gabrielle Plourde- QC, Club de Rugby de Quebec
Hanna Nicholl- ON, Toronto Nomads
Hannah Beaumont- ON, Guelph Gryphons
Hannah Ellis- NS, Halifax Tars
Holly Philips- AB, Calgary Irish
Idia Ihensekhein- ON, Oakville Crusaders
Jasmine Baxter- ON, Oshawa Vikings
Jordyn Myers- BC, UVic Vikes
Justine Blatt-janmaatt- NS, Valley Bulldogs/Windsor Machine
Kally King- BC, UBC Thunderbirds
Linnea Dalvi- ON, Westshore/Barrhaven Scottish
Lyric Atchison- BC, UBC Thunderbirds
Maya Addai- ON, Ottawa (Kanata) & Barrhaven Scottish
Maya Montiel- NB, Ottawa Irish
Miia Sorra- ON, Balmy Beach Rugby Club
Nicola Smith- BC, UVic Vikes 
Noemie Tremblay- QC, Club de Rugby de Quebec
Rayann D'Aguia- ON, Brampton Beavers
Rori Wood- BC, UBC Thunderbirds
Shoshanah Seumanutafa- BC, UBC Thunderbirds
Sophie De Goede- BC, Castaways Wanderers/Queens University
Tausani Levale- BC, Abbotsford RFC
 
Tri-Nations Cup Schedule
TBC