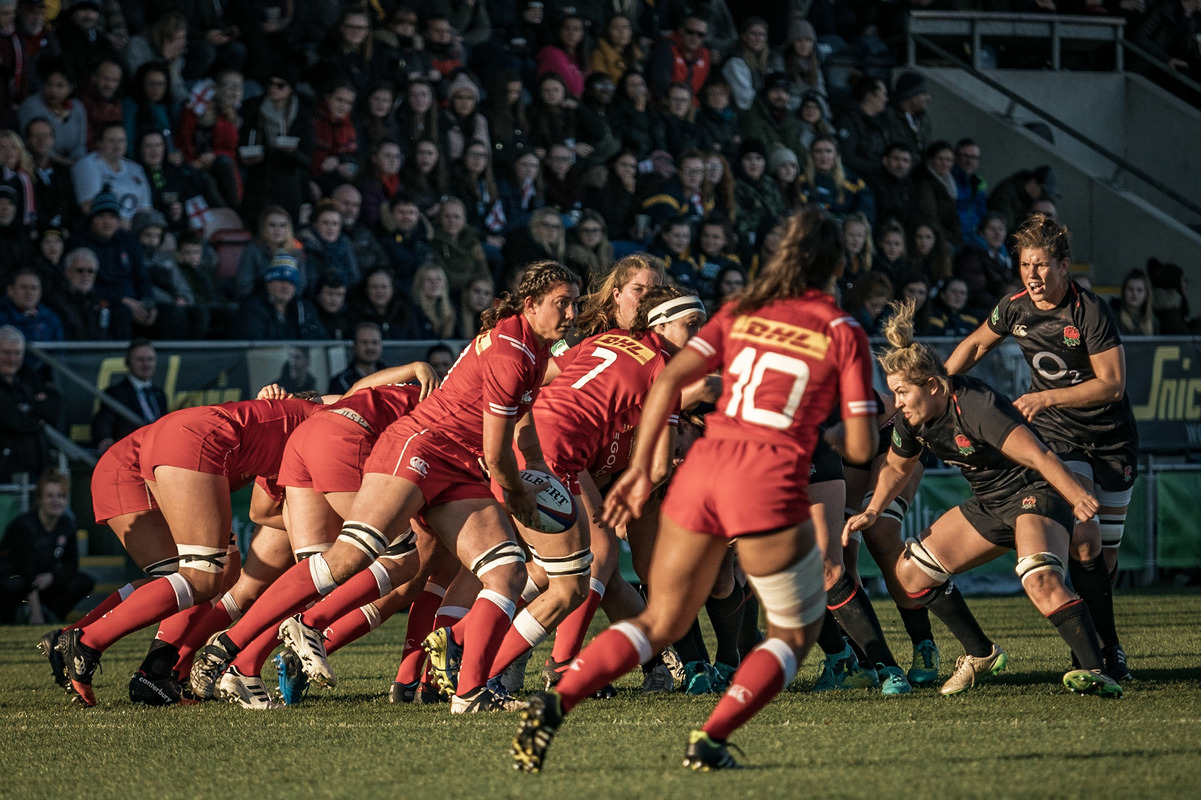 CAN-AM set ahead of the Women's Rugby Super Series
Bernadette Larose
Rugby 15s Senior Women
(GUELPH, ON) – The joint training camp with the Canadian and American Women's XV squads will be held at the University of Guelph from May 14-25th and will include combined training as well as two exhibition matches.
As Canada continues preparations for the Women's Rugby Super Series in June, the top 40 players will partake in the CAN-AM training camp in mid-May. The camp and matches played will be used to prepare for the Women's Rugby Super Series in San Diego this June.
"This is the first opportunity for the ladies to come together after a successful 2018 Fall Tour in the UK. The players and staff are excited to get back on the pitch and build towards this summer's international fixtures," said head coach Sandro Fiorino.
The CAN-AM's come as part of a series of changes to the National Women's XV program that are aimed to give domestic athletes more fixtures and preparation ahead of international play.
The Canadian Rugby Championship will now change formats to see athletes competing for two separate championships: Canada East (Atlantic, Quebec, and Ontario) and Canada West (B.C., Alberta, and Prairies). Dividing competition regionally will allow for more matches to be played by a larger pool of players.
The two exhibition matches will be on May 19th and 24th and will not be available for streaming. However, fans are encouraged to come out to Guelph University to watch the matches live and cheer on team Canada.
--------
To support the National Senior Women's XV program at this camp and others down the road as they prepare for the WRWC 2021, donate to the Monty Heald Fund. Donations help to offset out-of-pocket costs for our athletes.
To donate, click HERE.
CAN-AM Roster:
Elissa Alarie – (Ste-Anne-De-Bellevue RFC/Westshore RFC) Trois Rivieres, QC
Jennifer Appleby – (Castaway Wanderers) Regina, SK
Tyson Beukeboom – (Cowichan Piggies) Uxbridge, ON
Taylor Black – (Oakville Crusaders) Oakville, ON
Gillian Boag – (Capilano/UBC) Calgary, AB
Pamphinette Buisa- ( Ottawa Irish) Gatineau, QC
Alysha Corrigan – (CRFC) Charlottetown, PEI
Sophie de Goede – (Castaway Wanderers/Queens University) Victoria, BC
Olivia DeMerchant – (Fredericton Loyalists) Mapledale, NB
Paige Farries – (Westshore RFC) Red Deer, AB
Marie-Pier Fauteux- (Abénakis de Sherbrooke) Sherbrooke QC
Fabiola Forteza – (Club de Rugby de Quebec) Quebec City, QC
Ngalula Fuamba – (TMRRFC) Notre-Dame-de-L'Île-Perrot
Veronica Harrigan – (London St. George's) Lucan, ON
Jacey Grusnick- Barrhaven Scottish (Alliston, ON)
Anaïs Holly – (TMR RFC) Montreal, QC
Courtney Holtkamp – (Red Deer Titans) Rimbey, AB
Mckinkey Hunt (Aurora Barbarians)King City, ONT
Lori Josephson – (Guelph Redcoats) Beaverton, ON
Sara Kaljuvee- (Toronto Scottish) Pickering, ON
Brittany Kassil – (Guelph Redcoats) Guelph, ON
Maude Laliberté – (Club de Rugby Quebec) Quebec City, QC
Tausani Levale- (Abbottsford RFC) Abbottsford, BC
DaLeaka Menin – (Calgary Hornets) Vulcan, AB
Brianna Miller – (Saint-Anne-de-Bellevue) Point-Claire, QC
Cindy Nelles – (Belleville Bulldogs) Belleville, ON
Emilie Nicholl – (Guelph Redcoats) Toronto, ON
Temitope Ogunjimi - (Calgary Hornets RFC) Calgary, AB
Irene Patrinos – (Toronto Saracens) Mississauga, ON
Sabrina Poulin - (Town of Mount Royal Rugby) - St-Georges de Beauce, QC
Laura Russell – (Toronto Nomads) Bolton, ON
Emily Samek – (Guelph Redcoats) Hamilton, ON
Julia Schell- (Guelph Redcoats) Uxbridge ON
Gabrielle Senft – (Castaway Wanderers) Regina, SK
Janna Slevinsky – (Kingston Panthers) St. Albert, AB
Sara Svoboda – (Belleville Bulldogs/Toronto Saracens) Belleville, ON
Alex Tessier – (SABRFC) Sainte-Clotilde-de-Horton, QC
Marie Thibault – (CRQ) Quebec City, QC
Amanda Thornborough – (Westshore RFC) Brandon, MB
Emma Taylor- (Railway Union RFC) Dublin Scotsburn, NS
CAN-AM: Schedule- Guelph University:
Game 1
Canada vs. USA
May 19th
KO at 2pm ET
Game 2
Canada vs. USA
May 24th
KO at 2pm ET