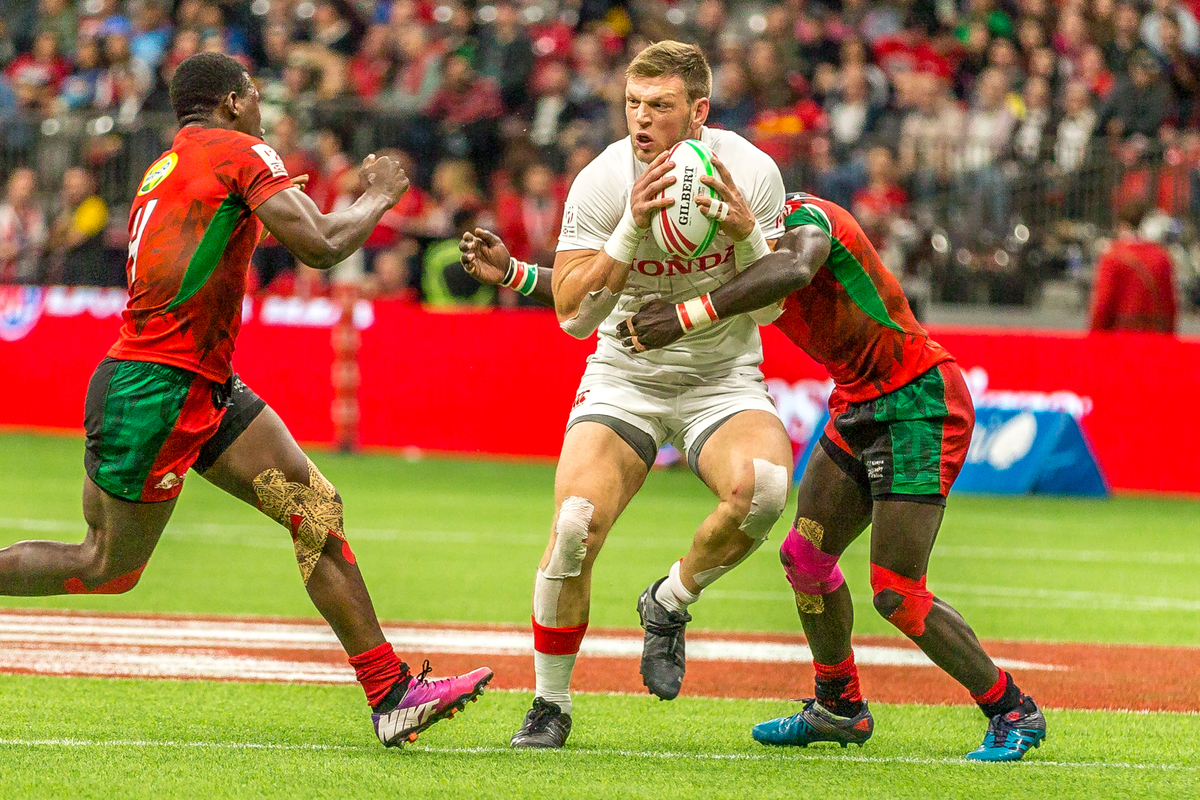 Canada's Men's Sevens Roster set for last two series stops
Katie Colclough
Rugby 7s Senior Men
Canada's 13-man squad has been named for the last two stops on the HSBC World Rugby Sevens Series in London (May 25-26) and Paris (June 1-2).
Canada is looking to rebound off their last two performances in Hong Kong and Singapore to end off the series on a high note ahead of the RAN Sevens this summer, where Canada is hoping to clinch Olympic qualification.
The London Sevens marks the first tournament with the team for interim-head coach Henry Paul. Paul will have the services of leading DHL Impact Player Connor Braid, as well as Adam Zaruba who is returning to the lineup for the first time since the Canada Sevens in March.
Leading the team will be veteran Harry Jones who has brought his expertise and skill back to the pitch after returning from injury earlier this year. Jones has scored 52 points in his four tournaments played so far.
Canada currently sit 12th in the World Rugby Sevens rankings and are hoping to make a big push at the series' end. With only two stops left, Canada will look to use London and Paris to gain momentum for the RAN Sevens Olympic qualifying tournament in the Cayman Island's this July.
Canada will be competing against Argentina, South Africa, and Japan in Pool A, with fixtures for Paris announced following the final match in London.
Fans can catch every match live on CBC Sports,and follow World Rugby's match centre and social media channels for live in-game updates. Watch it on delayed broadcast on CBC at 4pm ET/ 1pm PT on Saturday and Sunday.  
Canada Roster:
Phil Berna – UBC Thunderbirds (Vancouver, BC)
Connor Braid – James Bay AA (Victoria, BC)
Admir Cejvanovic – Burnaby Lake RFC (Burnaby, BC)
Andrew Coe – Markham Irish (Toronto, ON)
Justin Douglas – Abbotsford RFC (Abbotsford, BC)
Mike Fuailefau – Castaway Wanderers (Victoria, BC)
Nathan Hirayama –Unattached (Richmond, BC)
Harry Jones – Captain, Capilano RFC (North Vancouver, BC)
Isaac Kaay – UVIC Vikes (Kamloops, BC)
Luke McCloskey – Castaway Wanderers (Victoria, BC)
Matt Mullins – James Bay AA (Belleville, ON)
Jake Thiel – Abbotsford RFC (Abbotsford, BC)
Adam Zaruba – Capilano RFC (North Vancouver, BC)
Canada's Schedule:
Day 1- May 25th
Canada vs. Argentina- 5:58pm ET/ 2:58pm PT
Canada vs. South Africa- 9:26pm ET/ 6:26pm PT
Canada vs. Japan- 12:10am ET (May 26)/ 9:10pm PT