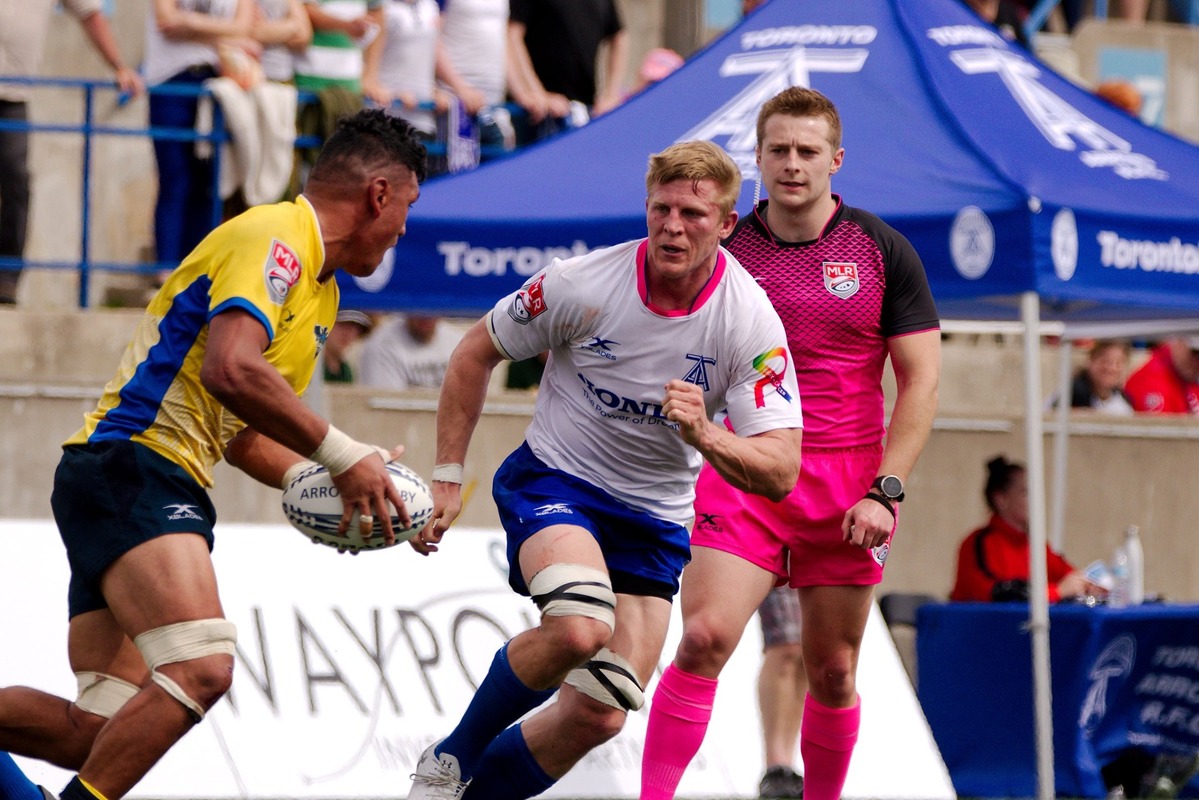 Major League Rugby Update: Week 18
Bryan Ray
Rugby 15s Senior Men
The Major League Rugby standings could not be any closer heading into the final weekend of the regular season, with an incredible four teams tied on points and only three playoff spots available. An exciting weekend left San Diego as the only side locked in for the Semi Finals but with only four points separating them from the four contenders, their top spot is still within reach. 
Toronto need a big win and a strong crowd of more than 2,700 showed up at Lamport Stadium to cheer them on. The Arrows responded with a comprehensive victory over Noah Barker's Glendale Raptors, the final score 40-12. Not only did it erase the memory of the shutout loss in Colorado earlier this season, it knocked last year's finalists completely out of Semi Final contention.
Uruguayan fullback Gastón Mieres was a primary catalyst in the first half, scoring two outstanding solo tries to lead the way for Toronto. Other tries came from Morgan Mitchell, Luke Campbell, Andrew Ferguson, and Tom van Horne. The bonus point had been secured in the first half with Ferguson's second half score the final dagger in Glendale's hopes for a comeback.
The Arrows have now won six games in a row, just one short of the MLR record set by Glendale in 2018. They can hit that mark on Sunday afternoon when they host Rugby United New York in a colossal contest that will see the winner advance to the Semi Finals and the loser left to wait for the results of two evening matches.
RUNY saved their season with a narrow 24-22 win over the NOLA Gold in Brooklyn. The back-and-forth battle was decided by a Cathal Marsh penalty just after the hour mark. New York's forwards proved too much for New Orleans, with the Gold's high-flying offense not enough to get them the win they needed to clinch a spot in the Semis.
Hubert Buydens and Eric Howard were again in the New Orleans front row, with Howard the captain playing a full 80 minutes for the 8th time this season. Kyle Baillie remains sidelined with an ankle injury and is in a race against time to be fit for a playoff spot, though his team needs to pull through this coming weekend to make it there.
Sunday's late game saw the Seattle Seawolves settle for a 27-all draw against the Utah Warriors at Starfire Stadium. After scoring a try in the opening moments of the match, the defending champions conceded four to the Warriors before halftime. Seattle pulled up their socks in the second half to make up the 10-point deficit with Brock Staller's late penalty goal earning them the tie and two much-needed points.
Seven Canadians took the field for Seattle. Djustice Sears-Duru, Nakai Penny, and George Barton joined Staller in the starting lineup. Jake Ilnicki, Phil Mack, and Jeff Hassler all played significant roles off the bench. Staller is now all but certain to end the season as the points scoring leader with his 191 total more than 50 higher than second-place Sam Malcolm of the Arrows.
The Houston SaberCats made it two wins in a row for the first time in franchise history as they won the all-Texas derby against the Austin Elite by a convincing 36-15 score. Powerhouse No8 Jamason Fa'anana-Schultz and Eagles centre Thretton Palamo scored two tries each for the resurgent SaberCats, who will now play Glendale in a Wednesday night fixture to make up for their May 11 postponement.
Austin are now starting at a winless campaign with only one match to play against Seattle this weekend. All told they have dropped 17 in a row. Their Canadian contingent has been a rare point of strength, with both Josh and Travis Larsen starting against Houston. Moe Abdelmonem made an immediate impact off the bench, with Aidan McMullan also getting a reserve appearance. Doug Fraser remains sidelined with a leg injury but is close to a return.
Three of this weekend's four matches have playoff implications, all of them on Sunday. Toronto's early afternoon match against New York at Lamport Stadium will dictate the requirements of the other teams in the race. A bonus point win for the Arrows and a loss for San Diego could even see Toronto hosting a Semi Final. Tickets are available now on the Arrows website.
San Diego will return from their bye week to host New Orleans in another match with huge playoff implications. The Legion can clinch first overall with a win or even a tie, while the Gold are in desperate need of points to make the Semi Finals. Seattle close their campaign with a home game against Austin, with the only match on Saturday a road trip for Houston at Utah. Both will be playing for pride only.
All of this weekend's matches will be streamed live on the official MLR Facebook page for Canadian viewers. GameTV will also broadcast the Arrows game nationwide.
WEEK 19 SCHEDULE
Glendale Raptors at Houston SaberCats
Wednesday, May 29
5:30pm PT, 8:30pm ET
Houston SaberCats at Utah Warriors
Saturday, June 1
5pm PT, 9pm ET
Rugby United New York at Toronto Arrows
Sunday, June 2
10am PT, 1pm ET
NOLA Gold at San Diego Legion
Sunday, June 2
4:30pm PT, 7:30pm ET
Austin Elite at Seattle Seawolves
Sunday, June 2
5pm PT, 8pm ET