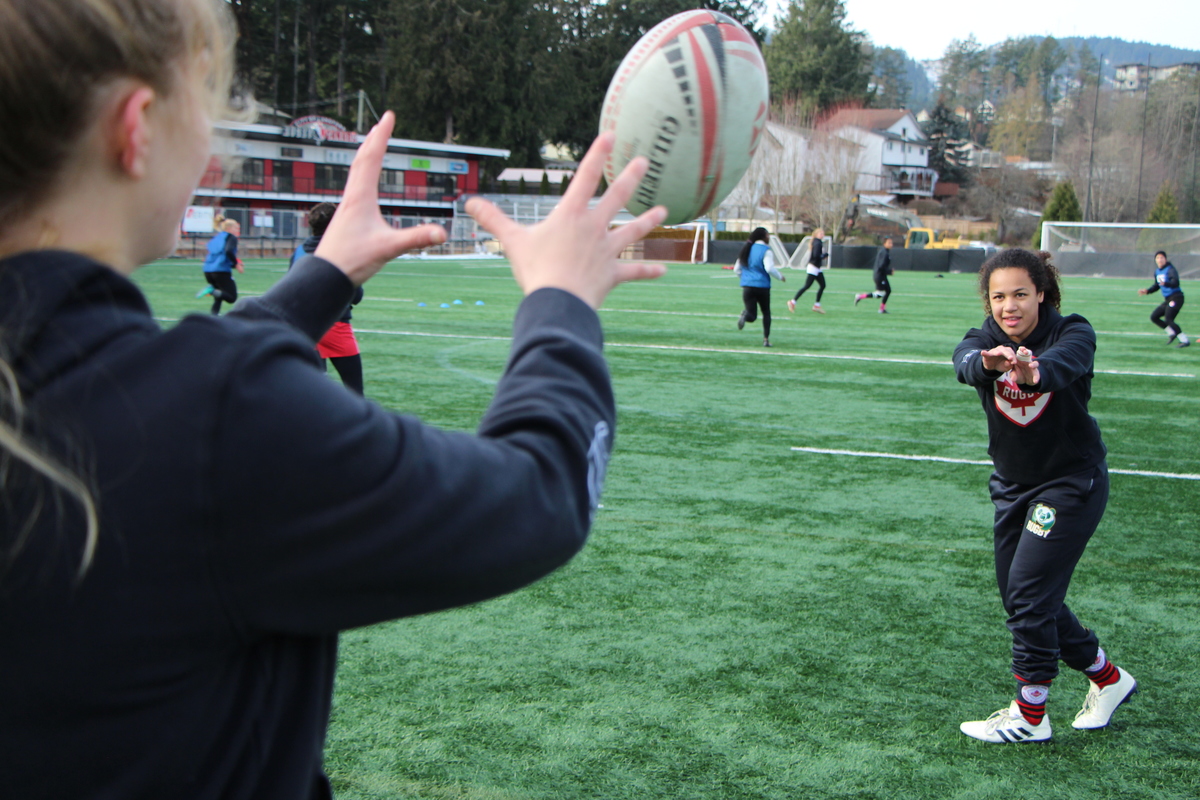 NextGen Langford Sevens Tournament part of Canada's build to 2024 Olympics
Bernadette Larose
Rugby 7s Senior Women
LANGFORD, BC – The next generation of rugby sevens stars and Olympic hopefuls will take the pitch in the NextGen Langford Sevens tournament, taking place during the HSBC Canada Women's Sevens tournament weekend on May 10-12th, 2019. 
Rugby Canada Development Academy's (RCDA's) East and West teams will be competing against the BC Selects and USA Rugby's Girls High School All Americans (GHSAA) over the 3-day tournament.
Day one will be played at Juan de Fuca Rec Park in a round robin format with every team getting in three games. Semifinals will be held on day two at Westhills Stadium and be played in-between matches at the Women's Sevens, with gold and bronze medal games played on the Sunday.
The focus of the tournament is on the future of Canada's National Women's Sevens program. The RCDA's success has already been proven as a pathway program, with several athletes moving up to the senior program in the past few years and competing on development tours.
With the Senior Women currently on the cusp of Tokyo 2020 qualification, lead RCDA East coach Sandro Fiorino is already looking ahead to the 2024 Olympics.
"This is a NextGen pathway event that is building towards Paris 2024. This tournament is a great opportunity for young athletes to get national team experience and play in front of a huge crowd at the Canada Women's Sevens in Langford," said Fiorino.
To purchase tickets for the HSBC Canada Women's Sevens and cheer on both our Senior and RCDA teams, please visit https://www.canadasevens.com/womens/tickets/
RCDA West Roster:
Maggie MacKinnon- Victoria, BC
Olivia De Couvreur- Ottawa, ON
Sierra Gillis- Victoria, BC
Maelle Reed- Victoria, BC
Fancy Bermuda Chavez- Edmonton, AB
Maddy Grant- Cornwall, ON
Maliyah Colombe- Victoria, BC
Ella O'Regan- Victoria, BC
Beth Cudmore- Barrie, ON
Zoe Williams- Victoria, BC
Kendra Cousineau- Port Colborne, ON
Carmen Izyk- High River, AB
Alternates
Madison Jumeau- Victoria, BC
Cassie Jorgensen- Drayton Valley, AB
RCDA East Roster:
Maya Addai- Ottawa, ON
Jasmine Baxter- Toronto, ON
Hannah Beaumont- Hillsburgh,ON
Aliesha Lewis- Guelph, ON
Taylor Black- Oakville, ON
Asia Hogan- Toronto, ON
Amelia Lawton- Caledon, ON
Nerine Hill- Colborne, ON
Talia Hoffman- Binbrook, ON
Cheyanne De Luca- Toronto, ON
Chloe Daniels- Sutton, ON
Lizzie Gibson- Caledon, ON
NextGen 7s Schedule:
Friday May 10th - Round Robin Play
Juan De Fuca Rec ParK
10:00am PT- RCDA E vs BCS
10:25am PT- RCDA W vs GHSAA
12:45pm PT- GHSAA vs RCDA E
1:10pm PT- BCS vs RCDA W
3:20pm PT- BCS vs RCDA W
3:40pm PT- RCDA E vs GHSAA
Saturday May 11th - Play Off Games
Westhill Stadium
Match Times: 12:42pm & 3:21pm PT
Sunday May 12th - Finals
Westhill Stadium
Match Times: Sunday 11:32am & 11:54pm PT