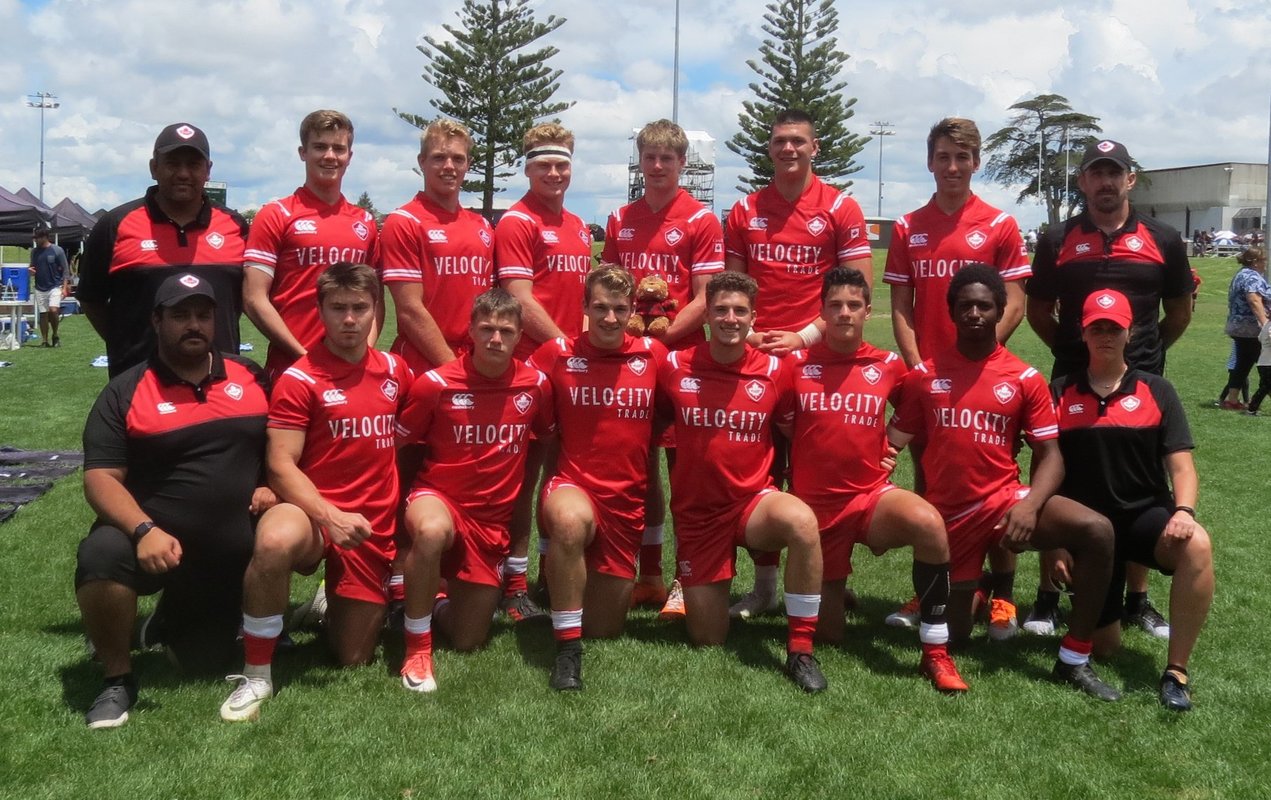 Roster set for the Men's U18 Sevens Can-Am this July
Khalil Ajram
Rugby 7s Senior Men
Canada's Under-18 men's sevens team head coach Nigel D'Acre has announced the squads for the upcoming Can-Am Sevens Tournament at Fletcher's Field in Markham, Ontario on July 11-13.
The two 12-man squads have been selected following the recent U18 San Diego Tour,  Las Vegas, and Tropical 7s tournaments which featured over 200 different U18 Canadian Male Athletes who were proudly representing their schools, clubs, academies or provincial teams as well as other competitions around the country
"We are extremely excited to have a true U18 Men's 7s development camp to help further the development of these rugby players. Last year we had success at the World School 7s capturing the Bowl Title beating Tonga in the final, but this year we are aiming high. This series is our first step." said D'Acre.
This tournament run alongside the Great North 7s which will feature up to 60 teams from across Canada and the USA. Fletcher's Field is located IN Markham, Ontario and will host all the matches between Canada Red/White and USA Stars/Stripes.
"The challenge faced in Canada and the USA is giving our players meaningful competition at an affordable price to the players. Competitions such as this is a great progression for the athletes in their development. I'd like to thank JD Stephenson [High Performance Manager of USA Rugby] for getting this event off the ground," added D'Acre
"We are delighted that the program will be headed by Nigel D'Acre and is once again an opportunity for the selected players to operate at a high level. This 7s competition as well as the XV's event on the west coast will compliment each other as we look to identify the best 40 players at this age group in the country," said Gethin Watts, Performance Director for Age Grade Rugby.
"We have been working hard with our provincial partners to be more efficient in our identification and development of rugby players that will one day allow us to provide an oversupply of 7s and XV's players for our international teams." 
All Games will be streamed LIVE at: Rugby Ontario YouTube Page
Canada's Red Squad:
Kyle Corrigan- Ottawa Ospreys- Ottawa, ON
Dylan Di Girolamo- Aurora Barbarians- Kettleby, ON
Cole Hutt- Ottawa Irish- Metcalfe, ON
Jacob Ince- Crusaders Rugby Club- Oakville, ON
Ian Jones- Oshawa Vikings- Brooklin, ON
Adrian Liepmann- Bytown Blues – Ottawa, ON
Philippe Marchand- Irish Montréal Rugby Football Club- LaSalle, QC
Duncan Phillips- Ottawa Irish- Nepean, ON
Nash Ramsay- Stoney Creek- Stoney Creek, ON
Kal Sager - Peterborough Pagans- Peterborough, ON
Harry Shaw- Crusaders Rugby Club- Oakville, ON
Lucas VanderBurg- Aurora Barbarians- Mount Albert, ON
Canada's White Squad:  
Max Abercrombie- Castaway Wanderers- Victoria, BC
Matthew Amyotte- Strathcona Druids- Edmonton, AB
Callum Blake-Currier- Cowichan Rugby Club- Mill Bay, BC
Jamin Hodgkins- Shawnigan Lake School- St. John's NFLD
Nathan Holm- Burnaby Lake- Vancouver, BC
Torren Kaiser- Cowichan Rugby Club- Mill Bay, BC
Thomas Kirkwood- UBCOB Ravens- Vancouver, BC
Josiah Levale- Abbotsford RFC- Abbotsford, BC
Takoda McMullin- Earl Marriott Secondary- Surrey, BC
Ethan Turner- Abbotsford RFC- Abbotsford, BC
David Wegert- RE Mountain Secondary- Langley City, BC
Relmu Wilson-Valdes- L.V Rogers Secondary- Nelson, BC
Non Travel Reserve
Armand Pienaar- Oshawa Vikings RFC- Stouffville, ON
U18 Can/Am 7s Series at Great North 7s/Fletcher's Field
Thursday, July 11
5:00PM ET/ 2:00PM PT- Canada White vs USA Stars
5:22PM ET/ 2:22PM PT- Canada Red vs USA Stripes
Friday, July 12
10:12AM ET/ 7:12AM PT- USA Stripes vs USA Stars
10:34AM ET/ 7:34AM PT- Canada White vs Canada Red
12:46PM ET/ 9:46AM PT- Canada Red vs USA Stars
1:08PM ET/ 10:08AM PT- Canada White vs USA Stripes
3:20PM ET/ 12:20PM PT- USA #1 vs Canada #2
3:42PM ET/ 12:42PM PT- Canada #1 vs USA #2
Saturday, July 13
11:18AM ET/ 8:18AM PT- Plate Finals
11:40AM ET/ 8:40AM PT- Can/AM Cup Finals