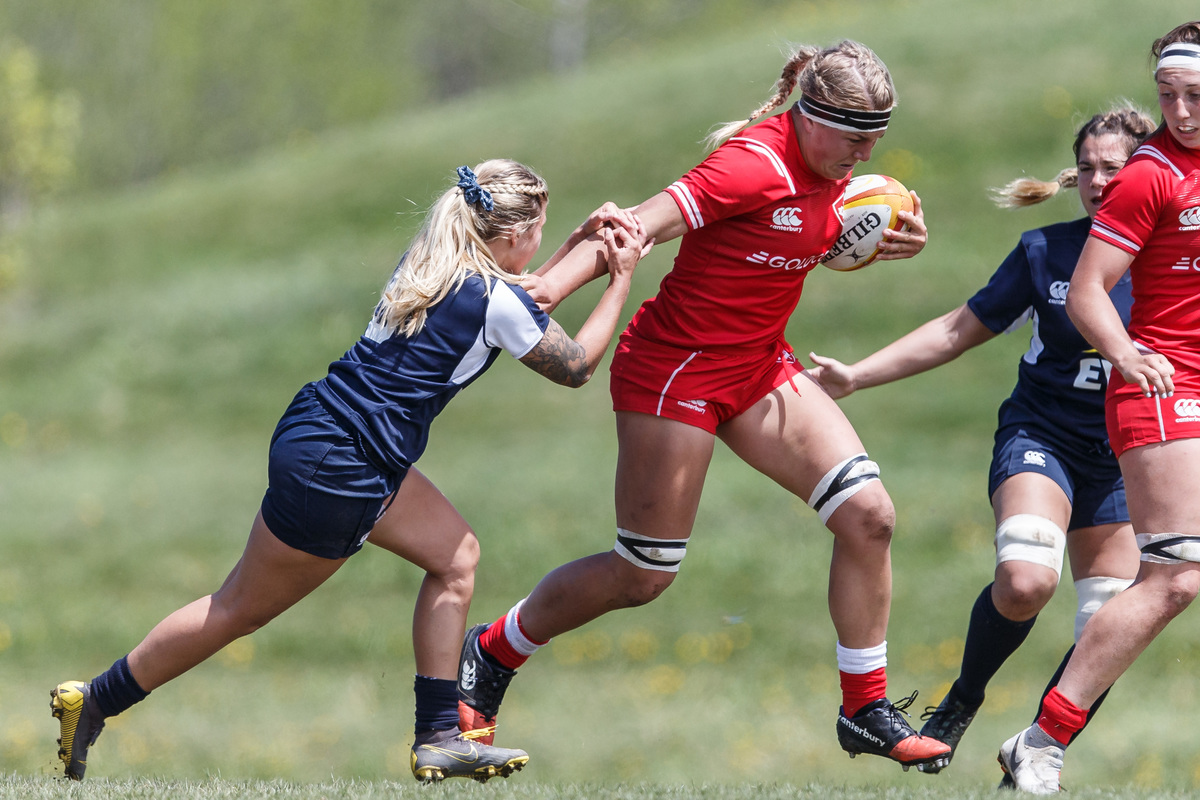 Canada's selections announced for the Women's Super Series
Katie Colclough
Rugby 15s Senior Women
LANGFORD, BC (June 19, 2019) - Making its much-anticipated return for the first time in three years, Canada's Women's XVs will travel to San Diego, California for the Women's Rugby Super Series – a round robin tournament featuring the top five ranked teams in the world from June 28-July 10th, 2019. 
New Zealand, England, Canada, France and USA are the five teams in contention to be the 2019 Women's Super Series Champion – a title Canada claimed in the 2016 edition of the Super Series event after an undefeated performance.
"The Super Series is a great platform for our players and staff to compete and perform against the best nations in the world. With the Women's Rugby World Cup 26 months away, it's key for us as a team to have a good understanding of where we are at and where we need to build to after this series," said head coach Sandro Fiorino.
The tournament will kick off on June 26th and extend through to July 14th, with each team playing each other once during the two-and-a-half-week duration. The event provides an opportunity for all five teams to gain necessary playing time and aligns strongly with World Rugby's 'Try And Stop Us' campaign that serves to promote and highlight the women's game around the world.
"As part of the women's strategic plan, accelerating the global development of women in rugby, one of the key strands is to increase competitiveness of international rugby across the women's game," said World Rugby Chairman Sir Bill Beaumont. "The Women's Rugby Super Series is a fantastic competition that offers more quality playing opportunities and is set to be a thrilling tournament, where we look forward to the top five women's international XVs teams compete for the Super Series title this summer."
Currently ranked third in the world behind England (2) and New Zealand (1), Canada will look to showcase the same skill and power as they did in their CAN-AM exhibition matches against USA Rugby where they took two major wins against an old school rival. As the current reigning Super Series champions, Canada will look to keep their title and reposition themselves as the best in the world.
"The CAN- AM was a successful camp that brought together the top 40 players and coaches in a highly competitive environment. The team maximized the time together by building out systems and a process that we'll be attempting to build off after several strong but challenging performances against the USA in Guelph," added Fiorino. 
Stacked with returning superstars and Rugby World Cup veterans, Canada will be bringing a wide range of experienced players to the pitch including the likes of Amanda Thornborough, Elissa Alarie and captain Laura Russell who all competed in the 2014 World Cup where Canada landed an incredible second place finish. In addition, the series provides an opportunity for development of up-and-coming athletes.
Canada's Super Series campaign kicks off June 28th against New Zealand. Broadcast details are still TBC, but will be announced on the Rugby Canada channels shortly. 
Canada's Travelling Roster
1.    Alex Tessier, SABRFC (Sainte-clotilde-de-Horton, QC)
2.    Alysha Corrigan, CRFC (Charlottetown, PEI)
3.    Amanda Thornborough, Westshore RFC (Brandon, MB)
4.    Anaïs Holly, TMR RFC, (Montreal, QC)
5.    Brianna Miller, Saint-Anne-de-Bellevue (Point-Claire, QC)
6.    Courtney Holtkamp, Red Deer Titans (Rimbey, AB)
7.    DaLeaka Menin, Calgary Hornets (Vulcan, AB)
8.    Elissa Alarie, Ste-Anne-De-Bellevue RFC/Westshore RFC (Trois Rivieres, QC)
9.    Fabiola Forteza, Club de Rugby de Quebec (Quebec Cuty, QC)
10. Gabrielle Senft, Castaway Wanderers (Regina, SK)
11. Gillian Boag, Capilano/UBC (Calgary, AB)
12. Irene Patrinos, Toronto Saracens (Mississauga, ON)
13. Jacey Grusnick, Barrhaven Scottish (Alliston, ON)
14.  Janna Slevinky, Kingston Panthers (St. Albert, AB)
15. Laura Russell, Toronto Nomads (Bolton, ON)
16. Lori Josephson, Guelph Redcoats, (Beaverton, ON)
17. Marie Thibault, CRQ (Quebec City, QC)
18. Maude Laliberté, Club de Rugby Quebec (Quebec City, QC)
19. Mckinley Hunt, Aurora Barbarians (King City, ONT)
20. MP Fauteux, Abenakis de Sherbrooke (Sherbrooke, QC)
21. Ngalula Fuamba, TMRRFC, (Notre-Dame-de-Ile-Perrot)
22. Olivia DeMerchant, Fredericton Loyalists (Mapledale, NB)
23. Paige Farries, Westshore RFC (Red Deer, AB)
24. Sabrina Poulin, Town of Mount Royal Rugby (St-Georges de Beauce, QC)
25. Sara Kaljuvee, Toronto Scottish (Pickering, ON)
26. Sara Svoboda, Belleville Bulldogs/Toronto Saracens (Belleville, ON)
27. Sophie De Goede, Castaway Wanderers/Queens University (Victoria, BC)
28. Taylor Black, Oakville Crusaders (Oakville, ON)
29. Tyson Beukeboom, Cowichan Piggies (Uxbridge, ON)
30. Veronica Harrigan, London St. George's (Lucan, ON)

Canada's Women's Super Series Schedule
Early Round Day One | Friday, June 28
CHULA VISTA ELITE ATHLETE TRAINING CENTER
Canada vs New Zealand—7pm ET/ 4pm PT
Broadcast: TBC
Early Round Day Two | Tuesday, July 2
CHULA VISTA ELITE ATHLETE TRAINING CENTER
France vs Canada– 5:15pm ET/ 2:15pm PT
Broadcast: TBC
Early Round Day Three | Saturday, July 6
CHULA VISTA ELITE ATHLETE TRAINING CENTER
Canada vs England– 8:15pm ET/ 5:15pm PT
Broadcast: TBC
Early Round Day Four | Wednesday, July 10
CHULA VISTA ELITE ATHLETE TRAINING CENTER
Canada vs USA – 8:15pm ET/ 5:15pm PT
Broadcast: TBC
-------
Donate to the Monty Heald Fund to help on this tour and all others as our Women's XV work toward the Women's Rugby World Cup in 2021. The fund offsets out-of-pocket costs for athletes and allows them to focus on training and development and will help us build the best squad possible!
To donate click HERE.