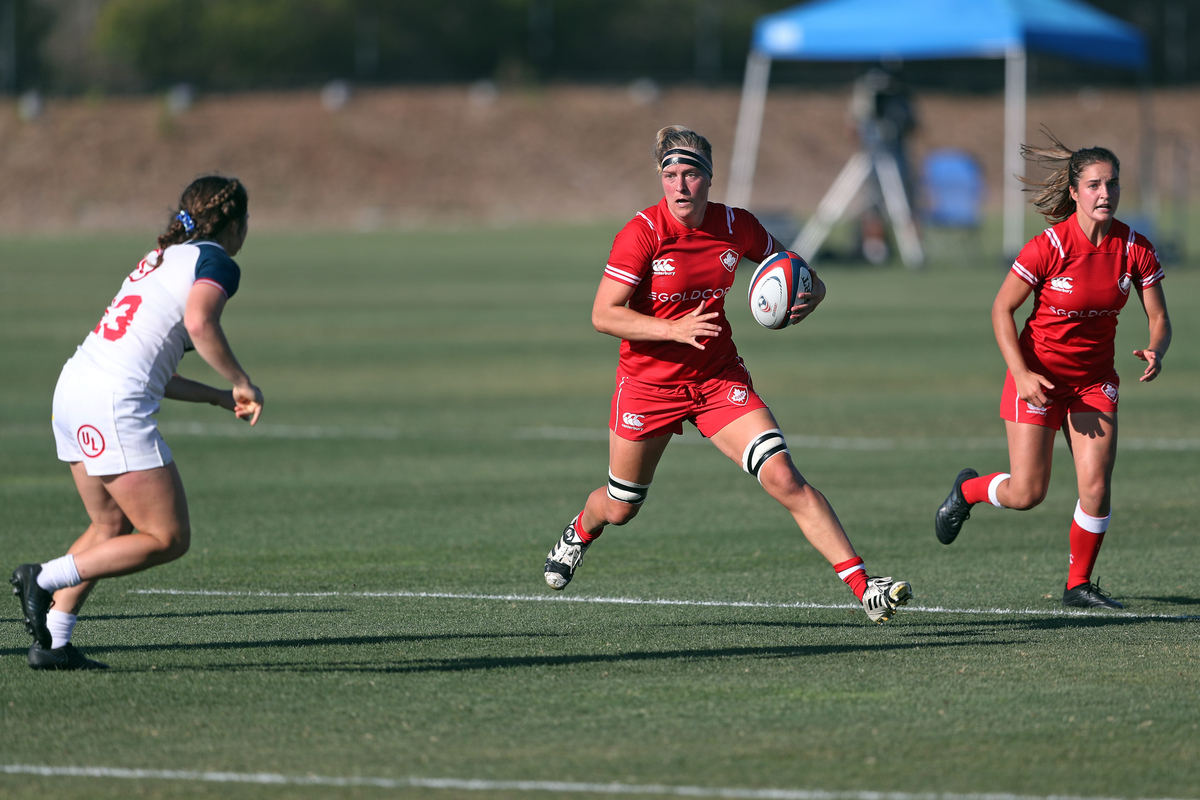 Canada fall just short to USA
USA sneak past Canada with a late-game try to push past Canada 20-18 in Canada's final match of the Women's Rugby Super Series 2019. 
Canada came out strong with Olivia DeMerchant crashing over the line to notch the opening points. It was DeMerchant moments after off a pick-and-go to widen Canada's lead in the early minutes of the match. 
The golden boot of youngster Sophie De Goede was on display, adding on a convert and two penalty kicks to put Canada ahead 18-8 at the break.
Canada's set piece and play at the breakdown stayed strong in the second but didn't have an answer for two late-game tries by the USA and fell 20-18. 
The loss marks current third place-Canada's final match of the Super Series, having their bye at the end of the tournament as the other nations are set to compete in their final games. 
The series served as an opportunity for development in the teams build to the 2021 Women's Rugby World Cup with two players earning their first caps: Marie-Pier Fauteux and Sophie De Goede. The test matches gave Canada invaluable experience ahead of the World Cup. 
Canada's Roster
Olivia DeMerchant, Fredericton Loyalists (Mapledale, NB)
Gillian Boag, Capilano/UBC (Calgary, AB)
DaLeaka Menin, Calgary Hornets (Vulcan, AB)
Tyson Beukeboom, Cowichan Piggies (Uxbridge, ON)
Courtney Holtkamp, Red Deer Titans (Rimbey, AB)
Fabiola Forteza, Club de Rugby de Quebec (Quebec Cuty, QC)
Janna Slevinsky, Kingston Panthers (St. Albert, AB)
Sophie De Goede, Castaway Wanderers/Queens University (Victoria, BC)
Lori Josephson, Guelph Redcoats, (Beaverton, ON)
Taylor Black, Oakville Crusaders (Oakville, ON)
Sabrina Poulin, Town of Mount Royal Rugby (St-Georges de Beauce, QC)
Amanda Thornborough, Westshore RFC (Brandon, MB)
Anaïs Holly, TMR RFC, (Montreal, QC)
Irene Patrinos, Toronto Saracens (Mississauga, ON)
Elissa Alarie, Ste-Anne-De-Bellevue RFC/Westshore RFC (Trois Rivieres, QC) – Captain
Veronica Harrigan, London St. George's (Lucan, ON)
Maude Laliberté, Club de Rugby Quebec (Quebec City, QC)
Ngalula Fuamba, TMRRFC, (Notre-Dame-de-Ile-Perrot)
Jacey Grusnick, Barrhaven Scottish (Alliston, ON)
Gabrielle Senft, Castaway Wanderers (Regina, SK)
Brianna Miller, Saint-Anne-de-Bellevue (Point-Claire, QC)
Alex Tessier, SABRFC (Sainte-clotilde-de-Horton, QC)
Paige Farries, Westshore RFC (Red Deer, AB)

Canada's Schedule:
Canada 20-35 New Zealand
Canada 36 – 19 France 
Canada 17-19 England
Canada 18-20 USA
-------
Donate to the Monty Heald Fund to help on this tour and all others as our Women's XV work toward the Women's Rugby World Cup in 2021. The fund offsets out-of-pocket costs for athletes and allows them to focus on training and development and will help us build the best squad possible!
To donate click HERE.