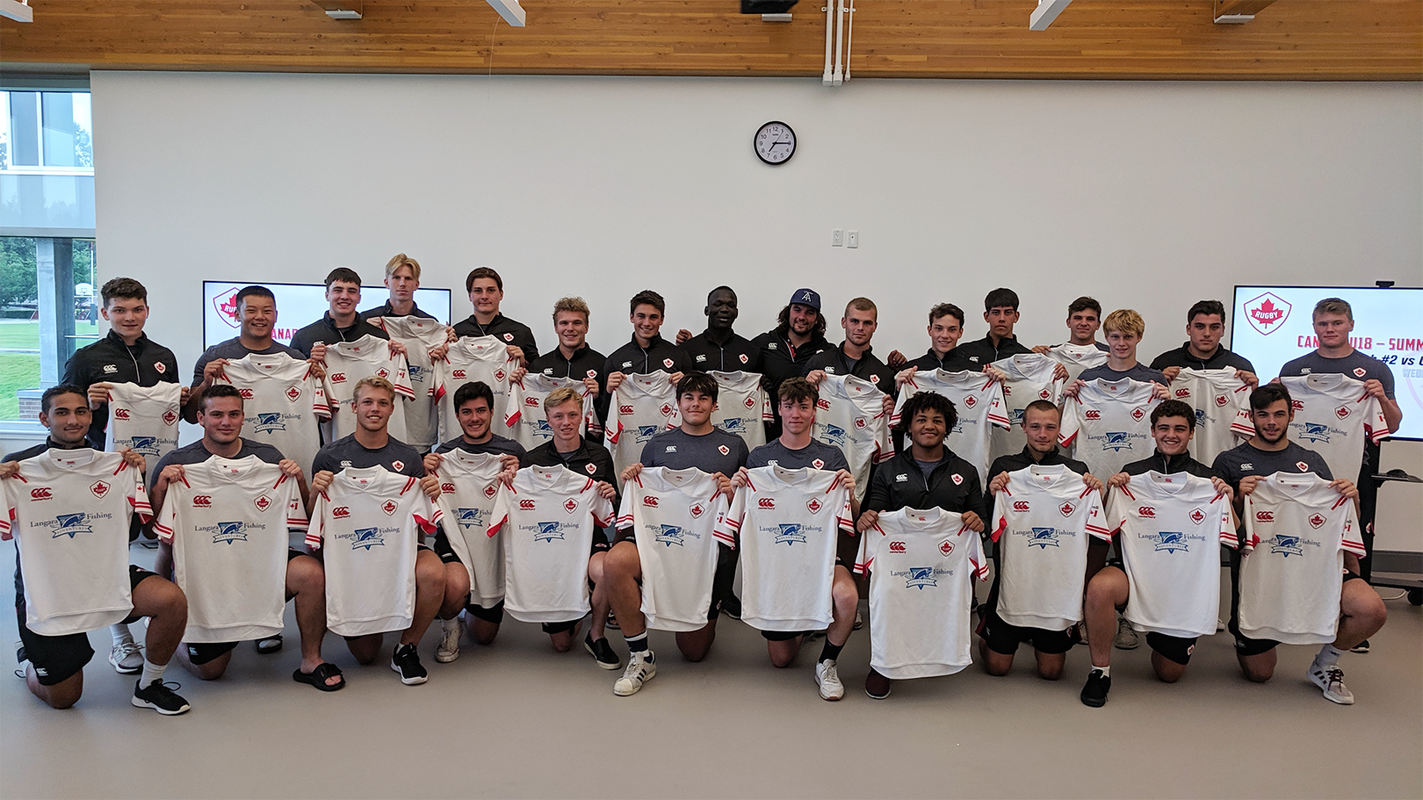 Canada's U18 boys prepped for USA match
MILL BAY, BC (July 11, 2019) - After two exhibition matches, Canada's Under-18 team will finish off their Can-Am camp this Sunday with a test match against USA at Brentwood College.
The two exhibitions proved a tough test for the Canadian side, falling 24-7 on July 7th and 27-7 on July 10th.  The games served as an opportunity for talent ID and development with both teams having the opportunity to roll through their full line ups before the full international this Sunday.
"This series has been a great opportunity for development and has challenged young players in a highly competitive tournament," said assistant coach and recently retired Canadian international, Ray Barkwill. "Really important especially as we look to keep building our pathway into the U20 and senior teams." 
"We saw a lot of talent out of these rising stars. Now it's just about turning that hard work at practice into results on the field this Sunday." added Barkwill. 
The final match will take place at Brentwood College in Mill Bay, BC and is free to the public. It will also be streamed LIVE on Rugby Canada's Facebook page. Kickoff is at 8pm ET/ 5pm PT.
Canada's Long List: 
Willem den Ouden- Calgary Hornets RFC, AB
Dave Scollon- Oakville Crusaders RFC, ON
Deklan Williamson- Oakville Crusaders RFC, ON
Thomas Artmann Sherren- Beaconsfield RFC, QC
Logan Weidner- Carson Graham Secondary, BC
Daniel Clement- Edmonton Clansmen RFC, AB
Michael Reid- Edmonton Nor'Westers RFC, AB
Braden Bruce ( C )- Peterborough Pagans RFC, ON
Sean Snyman- Oakville Crusaders RFC, ON
Campbell Clarke- Swilers RFC, NF
Talon McMullin- Earl Marriott Secondary School, BC
Ciaran G.S.F. Breen- Biarritz Olympique Pays Basque, BC
Liam Bowman- Oakville Crusaders RFC, ON
Storm Buck- Kelowna Crows RFC, BC
Jacob Bourne- St. Georges School, BC
Josh Mao- SMUS/Castaway Wanderers RFC, BC
George Piper- Robert Bateman Secondary, BC
Hudson Barnaby- NB Spruce RFC, NB
Connor Paivarinta- Abbotsford RFC, BC
Brenner Kelava- Shawnigan Lake School, BC
Cody Nhanala- Ottawa Ospreys RFC, ON
Ryan Goodyear- Baymen RFC, NL
Carson Young- Oshawa Vikings RFC, ON
Mikko Vorster- University of Western Ontario, MB
Siaki Seumanutafa- Bayside RFC, BC
Nic Bamford- Oak Bay High School, BC
Alisdair Bulmann- Guildfordians, ENG
Match Info: 
July 14
Canada vs. USA
Kick-off: 8pm ET/5pm PT
Streamed LIVE on www.facebook.com/RugbyCanada/