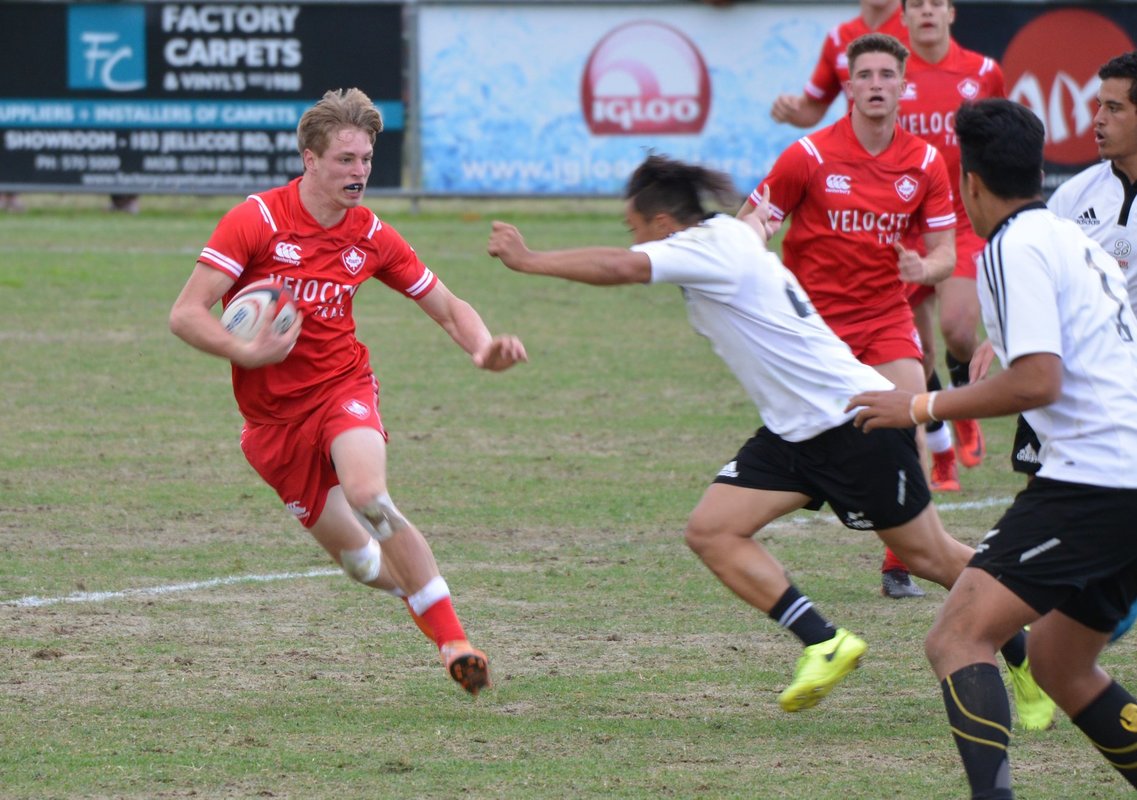 Canada set for U18 Sevens Can-Am
Contributed Article
Rugby 7s Senior Men
Hosted by Great North 7s, the four team tournament featuring Canada Red, Canada White, USA Stars, And USA Stripes competing on July 11-13, 2019 at Fletcher's Fields in Markham, ON.
NextGen 7s Program Lead Nigel D'Acre is looking forward to the start of camp next week. "We are excited to work with 26 players from across the country during the 3 day mini-camp before the tournament begins. Both squads are comprised of some very talented players and the coaching staff [Sean White and Sonny Raina] and I will be working closely with each of the athletes in preparation for their hit outs versus the USA national squads later in the week."
This will be the first time that Canada and USA U18 Boys sevens programs will compete against each other since March of last year at the Youth Olympics Game Qualifiers in Las Vegas.
"This tournament is another great chance for players to raise their hands to be a invited into our top 40 group. We are looking to identify and develop players who are skillful, faster, stronger and want to play an exciting brand of rugby," said Gethin Watts- Consultant, National Age Grade Programs and Talent ID. "Having competitions such as the Can-Am Sevens in Toronto and 15s in Victoria allows us to see players expressing themselves. I wish Nigel and the staff the best of luck."
All games will be streamed on the Rugby Ontario YouTube Page
Game Day Rosters/ Results will be posted on Twitter, Please follow @GreatNorth7s 
Tournament Schedule:
U18 Can/Am 7s Series at Great North 7s/Fletcher's Field
Thursday, July 11
5:00PM ET/ 2:00PM PT- Canada White vs USA Stars
5:22PM ET/ 2:22PM PT- Canada Red vs USA Stripes
Friday, July 12
10:12AM ET/ 7:12AM PT- USA Stripes vs USA Stars
10:34AM ET/ 7:34AM PT- Canada White vs Canada Red
12:46PM ET/ 9:46AM PT- Canada Red vs USA Stars
1:08PM ET/ 10:08AM PT- Canada White vs USA Stripes
3:20PM ET/ 12:20PM PT- USA #1 vs Canada #2
3:42PM ET/ 12:42PM PT- Canada #1 vs USA #2
Saturday, July 13 
9:50AM ET/ 6:50AM PT- Plate Finals 
10:12AM ET/ 7:12AM PT- Can/AM Cup Finals
Canada Red
Kyle Corrigan- Ottawa Ospreys- Ottawa, ON
Dylan Di Girolamo- Aurora Barbarians- Kettleby, ON
Cole Hutt- Ottawa Irish- Metcalfe, ON
Jacob Ince- Crusaders Rugby Club- Oakville, ON
Ian Jones- Oshawa Vikings- Brooklin, ON
Adrian Liepmann- Bytown Blues – Ottawa, ON
James Biss- Saracens Academy/Old Elthamians- London, UK
Armand Pienaar- Oshawa Vikings- Stouffville, ON
Duncan Phillips- Ottawa Irish- Nepean, ON
Nash Ramsay- Stoney Creek- Stoney Creek, ON
Kal Sager - Peterborough Pagans- Peterborough, ON
Harry Shaw- Crusaders Rugby Club- Oakville, ON
Lucas VanderBurg- Aurora Barbarians- Mount Albert, ON
Canada White
Max Abercrombie- Castaway Wanderers- Victoria, BC
Matthew Amyotte- Strathcona Druids- Edmonton, AB
Callum Blake-Currier- Cowichan Rugby Club- Mill Bay, BC
Philippe Marchand- Irish Montréal Rugby Football Club- LaSalle, QC
Jamin Hodgkins- Shawnigan Lake School- St. John's, NFLD
Nathan Holm- Burnaby Lake- Vancouver, BC
Torren Kaiser- Cowichan Rugby Club- Mill Bay, BC
Thomas Kirkwood- UBCOB Ravens- Vancouver, BC
Josiah Levale- Abbotsford RFC- Abbotsford, BC
Takoda McMullin- Earl Marriott Secondary- Surrey, BC
Ethan Turner- Abbotsford RFC- Abbotsford, BC
David Wegert- RE Mountain Secondary- Langley City, BC
Relmu Wilson-Valdes- L.V Rogers Secondary- Nelson, BC
Tournament Staff
Program Lead/ Head Coach- Nigel D'Acre
Manager- Khalil Ajram