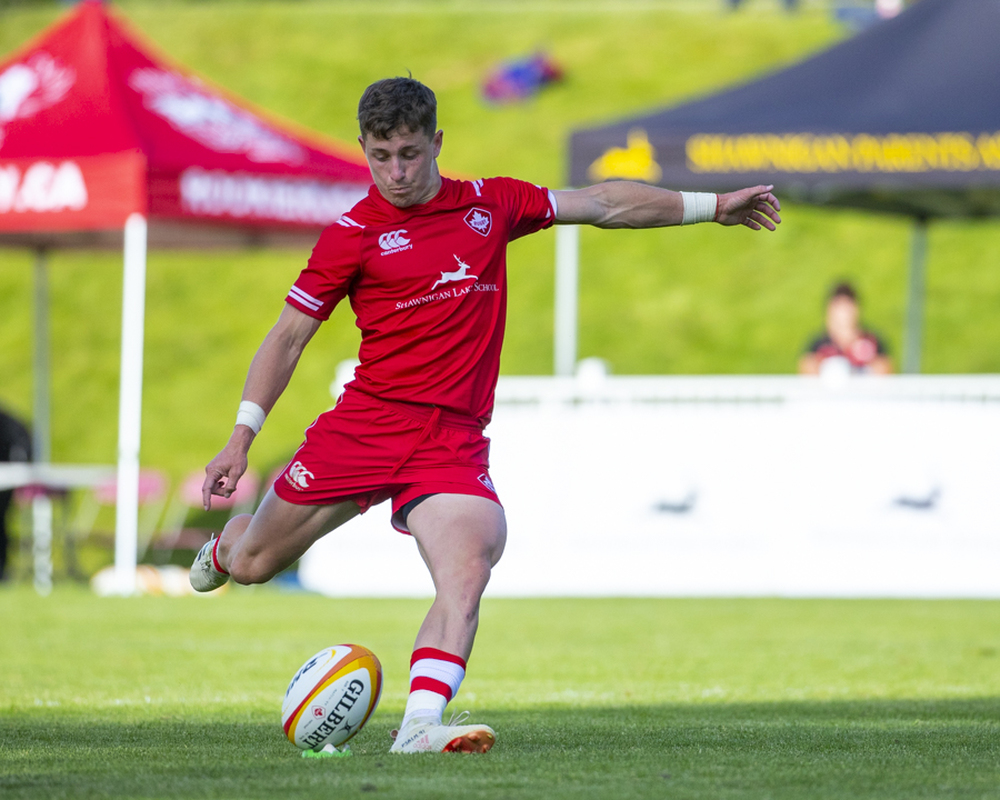 Canada U20 have another big win to finish fifth at World Trophy
Contributed Article
Rugby 15s U20 Men
Canada U20 beat Kenya U20 by 52 points to 13 today at São José dos Campos, Brazil to finish fifth at the World Trophy. In a fine attacking performance Canada scored 8 tries and converted 6, and in a much improved defensive effort Kenya were restricted to 2 tries and a conversion.
Will Percillier scored a converted try at 10 minutes following a Thomas Isherwood break. At 15 minutes Antoine de la Fontaine dived over in the left corner from a right sided scrum.Kenya responded with a penalty and a try. At 35 minutes Michael McCarthy scored a converted try resulting from a driving lineout.
Score at the half : Canada 19 Kenya 8.
After 10 minutes in the second half repeated their explosive driving lineout with McCarthy scoring another converted try. While Canada were down to 14 men because of a yellow card Kenya scored a try. Canada's response was 4 tries in the last 15 minutes, 3 of which were converted: two by number 8 Nick Carson, the first from an interplay with Richard and the second following an explosive run off a scrum, another from Richard following a long break by Brock Webster ,and the last by Siaki Vikilani following a multi-phase movement.
Final score : Canada 52, Kenya 13.
Players who impressed included McCarthy who was 100% from his line-out throws and active around the field, Nick Carson who had big impact with the ball in hand, Webster who had his best game of the year at outside half, and Isherwood who revealed his pace on several occasions. For consistency through the tournament mention should be made of Rowland at tight head, Frank Carson and Tyler Duguid in the second row, and Percillier at scrum half who scored another 19 points today.
Canada won 4 of 6 games in the qualifiers/World Trophy ,compared to 2 of 6 last year, and finished 5th compared to 7th last year. The quality of the attack was improved ,and many more tries were scored, but the defense was a concern in some games.
"There is little doubt we have improved this year as a result of our better preparation, but we need to learn how to win close games," commented head coach Jeff Williams. "Our 3 year plan is that players will get 6 international games at U18, followed by promotion to the U20 squad where they will get an additional 6 games prior to the qualifiers for the World Trophy. In addition we will try to do a better job finding the best players in the country."
Substitutions were as follows:
Jarvis Dashkewych for Antoine de la Fontaine at 5o minutes Stefan Zuliani for Josh Tweed at 50 minutes.
Guerschom Mukendi for Tyler Rowland at 55 minutes Mason Flesch for Will Matthews at 58 minutes.
Gabe Casey for Quinn Ngawati at 67 minutes David Carson for Michael McCarthy at 67 minutes Reid Davis for Tyler Duguid at 68 minutes.
Canada's Roster:
1.       Josh Tweed, UBC, BC.
2.       Mike McCarthy, Swilers RFC, Newfoundland 
3.       Tyler Rowland, UBC, Ontario
4.       Frank Carson, UBC, BC
5.       Tyler Duguid, Edmonton Nor'westers, Alberta
6.       Quentin James, Stade Francais, BC
7.       Will Matthews, Beaconsfield RFC, QC
8.       Nick Carson, U Victoria, BC
9.       Will Percillier, Stade Francais, BC -Captain
10.   Brock Webster, Oshawa Vikings, Ontario
11.   Antoine de la Fontaine, Sherbrooke Abenakis, QC
12.   Lachlan Kratz, U Victoria, BC
13.   Quinn Ngawati, Westshore RFC, BC
14.   David Richard, Mississauga Blues, Ontario
15.   Thomas Isherwood, Westshore RFC, Alberta
16.   David Carson, UBC, BC 
17.   Stefan Zuliani, Queens U, Ontario
18.   Guerschom Mukendi, Stoney Creek RFC, Ontario
19.  Reid Davis, James Bay AA, BC
20.    Siaki Vikilani, Burnaby RFC, BC
21.  Mason Flesch, James Bay AA, Ontario
22.  Jared Augustin, Queens U, Ontario Gabriel Casey, U Victoria, Ontario
23.   Jack Carson, Castaway Wanderers, BC
24.  Gabriel Casey, University of Victoria, ON
25.  Jarvis Dashkewytch, U Victoria, BC
Canada's Schedule:
Canada 25-26 Tonga
Canada 21-49 Portugal 
Canada 78-26 Hong Kong
Canada 52-13 Kenya