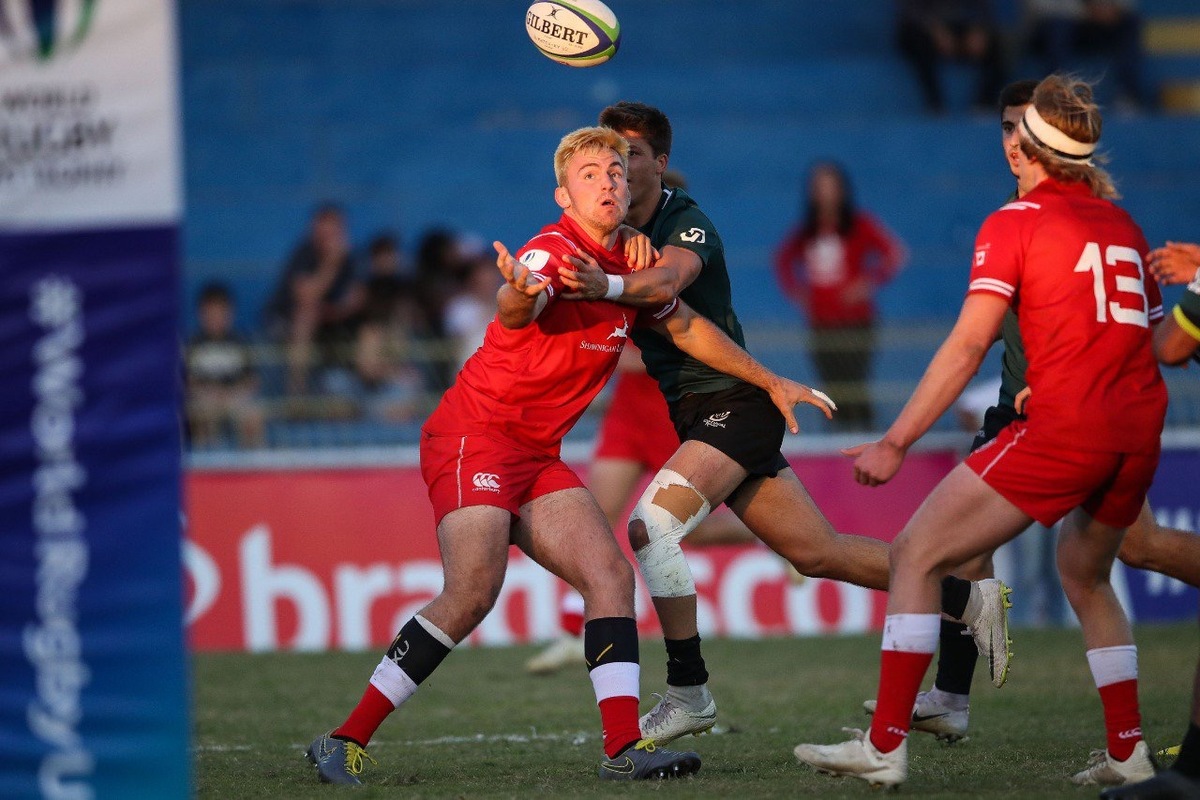 Canada U20 win big to qualify for 5th ranking game at World Trophy
Contributed Article
Rugby 15s U20 Men
Canada U20 beat Hong Kong U20 at the World Trophy in São José dos Campos, Brazil by 78 - 26,thus qualifying for the 5th ranking game v Kenya on Sunday July 21. Canada's ranking will improve from the 7th place last year. The Canadian score was the highest so far at World Trophy.
In the first half Canada scored 2 converted tries in the first 12 minutes, both by inside centre Lockie Kratz, the first directly from a scrum and the second to finish a multi-phase movement. However Hong Kong responded with 2 converted tries at 20 and 24 minutes from turnovers, the first from a loose kick and the second an intercept. Before half Canada scored 4 more tries, with 2 converted. Will Percillier scored 2 of these tries, the second a brilliant individual effort from inside his 22. Brock Webster scored from a lovely pass from Tom Isherwood and Frank Carson finished off a driving line out. Percillier had the 4 conversions.
Score at half was 38-14.
In the second half Canada scored a further 6 tries ,with 5 conversions. At 43 minutes Percillier completed his hat trick after Kratz and Quinn Ngawati combined from a lineout. David Carson dotted the ball over line from a driving lineout at 46 minutes.  Percillier scored a fourth try following a break by Antoine de al Fontaine at 52 minutes. David Richard completed a lovely movement from an outstanding catch by Will Matthews from a Brock Webster restart. Nick Carson scored from a break off the back of a scrum at 67 minutes and Lockie Kratz completed his hat trick following a long break by Richard at 68 minutes. Will Percillier had 2 more conversions, Isherwood one and Ngawati 2.Hong Kong's responses were a converted try at 59 minutes and another try at the end of the game.
Final score 78 - 26
Impressive performances were given by Nick Carson at number 8, the most consistent player in all 3 games, by Percillier who scored 32 points, by inside center Kratz whose hard running was rewarded with a hat trick and by the elusive David Richard.
Of particular note was the fact that the 4 Carson first cousins (David, Frank, Nick and Jack) were on the field together for the last 15 minutes, a family record that may pass the test of time.
"Other the last 15 minutes against Portugal  we have played well,  particularly in offence," commented head coach Jeff Williams. "However our defense is not strong and that is something we aim to improve by Sunday. We strongly believe that our  more prolonged preparation prior to World Trophy, including a tour to Portugal, has improved our team. The fact that 13 of the 26 are under-aged and will be back next year provides optimism."
Substitutions were as follows :
Josh Tweed for Stefan Mukendi at 52 minutes, Siaki Vikalani for Quentin James at 52 minutes Will Matthews for Mason Flesch at 52 minutes, Guerschom Mukendi for Tyler Rowland at 65 minutes.
Jack Carson for Will Percillier at 65 minutes.
Jarvis Dashkewych for Thomas Isherwood at 65 minutes.
Gabe Casey for Quinn Ngawati at 70 minutes.
Canada's Roster:
1.       Stefan Zuliani, Queens U, Ontario
2.       David Carson, UBC, BC
3.       Tyler Rowland, UBC, Ontario
4.       Frank Carson, UBC, BC
5.       Tyler Duguid, Edmonton Nor'westers, Alberta
6.       Quentin James, Stade Francais, BC
7.       Mason Flesch, James Bay AA, Ontario
8.       Nick Carson, U Victoria, BC
9.       Will Percillier, Stade Francais, BC -Captain
10.   Brock Webster, Oshawa Vikings, Ontario
11.   Antoine de la Fontaine, Sherbrooke Abenakis, QC
12.   Lachlan Kratz, U Victoria, BC
13.   Quinn Ngawati, Westshore RFC, BC
14.   David Richard, Mississauga Blues, Ontario
15.   Thomas Isherwood, Westshore RFC, Alberta
16.   Jared Augustin, Queens U, Ontario
17.   Josh Tweed, UBC, BC.
18.   Guerschom Mukendi, Stoney Creek RFC, Ontario
19.   Siaki Vikilani, Burnaby RFC, BC
20.   Will Matthews, Beaconsfield RFC, QC
21.   Jack Carson, Castaway Wanderers, BC
22.   Gabriel Casey, U Victoria, Ontario
23.   Jarvis Dashkewytch, U Victoria, BC
Canada's Schedule:
Canada 25-26 Tonga
Canada 49-21 Portugal 
Canada 78-26 Hong Kong
July 21
U20 Trophy Finals
TBD