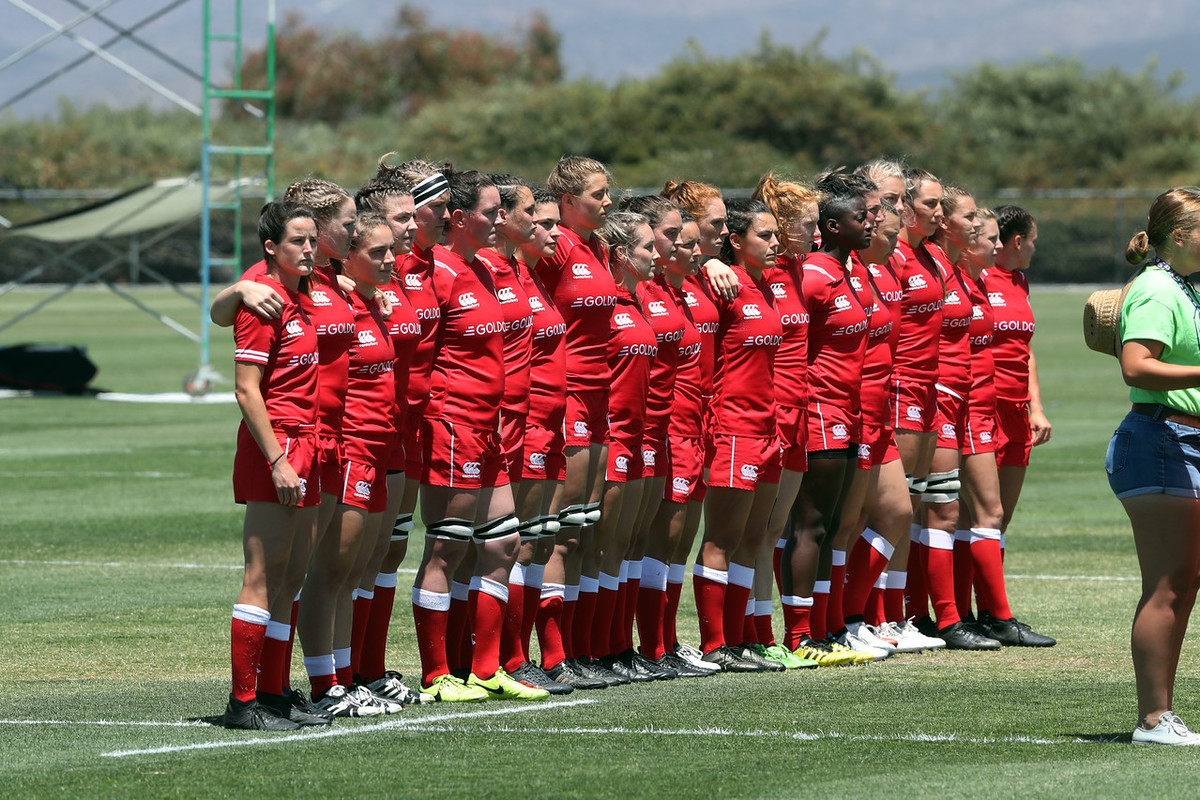 Canada victorious over France, 36-19
Canada come out with convincing win against France in game two of the Women's Rugby Super Series in Chula Vista, California on July 2nd, 2019.
Canada opened their second game of the Super Series with a penalty kick from Sophie De Goede, in just her second game for Canada. After a French try, Canada answered back with score by Tyson Beukeboom. A series of penalties against France gave Canada possession late in the half. Janna Slevinsky added another try for Canada, smashing through the defensive line to score. De Goede added on two conversions to put Canada up 17-12 at the break.
Starting off the second half, Canada moved the ball through hands to find Sabrina Poulin on the wing for the try. ­Canada's forward pack kept the pressure on with a series of pick-and-goes inside France's five metre line. Laura Russell crashed over the line to score and widen Canada's lead. Veteran Amanda Thornborough notched the final try of the game—securing the win for Canada.
De Goede's two second half conversions brought her to 11 points total in the match. MP Fauteux came off the bench to earn just her second cap in Canada's win over France.
Next Canada will face England on Saturday, July 6th at 8:15pm ET/ 5:15pm PT and will be streamed LIVE on FloRugby.
Canada's Roster
Olivia DeMerchant, Fredericton Loyalists (Mapledale, NB)
Gillian Boag, Capilano/UBC (Calgary, AB)
DaLeaka Menin, Calgary Hornets (Vulcan, AB)
Tyson Beukeboom, Cowichan Piggies (Uxbridge, ON)
Jacey Grusnick, Barrhaven Scottish (Alliston, ON)
Janna Slevinsky, Kingston Panthers (St. Albert, AB)
Fabiola Forteza, Club de Rugby de Quebec (Quebec Cuty, QC)
Sophie De Goede, Castaway Wanderers/Queens University (Victoria, BC)
Lori Josephson, Guelph Redcoats, (Beaverton, ON)
Taylor Black, Oakville Crusaders (Oakville, ON)
Sabrina Poulin, Town of Mount Royal Rugby (St-Georges de Beauce, QC)
Alex Tessier, SABRFC (Sainte-clotilde-de-Horton, QC)
Amanda Thornborough, Westshore RFC (Brandon, MB)
Paige Farries, Westshore RFC (Red Deer, AB)
Elissa Alarie, Ste-Anne-De-Bellevue RFC/Westshore RFC (Trois Rivieres, QC) – Captain
Ngalula Fuamba, TMRRFC, (Notre-Dame-de-Ile-Perrot)
Laura Russell, Toronto Nomads (Bolton, ON)
Maude Laliberté, Club de Rugby Quebec (Quebec City, QC)
Courtney Holtkamp, Red Deer Titans (Rimbey, AB)
MP Fauteux, Abenakis de Sherbrooke (Sherbrooke, QC)
Sara Svoboda, Belleville Bulldogs/Toronto Saracens (Belleville, ON)
Brianna Miller, Saint-Anne-de-Bellevue (Point-Claire, QC)
Alysha Corrigan, CRFC (Charlottetown, PEI)

Canada's Schedule:
Canada 20-35 New Zealand
Canada 36 – 19 France 
Saturday, July 6
CHULA VISTA ELITE ATHLETE TRAINING CENTER
Canada vs England– 8:15pm ET/ 5:15pm PT
Wednesday, July 10
CHULA VISTA ELITE ATHLETE TRAINING CENTER
Canada vs USA – 8:15pm ET/ 5:15pm PT
-------
Donate to the Monty Heald Fund to help on this tour and all others as our Women's XV work toward the Women's Rugby World Cup in 2021. The fund offsets out-of-pocket costs for athletes and allows them to focus on training and development and will help us build the best squad possible!