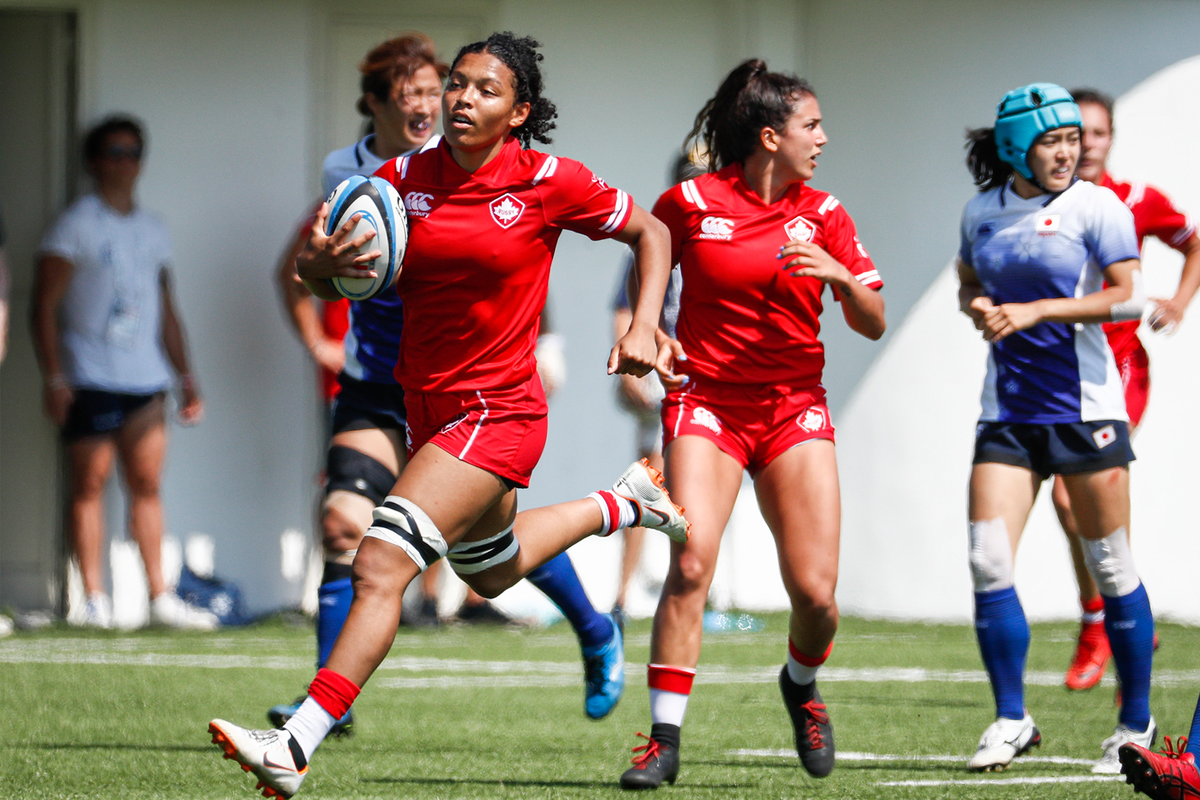 FISU Rugby sevens: Men, women have medal hopes dashed after Day 2 losses
NAPLES, Italy (U SPORTS) – Canada's men's and women's rugby 7s teams fell short on Day 2 in Naples on Saturday at the 2019 FISU Summer Universiade. The Canadian women lost 29-0 to Japan and 17-7 to France, while the men lost 12-5 to Italy. The losses eliminate both teams from the tournament.
FISU.TV (Semifinals and finals only)
The Canadian women started their second game of the tournament on their heels, allowing Japan's Riho Kurogi and Haruna Okada to each earn a try on the left side of the field. Canada was unable to adjust to the speed of Japan who had a 17-0 lead by half time. Two second-half tries gave Japan the convincing 29-0 victory and, eventually, an undefeated pool-play performance.
In their second game of the day the women were better matched against France. Led by the speedy play of York's Asia Hogan-Rochester, the Canadian women were able to show their level of compete. France nabbed the game's opening try as Emilie Boulard pushed her way past two Canadians to score. France scored one more converted try for a 12-0 lead at half time. The second half saw a much more physical and spirited Canadian side, who pushed back and, thanks to a convenient bounce off the turf, were able to find their first try. UBC's Delaney Aikens drove the middle of the field where Hailey Driscoll was there to land the try under the uprights. France proved too strong and came away with the game 17-7.
"Obviously we are disappointed in the results but I thought this game we finally got to play some rugby," said Canadian head coach Colette McAuley from the University of Guelph. "The girls were moving the ball around with some attacking systems that looked good but we can't afford those turnovers. Three turnovers in the game, three tries and that's what happened."
"I think these girls are so talented and we didn't do them justice for what they could have done but that's a lesson learned for us. We are going to have to put some investment in for them to prepare a little bit better for this tournament. Just arriving two days before the tournament doesn't allow a lot of time to be prepared. They are eager to learn, eager to work hard for each other and every game they go better so I am really proud of them."
The 1-2 record ends the Canadian women's campaign for the podium.
Men's team fall to home side
The Canadian men fell short 12-5 to home side Italy in their final game of the tournament.
"Sevens is a game of chance and it's a cruel game and I've been on both sides of it," said Canadian head coach Robin McDowell. "So, for me what I wanted them to do was hit their goals and today they did that."
The Canadian men battled through most of the first half until Roberto Dal Zilio found his way through to get Italy their first try, while the convert was made by Luca Zini. University of Victoria's Crosby Stewart and Jonas Robinson controlled the middle of the field for Canada, while Mostyn Findlay subbed in to provide an energetic presence. In the second half, Italy received a yellow card and Canada seemed to feed off the shift in momentum. Robinson was able to find Noah Bain on the left side, while a speeding Harry Kryczka landed the try in the corner of the field.
"There's nothing better than playing the home town team, especially across the world," added McDowell. "What we wanted was that Canadian character but we want to put up strong performances. With the short amount of preparation these guys have just grown each game."
Canada conceded another late try to leave the game in the hands of Italy, who won 12-5. The loss means the Canadian men are also out of the running for a medal and their tournament comes to an end.
"We came out really strong," said Canadian captain Robinson. "The warmup was a bit flat, so I was a bit nervous to be honest but we really came out with good energy. We rose to the occasion. These fans were loving their Italian team so it was pretty loud. It was a really fun atmosphere to play in. We kept our composure well and for the most part I thought we held it together pretty well, just fell unlucky at the end there."
Follow Team Canada on Twitter, Instagram and Facebook @USPORTSIntl and use #uCAN.