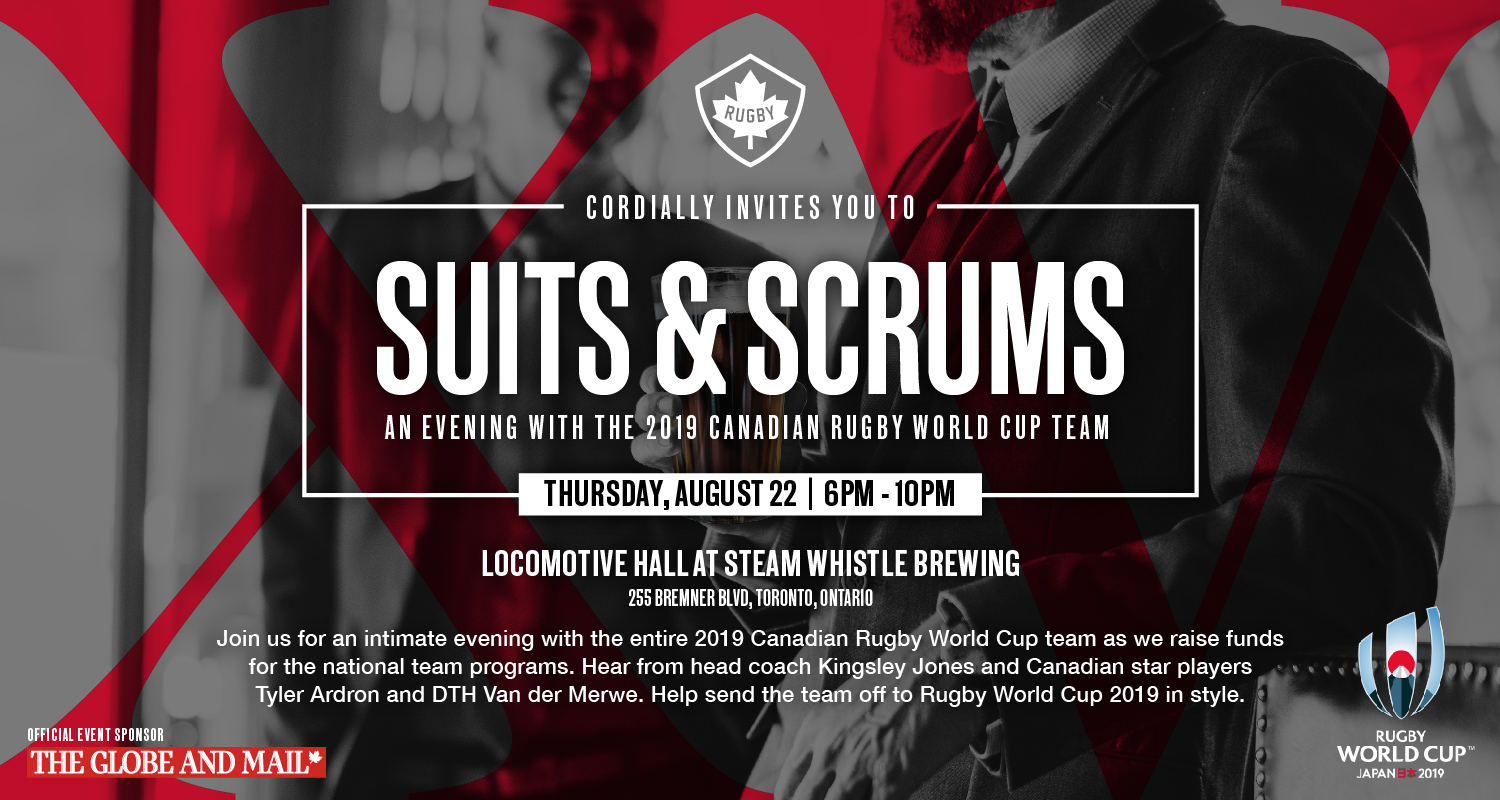 Rugby Canada announces Suits & Scrums, an evening with the Rugby Canada World Cup Team in the GTA
Tuesday, July 30, 2019, Langford, B.C. - Toronto community gets set to support national team programming in an evening where sport meets art meets music. As Canada's Men's Rugby Team enters their final month of preparation for the 2019 Rugby World Cup in Japan this fall, the Toronto Sport, Corporate and Arts communities will be coming together to show their support for the 31-man squad, and raise important funds for Rugby Canada's national team programs. 
Suits & Scrums is an intimate evening with the entire 2019 Canadian Rugby World Cup team that will take place on Thursday, August 22nd, at Steam Whistle Brewing in Toronto.  The event is being held in advance of the Canada vs Leinster Rugby match on Saturday, August 24th at Tim Horton's Field in Hamilton. Tickets to Suits & Scrums Toronto can be purchased by visiting our tickets page. 
Suits & Scrums Toronto will offer rugby supporters and enthusiasts with the opportunity to meet and hear from the players who will be representing Canada on the world's biggest rugby stage this fall, and include an interactive panel discussion with head coach Kingsley Jones and players Tyler Ardron and DTH Van der Merwe.  The evening, hosted by TSN Anchor Sarah Davis, will include live entertainment from the Devin Cuddy Band, and showcase a live one-of-a-kind creation from sport artist, David Arrigo, that will be part of the silent auction on the evening.
"We are absolutely thrilled at the response so far to this upcoming evening celebration, understanding it speaks volumes to the support that exists in Toronto for our Canadian rugby players," said Allen Vansen, CEO Rugby Canada. "An evening like this simply would not be possible without the generous support of our sponsors and supporters, and the hard work of our dedicated committee members, including our Honorary Chair, Richard Powers, who is playing an instrumental role in bringing this exciting evening to life."  
Suits & Scrums is being made possible thanks to generous support of its two dedicated Presenting Sponsors, BlackShire Capital and and JS Ferraro & Company, Official Sponsor Abbott Environmental, Band sponsor Waypoint Investment Partners, with the panel discussion being presented by the Toronto Arrows, Canada's first professional rugby union team competing in Major League Rugby. The Toronto Arrows' goal is to support rugby at many levels and they are committed to helping to grow the game from grassroots through clubs, schools and Canada's women's and men's national teams.
Rugby Canada will be hosting a Suits & Scrums Vancouver on Thursday September 5th, and will be releasing more information in the coming weeks. Funds raised through both events will go to help defer the substantial costs associated with creating the best conditions possible for the players and coaches in the lead up to and during the Rugby World Cup.
About The Devin Cuddy Band
Devin Cuddy, is a Canadian singer-songwriter who fronts the Devin Cuddy Band.  His dad Jim and brother Sam – all musicians - have been long-time supporters of Canadian athletes through years of involvement with the Gold Medal Plates dinners. Travelling with Olympians and supporting them through other fundraisers, Devin has entertained from coast to coast in support of Canadian athletes. 
About David Arrigo Live Art
The event will also showcase the on-site one-of-a-kind creation from David Arrigo Live Art Performance, that will be up for auction on the evening. David Arrigo is famous for his painted NHL hockey masks, and is known for capturing the essence of sport and athletes through his dynamic paintings.  All proceeds from the auction will be directed to Rugby Canada national team programs.
-30-
For more information about Suits & Scrums Toronto, please contact:
media@rugby.ca