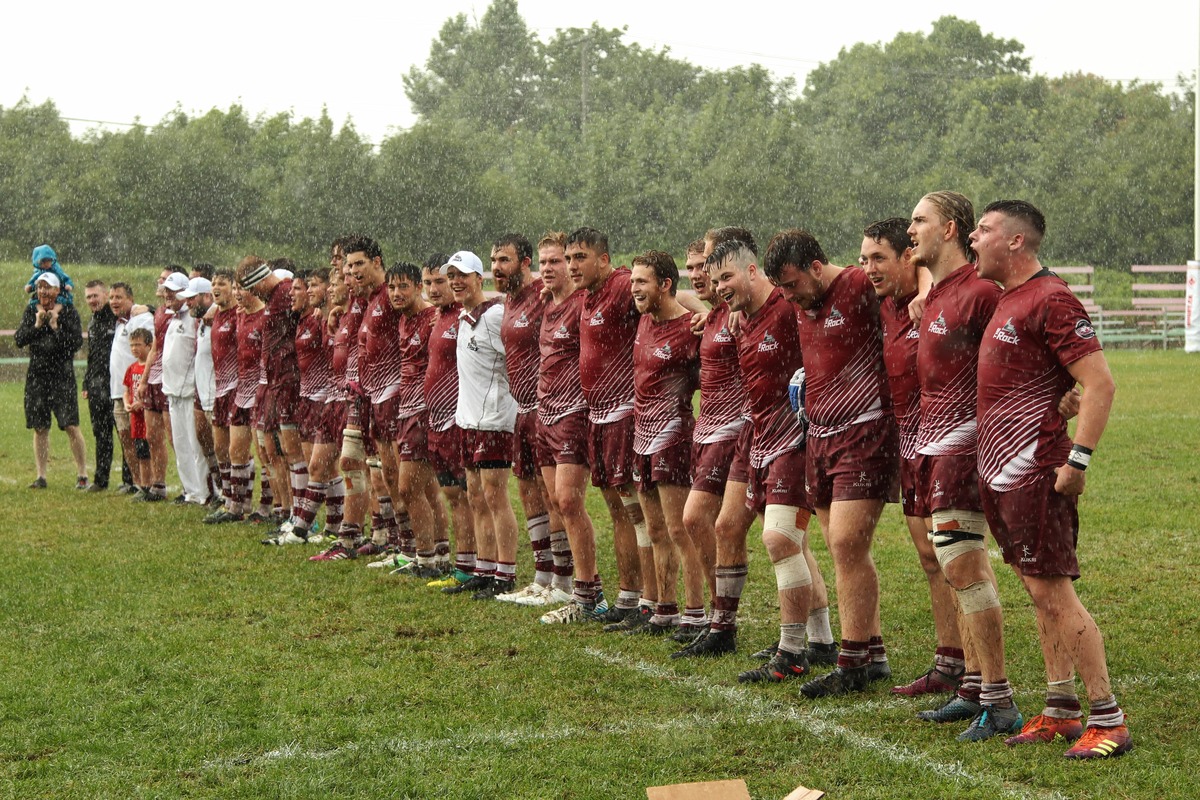 Atlantic Rock win the 2019 U19 Canadian Rugby Championship
Liam Warren- NL Rugby
Rugby 15s U19 Men
St. John's, NL - August 11, 2019: The Newfoundland and Labrador Rugby Union are elated to inform the media that the Under 19 Men's Atlantic Rock team are national champions for the first time in nine years.
In an exciting match this past Saturday, August 10 2019 the Atlantic Rock took on the defending national champions the Ontario Blues in front of a packed home crowd at Adele's Pitch at the Swilers Rugby Complex. It was a stellar match with excellent defence and offence from the Rock side with little to no mistakes made throughout the entire match.
Tries for the Rock side were scored by Laurie Baldwin (2), Connor McKinney (1), and captain Michael McCarthy (1). The final score was 21-5 for the Atlantic Rock.
August 10, 2019 will be a day that will be long remembered in the history of the sport of Rugby in Newfoundland and Labrador for generations to come. The entire team would like to express their gratitude for all those that came out in the weather to cheer them on and also to all the media for coverage of the U19 Canadian Rugby Championship Tournament.
The team's coaching staff would be excited to complete any interviews regarding this historic day, to arrange interviews please contact Liam Warren at communications@nlrugby.ca
Attached are a few photos from the big match, please feel free to utilize in any articles or clips. These photos were taken by volunteer photographer Colin Squires, any credit should be given to him.
Atlantic Rock Roster:
Front Row (L to R): Connor McKinney, David Mallard, Zach Klassen, Alex Hickman, Caylem Chambers, Piers Von Dadszelen, & Campbell Clarke (Co-Captain) 
Middle Row (L to R): Seif Sanad, Matthew Terry, Lucas Shortall, Thomas Hagan, Ellis Halliday, Matthew Chediac, Ryan Goodyear, Alex Wiscombe, Riley Cunninghman, & Seth Bryant 
Back Row (L to R): Peter Densmore (Coach), Jack Hanratty (Coach), Brendan Parfrey (Coach), Lee Brickman, Andrew Shears, Hudson Barnaby, Josh Blanks, Hunter Ryan, Alex Clark, Evan Mackenzie, Michael McCarthy (Captain), Laurie Baldwin, Hugh Gooverts, Kevin Parfrey (Coach), & Pat Parfrey (Manager) holding grandson Fintan Parfrey
-30-
Contact:
Liam Warren, Communications Director
Newfoundland and Labrador Rugby Union
E-mail: communications@nlrugby.ca
Web: nlrugby.ca