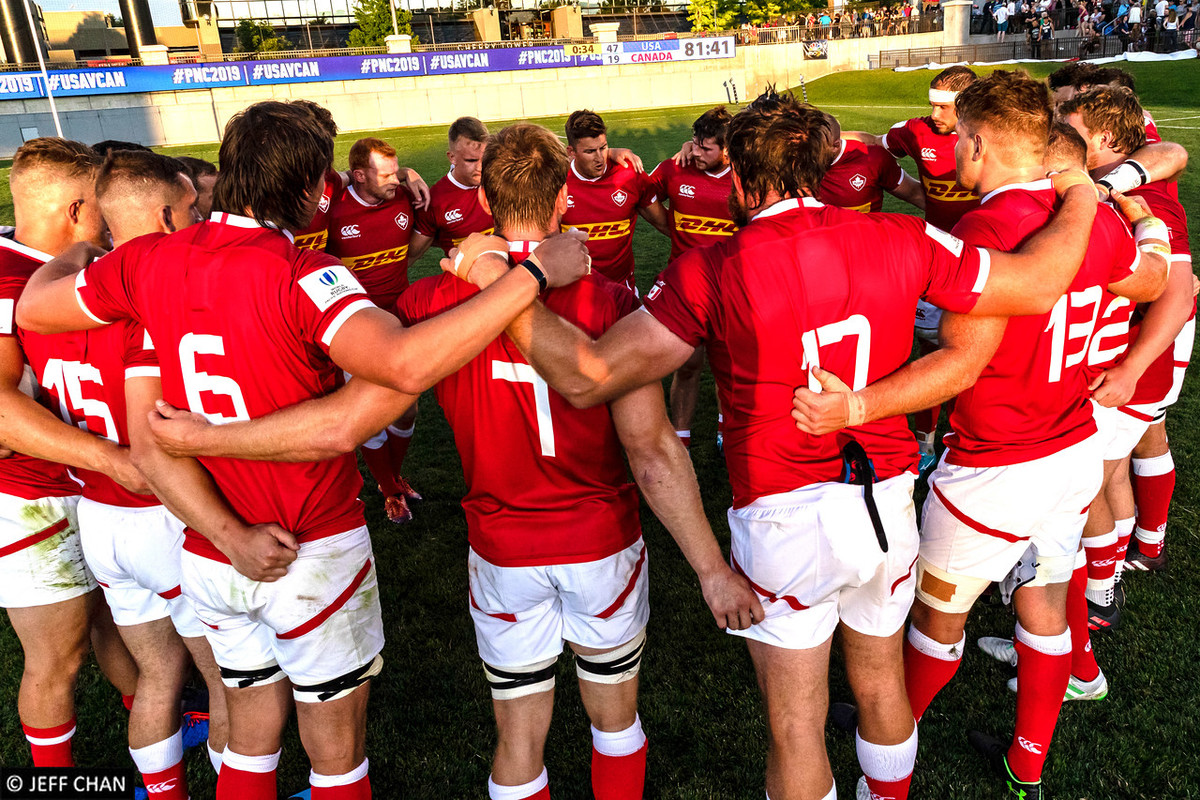 Jones names team for final Pacific Nations Cup match
Head coach Kingsley Jones has named his team that will take on Tonga in Canada's final Pacific Nations Cup match this Thursday, August 8th at 11pm ET/ 8pm PT in Lautoka, Fiji. 
"I think there's a lot of improvements from our side in the space of a week which we're pleased with. I think our set piece has progressed and our scrum at times was good. There's lots of learning technically still to do to keep growing," said Jones. "We feel we're making gains each week and we look forward to Tonga now."
Fans can watch the match LIVE on tsn.ca, TSN Direct, and the TSN App. It will also be replayed on TSN2 on Friday, August 9 at It will also be replayed on TSN2 on Friday, Aug 9 at 2pm ET/ 11am PT and again at 11pm ET/ 8pm PT.
Canada's Roster:
Djustice Sears-Duru Oakville, ON Ontario Blues
Eric Howard Ottawa, ON New Orleans Gold
Matt Tierney Oakville, ON Section Paloise
Mike Sheppard Brampton, ON Toronto Arrows
Evan Olmstead Vancouver, BC Unattached
Kyle Baillie Summerside, PEI New Orleans Gold
Lucas Rumball Scarborough, ON Toronto Arrows
Tyler Ardron (C) Lakefield, ON Chiefs
Phil Mack Victoria, BC Seattle Seawolves
Gordon McRorie Calgary, AB Calgary Hornets
DTH van der Merwe Regina, SK Glasgow Warriors
Ciaran Hearn Conception Bay South, NL Unattached
Ben LeSage Calgary, AB Calgary Canucks/UBC Thunderbirds
Jeff Hassler Okotoks, AB Seattle Seawolves
Peter Nelson Dungannon, UK Unattached
Benoit Piffero Issoire, France BLAGNAC RUGBY
Hubert Buydens Saskatoon, SK NOLA Gold
Cole Keith Sussex, NB Toronto Arrows
Luke Campbell Victoria, BC James Bay Athletic Association
Matt Heaton Godmanchester, QC Darlington Mowden Park
Jamie Mackenzie Oakville, ON Toronto Arrows
Nick Blevins Calgary, AB Calgary Hornets
Patrick Parfrey St. John's, NL Toronto Arrows
-------
Don't miss your chance to see Canada's World Cup team compete on home soil in their two warm-up matches against Leinster in Hamilton on August 24th and USA in Vancouver on September 7th. To purchase your now, CLICK HERE.
Canada's Pacific Nations Cup Schedule:
Canada 19-47 USA
Canada 13-38 Fiji
Canada vs. Tonga
August 8
Churchill Park – Lautoka, Fiji
Kick-off: 11pm ET /8pm PT
Broadcast: TSN
Pre-Rugby World Cup:
Canada vs. Leinster
August 24
Tim Hortons Field – Hamilton, ON
Kick-off: 3pm ET/ 12pm PT
Broadcast: TBC
Canada vs. USA
September 7
BC Place – Vancouver, BC
Kick-off: 10pm ET/ 7pm PT
Broadcast: TBC
Canada vs BC All-Stars
August 30, 2019
Westhills Stadium, Langford, BC
Kick-off: 9:30pm ET / 6:30pm PT
Tickets: $10 for adults and $5 for youth & can be purchased from Eagle Ridge Community Centre or the stadium gates on match day