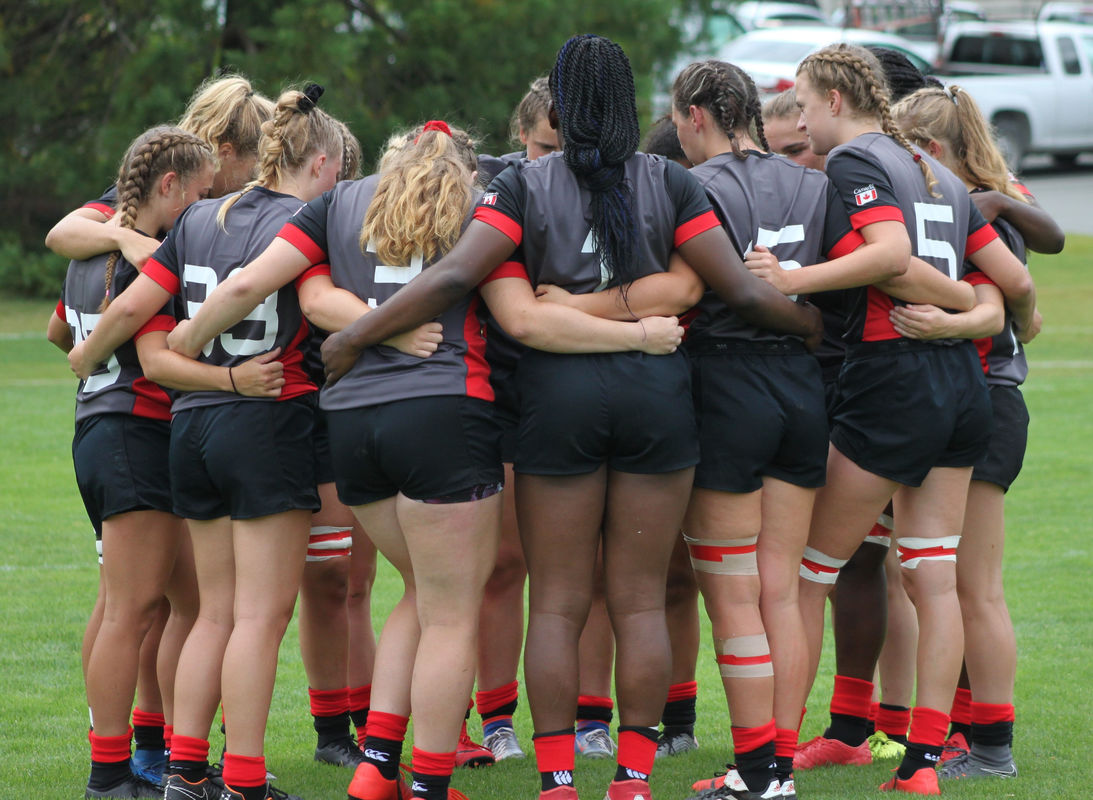 Women's U18 East and West Camps building towards December tour
40 athletes came together last week at Brentwood College for the Women's U18 West camp, with 40 athletes starting their East camp August 20th, 2019.
Players for each camp were selected primarily from Provincial East and West Regional Championships (2018 & 2019), provincial nominations, and previous Rugby Canada Identification sessions.
"As a part of the U18 program, players will receive individual development that incorporates self-assessment and coaches' feedback. Players physical development will be assessed and will allow athletes to show meaningful growth by working towards targeted standards." said Women's U18 head coach Ricky Coombe 
Both camps are ran in conjunction with USA Rugby, ending off with a match to close out camp. Canada West faced USA West last Sunday at Brentwood College and Canada East take on USA East this Saturday, August 24th at Brock University. Fans are invited to come out and watch, kickoff is at 10am ET. 
Women's U18 East Camp Selections: 
Kaitlyn Madison McLeod- Aurora Barbarians RFC, McMaster University
Abigail Anderson- Norfolk, Waterford District high school
Charlotte Grace Anderson- Mont Tremblant Rugby Football Club, Miss Edgar's and Miss Cramp's
Natalie Armatage- Waterloo County, Kitchener Collegiate Institute/ University of Guelph- Fall 2019
Regan Casey- Ottawa Irish, Nepean High School
Kendra Cousineau- Niagara Wasps, Belmont high school
Chloe Daniels- Aurora Barbarians, Sutton DHS
Emily Duffy- Trojans, Simonds High School (Dione to be UPEI)
Kennedy Feasby- Oshawa vikings, Uxbridge Secondary School
Julia Freeburn- PEI Rugby, Charlottetown Rural High School
Sara Grant- Blacktide, Tantramar Regional High School
Laura Guay- Rugby Quebec, Juvénat-Notre-Dame
Shea Hickey- Trojans, Simonds high school
Olivia Hooper- Barrie, Innisdale Secondary School
Laurie Izard- Rouge et or, Académie Saint-Louis
Camryn Kleynhans- Windsor Machine, Kings Edgehill
Marie-leandre Laliberte desgagne- Team Quebec, Cegep garneau
Anne Lamothe- Club de rugby de Québec (CRQ), Cégep Garneau
Emma MacDougall- Halifax Tars RFC, Currently at Citadel High School but will be attending St.FX in the fall.
Madison Heather MacInnis- Caledonia RFC & Pictou RFC, Riverview Rural High School
Emma MacLean- Dartmouth PigDogs, Cole Harbour District High School
Chella Price- NDG, Bishops College School
Olivia Sarabura- Guelph Redcoats, John F Ross
Tashayla Tynes- Tars, Citadel
Aleisha Rose- Belleville Bulldogs, St. Theresa Catholic Secondary school
Madeleine Hobson- Brantford, University of Guelph
Taylor Mcknight- Aurora Barbarians, Stouffville district high school
Lara Jorgensen- Aurora Barbarians, St Maximilian Kolbe CHS
Jessica Dean- Barrie RFC, Guelph University
Eden Kilgour- Barrie Rugby, Eastview Secondary school
Emma Brennan- Kingston Panthers RFC, Frontenac Secondary School
Daniella Michaud- Norfolk Harvesters/ Brantford Harlequins, Brock University
Victoria Stanley- Aurora Barbarians, Havergal College
McKinna Colley- Fergus Highlanders, Kincardine DSS
Emily Butterworth- Saracens Rugby club, Branksome Hall
Allison Rupar- Ottawa Irish Rugby Club, Queens University
Isabella Ruse- Misfit Rugby, Hillfield Strathallan College (HSC)
Maddy Donnelly- Lindsay Gryphons, I.E Weldon
Reese Morgan- Aurora Barbarians, Northern Secondary School
Ally Ulett- Owen sounders
 
Women's U18 West Camp Selections: 
Onyinyechi Adindu- The Calgary Irish, Notre Dame Highschool Alberta
Janelle Amyotte- Strathcona Druids, Vimy Ridge Academy, University of Alberta (September 2019)- Alberta Fancy Bermudez-chavez- Nor Westors Athletic Association, Belmont Secondary School - BC
Misty Blackmore- BC Rugby, Mt Baker Secondary- Alberta
Mikayla Brennan-McCann, Cowichan Rugby Football Club, Shawnigan Lake School- BC
Naomi Brunner, ORCA Rugby, St. Joseph High School- Alberta
Sydney Burchnall, Titans, Rimbey Jr Sr High School- Alberta
Bethany Cudmore, Belmont Secondary School- Ontario
Mia Eagar, Cowichan rugby club, Belmont Secondary School- BC
Karina Gauto, Clan Rugby Club, Vimy Ridge Academy- Alberta
Amelia Gordon, Castaway Wanderers/UBC (Thunderbirds), Oak Bay High, University of British Columbia- BC
Chloe Hill-Huse, Castaway Wanderers, St. Michaels University School- BC
Mariam Ibrahim, Calgary Canadian Irish Athletic Club, University of Calgary- Alberta
Melina Ioannides, Nor'Westers Athletic Association, University of Alberta- Alberta
Cassie Jorgenson, Edmonton Norwesters Association- Alberta
Madison Jumeau, RCDA- Belmont Secondary School- BC
Piper Logan, Calgary Hornets, Ernest Manning High School- Alberta
Maggie Mackinnon, RCDA, Belmont Secondary School- British Columbia
Janel Millar, Sask Rugby, Big River Community High School/University of Victoria this fall- SK
Kira Katan, Abbotsford Rugby Football Club, Mission Secondary School- British Columbia
Julia Ilobekemen, Omokhuale, Irish Rugby Club, Notre Dame High School- BC
Emmalena Parks, Hornets RFC, Western Canada High School - University of Lethbridge- Alberta
Shelby Pierce, St. Albert Sturgeon composite (UofA in fall)- Alberta
Katherine Salverda, Calgary Canadian Irish Rugby Club, Notre Dame High School- Alberta
Caleigh Silversides, Kamloops rugby club (junior team), Westsyde secondary- Alberta
Chloe Storie-Soth, Cowichan Rugby, Shawnigan Lake School- British Columbia
Zoe Williams, Westshore RFC, Belmont Secondary- British Colombia
Maëlle Sydney Reed, Castaway Wanderers, St. Margaret's School- British Columbia
Willow Beyea, United, New Westminster secondary school- BC
Kiara Stecko, Tsunami, Brock University- BC
Maddelyn May, Nanaimo Hornets RFC, Alberni District Secondary School- BC
Kira Peary, ARFC, Belmont Secondary School - BC
Emily Findlay, Regina Rogues, Belmont Secondary School - Saskatchewan
Jessica Nelson, Vancouver Thunderbirds, Chatelech Secondary/UBC- BC
Josephine Anzai, Richmond Rugby club, University of Victoria- British Columbia
Renee Cook, Belmont Secondary School- Alberta
Kaitlyn Jinda, Campbell River Athletics Association, Carihi Secondary School- British Columbia
Jordyn Mitchell, Calgary Hornets, Neuchâtel Junior College- Alberta
Nicolette Vinnedge, Kickers, Uvic- British Columbia
Jordan Brown, Kamloops Rugby Club, Mount Boucherie Senior Secondary/University of Calgary - British Columbia