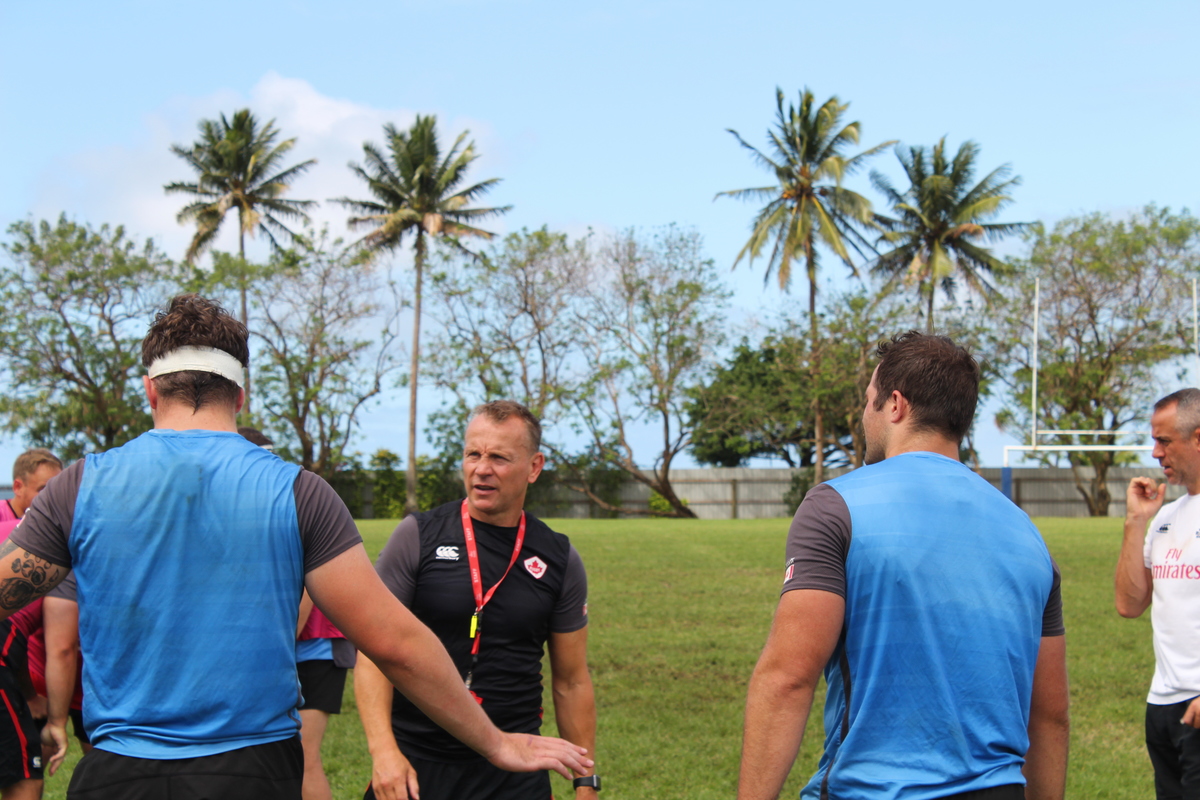 CANADA'S WELSH COACH JONES SINGS RUGBY TUNE WHERE ICE HOCKEY IS TOP OF THE POPS
World Rugby
Rugby 15s Senior Men
NAGATO, 19 Sep -Former Wales flanker has led Russia through a Rugby World Cup tournament and now holds the reins at Canada.
It would be easy to confuse Kingsley Jones with an ice hockey expert given his travels around the rugby world and the backgrounds of some of his Canada team.
The Welshman, above, has coached Russia and is now in charge of the equally ice hockey-mad Canada. He admits to having only a loose connection to the puck game - at best.
"My six-year-old son lost his first tooth today playing hockey in Canada," Jones said, before clarifying that he meant field hockey.
Jones, who won 10 caps for Wales as a flanker between 1996 and 1998, led Russia in their first Rugby World Cup appearance in 2011 and took the helm with Canada in 2017, guiding them to a ninth consecutive World Cup.
Coaching the national teams of the world's two largest countries presented similar logistical and climatic challenges. Jones, above, said he also had to embrace the fact that rugby is not the top sport in either country.
"You have the same challenges as a third-choice sport ... fourth-choice, fifth-choice, sixth-choice sport," he said. "There are certainly three other sports that are major in both countries, way ahead of rugby."
Two of Canada's squad, hooker Eric Howard and lock Conor Keys, come from ice hockey backgrounds. Many more on the team played hockey recreationally but chose rugby instead. 
"There's a big crossover between both sports," Jones said. "It's physical, it's about strength, mental toughness." 
There are also areas in both Canada and Russia where rugby manages to trump ice hockey in popularity.
"There are certain pockets around Canada that rugby is strong, certainly the same way in Russia around Monino, Krasnoyarsk," Jones said. "There are some strongholds of rugby and I think that's the legacy of generations. I had lots of brothers in Russia. Their fathers had played for Russia. That was a common theme."
 
Although Canada and Russia have many similarities and are close together in the world rankings - Russia at 20, Canada two places lower - there are also stark differences between their rugby cultures.
"There's a lot more depth in Canada," Jones said. "Canada's got a huge potential and huge rugby history, so that's what they've got in their advantage. They've played rugby in Russia for a long time but not at national level for as long, so the role models for those younger generations, in Russia, they don't have those guys as such."
As the head coach of the Russian national team, Jones would spent 24 weeks of the year in the country and away from his family. This separation ultimately led him to resign. 
"The lifestyle is a big shock in Russia," Jones said. "The language is a challenge, the alphabet is different. But I enjoyed learning Russian. I had some Russian. It slipped away a little but it was taught to me by rugby players, so I'm not sure it's the right kind of Russian."
In comparison, life in Canada is far more familiar, so much so that his family, including daughters, aged 12 and eight, and his six-year-old son, have moved to to be with him in the fishing town of Sooke, on Vancouver Island. 
His son is trying out different sports. Jones is still hesitant to sign him up for Canada's national sport, though not for the reason one might think.
"We've not taken him to ice hockey yet," he said. "We talked about it. Problem is, it's five in the morning so it's a lot for me to do and then go to work, but I'm sure he'll be into that as well."